U.S. Catfish Recipe of the Month: Catfish Pastalaya with Sausage and Shrimp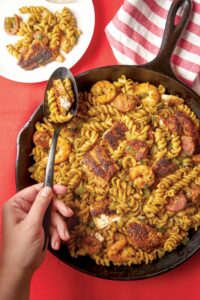 Ingredients
• 2 U.S. Farm-Raised Catfish fillets, cut into large chunks
• 1 pound rotini pasta
• ½ pound shrimp, peeled
• 3 tablespoons blackening spice, divided
• ½ pound andouille sausage, sliced
• 2/3 cup chopped celery
• 2/3 cup chopped onions
• 2/3 cup chopped bell pepper
• 1 cup chicken stock
• ½ cup heavy cream
• 1 tablespoon dried oregano
• 1 tablespoon dried thyme
• 1 tablespoon paprika
• 1 ½ teaspoon kosher salt
• ¼ cup green onions, sliced
• ¼ cup parsley, finely chopped, for garnish
Instructions
1. COOK pasta according to package directions, drain and set aside.
2. SEASON the catfish and shrimp with 2 tablespoons of the blackening spice.
3. SAUTÉ the sausage for 3 minutes, add celery, onions and peppers, and sauté another 5 minutes until translucent.
4. ADD catfish and shrimp, and sauté 4 minutes or until cooked through.
5. ADD chicken stock, and reduce by half. ADD cream, pasta, remaining seasonings and 1 tablespoon blackening spice.
6. STIR in ½ of the green onions and ½ of the parsley.
7. GARNISH with remaining parsley and green onions when serving.
We would love to hear your thoughts after trying this one! I always check the label to make sure it's U.S. Farm-Raised Catfish and so should you. Enjoy 100% All-American!