U.S. Catfish Recipe of the Month: Catfish Sensation Salad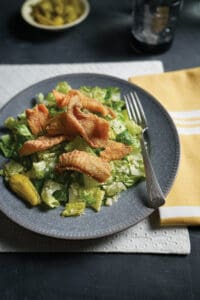 Ingredients
• 4 U.S. Farm-Raised Catfish fillets or nuggets
• Vegetable oil for frying
• 1 ½ cups fine ground yellow cornmeal
• ¼ cup all-purpose flour
• 1 ½ tablespoons salt
• 1 tablespoon black pepper
• ½ teaspoon cayenne pepper (optional)
DRESSING
• ½ cup olive oil
• ½ cup vegetable oil
• 3 tablespoons lemon juice
• 1 tablespoon white wine vinegar
• 1 cup Parmesan cheese, finely grated
• 2 cloves garlic, finely chopped
• 1 tablespoon parsley, finely chopped
• ¼ teaspoon salt
• ¼ teaspoon pepper
Instructions
1. PREHEAT oil in deep fryer to 350˚ F. LAY the catfish fillets on the cutting board lengthwise in front of you. With a sharp knife, carefully CUT the fish into thin fillets, as if you were butterflying it.
2. CONTINUE to cut thin layers horizontally until you get 3-4 very thin pieces. In a bowl, MIX together remaining ingredients. DREDGE the fish in the cornmeal mixture making sure to thoroughly coat the fish. FRY 4 to 6 pieces a time for about 5 to 7 minutes or until golden brown. DRAIN on paper towels.
3. For the dressing, COMBINE all ingredients in a container with a tight-fitting lid.
4. SHAKE the container until all the ingredients are incorporated. TOSS the lettuce with the dressing right before you serve, and top with catfish.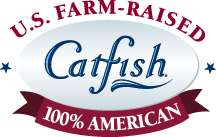 We would love to hear your thoughts after trying this one! I always check the label to make sure it's U.S. Farm-Raised Catfish and so should you. Enjoy 100% All-American!