U.S. Catfish Recipe of the Month: Italian Grilled Catfish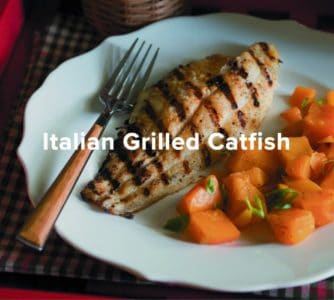 Ingredients
4 U.S. Farm-Raised Catfish Fillets
• 1 package dry Italian dressing mix
• ½ cup water
• ¼ cup fresh lemon juice
• Olive oil
• Garlic salt to taste
• Cayenne pepper to taste
Instructions
1. IN A SMALL MIXING BOWL, combine Italian dressing mix with water and lemon juice; set aside.
2. BRUSH fillets with olive oil and sprinkle with garlic salt and cayenne pepper to taste. Marinate fillets in Italian dressing mix for 15 to 20 minutes.
3. SPRAY inside of a fish-grilling basket with vegetable oil spray. Remove fillets from dressing mix and place in grilling basket.
4. GRILL fillets while basting, for 4 to 5 minutes per side. Remove fillets from grill as fish begins to flake; be careful not to overcook.
We would love to hear your thoughts after trying this one! I always check the label to make sure it's U.S. Farm-Raised Catfish and so should you. Enjoy 100% All-American!