U.S. Catfish Recipe of the Month: Bronzed Catfish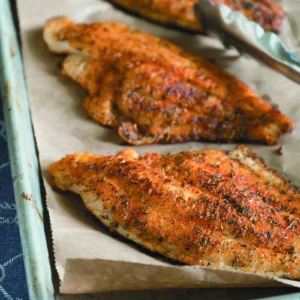 Ingredients
• 4 U.S. Farm-Raised Catfish fillets
• 2 teaspoons paprika
• 2 teaspoons dried oregano
• 2 teaspoons dried thyme leaves
• ½ teaspoon onion powder
• ½ teaspoon garlic powder
• ½ teaspoon salt
• ¼ teaspoon black pepper
• 1 pinch cayenne pepper
• 2 teaspoons olive oil
• 1 teaspoon butter
Instructions
1. In a small bowl, stir spices together until well mixed. Sprinkle both sides of fish with spice mixture, patting onto fillets.
2. Heat oil with butter in a large, nonstick frying pan over medium-high heat. When it begins to bubble, add fillets.
3. Cook until fish flakes, about 4 minutes per side, and serve.
We would love to hear your thoughts after trying this one! I always check the label to make sure it's U.S. Farm-Raised Catfish and so should you. Enjoy 100% All-American!