U.S. Catfish Recipe of the Month: Catfish Po-Boys with Pesto & Roasted Red Peppers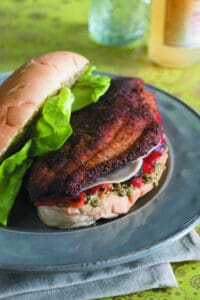 Ingredients
• 4 Lauren Farms 2-3 oz. catfish fillets
• 1 egg, beaten
• 1 cup Italian seasoned breadcrumbs, add salt and pepper to taste
• ¼ cup vegetable oil *option: ½ olive oil and ½ canola oil mixture
• 4 four inch rolls, split or French bread cut into 4 inch pieces
• ½ cup prepared pesto sauce (Basil pesto can be found in the jarred spaghetti section of the grocery store)
• 8 jarred roasted red pepper halves (or sliced roasted red peppers)
• 8 lettuce leaves
• 8 thin slices provolone cheese
Instructions
1. In separate shallow bowls, place egg and breadcrumbs. Dip each catfish fillet into egg; then coat in breadcrumbs shaking off excess.
2. In a large skillet, heat oil over medium-high heat. (* 375 for an electric skillet). Cook the fillets, a few at a time until golden brown and opaque in center; about 3 minutes on each side; drain on paper towels. Spread cut sides of the rolls with pesto.
3. On bottoms of rolls, layer roasted red peppers, lettuce leaves and provolone; top each with a catfish fillet. Place roll tops on fish.
Yield: 4 portions.
We would love to hear your thoughts after trying this one! I always check the label to make sure it's U.S. Farm-Raised Catfish and so should you. Enjoy 100% All-American!