U.S. Catfish Recipe of the Month: Roasted Pepper Catfish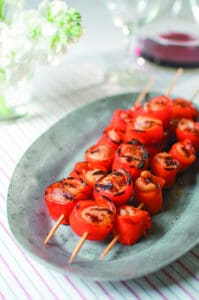 Ingredients:
• 1½ pounds U.S. Farm-Raised Catfish Fillets
• 4 large red bell peppers, roasted
Marinade
• 1⁄3 cup soy sauce
• 3 tablespoons vegetable oil
• 1 tablespoon liquid smoke
• 1 clove garlic, finely chopped
• ½ teaspoon ginger
• ½ teaspoon salt
Instructions
1. PREHEAT broiler or grill.
2. CUT peppers in half lengthwise and remove stems, seeds and ribs. Place cut side down on a baking sheet. Broil (or grill) until blackened, 6 to 10 minutes. Transfer to paper bag, close tightly and let cool for 10 minutes. Remove skins and cut peppers lengthwise into 1-inch strips.
3. CUT fillets into 1-inch chunks.
4. COMBINE marinade ingredients. Place catfish in marinade for 5 to 10 minutes.
5. WRAP a pepper strip around each catfish chunk and secure with toothpicks. Run skewer through each roll and place in a wire fish basket for the grill or on a baking sheet for the broiler.
6. GRILL skewers over a medium-hot fire, turning once, for about 3 minutes per side. Alternately, cook under broiler about 3 minutes per side. Serve immediately.
SERVES 6
We would love to hear your thoughts after trying this one! I always check the label to make sure it's U.S. Farm-Raised Catfish and so should you. Enjoy 100% All-American!