California Rodeo Salinas Closes Out 112th Year with Championship Sunday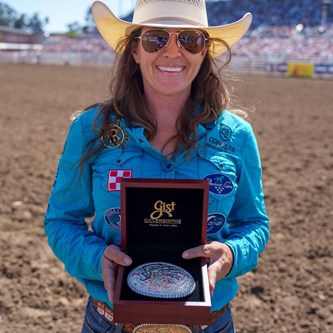 The last performance of the California Rodeo Salinas entertained 15,569 fans at the Salinas Sports Complex. Attendance was up 5.5% over the same performance in 2019, the last year that the Rodeo was held in July, and up 19.6% over the Sunday performance in September of 2021. Total ticket sales for the four performances of the Rodeo totaled 57,449, up 10.5% from 2019.
Sunday was Crown Royal Day of Champions, where event winners were presented their buckles, and Man Up Crusade Day, a program that brings awareness to domestic violence. The California Rodeo Salinas partners locally with the YWCA of Monterey County to raise funds and awareness for their non-profit which provides shelter and services to domestic violence victims.
Tyler Pearson of Atoka, OK won the All-Around title and Brittany Pozzi Tonozzi of Lampasas, TX won her 5th Salinas barrel racing championship buckle. Full arena results can be found here (courtesy of prorodeo.com) https://prorodeo.com/result/2022/california-rodeo-salinas/12439 and track event results can be found here: https://cdn.saffire.com/files.ashx?t=fg&rid=CalRod…
The Sunday performance is streaming now (started at 5:30pm PST) on The Cowboy Channel (Channel 232 on DISH and 603 on DirectTV).
The California Rodeo Salinas will take place July 20-23, 2023.
'Like' the California Rodeo Salinas on Facebook at www.facebook.com/CARodeoSalinas or follow on Instagram (@carodeosalinas) and twitter (@CaliforniaRodeo) for daily updates, photos and more.
About California Rodeo Salinas
The 113th California Rodeo Salinas will take place July 20-23, 2023. The California Rodeo Association is a not-for-profit organization that strives to preserve and promote the traditions of the California Rodeo Salinas and the West. We support the community and other non-profit organizations through the staging of the annual California Rodeo Salinas and other year-round operations of the Salinas Sports Complex. Through donation of our facility, vending and fundraising opportunities during Rodeo and other events, the California Rodeo Association returns almost $500,000 annually to local non-profits. For more information about the California Rodeo Salinas, log on to www.CARodeo.com or call the California Rodeo Office at 831-775.3100.