History of the Crown: Miss Rodeo Louisiana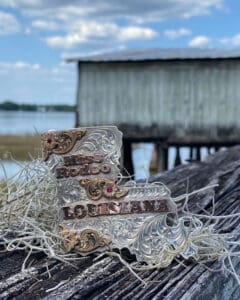 Like the slow cook of a Cajun roux, the crown of Miss Rodeo Louisiana has taken its time to meld and season into a stately replica of the Bayou State of Louisiana.
In 1966, the state introduced its first Miss Rodeo Louisiana, Brenda Coleman Weaver, who garnered the title but not a crown. In the following years, the crown of Miss Rodeo Louisiana changed in style and size, just like the unique women who wore it.
At the turn of the century, Louisiana had the absence of both a crown and a state director. In a selfless gesture, the Texas State Pageant Director Marjorie Shaver Murphy, agreed to serve as acting director of Miss Rodeo Louisiana along with her duties as Texas' State Director.
While Mrs. Murphy was at the helm, she had a crown designed and made by Lopez Brother's Silversmith. The beautifully crafted silver crown was built in the shape of Louisiana, also known as "the boot." It is carved with billows of intricate scroll tooling with the title, "Miss Rodeo Louisiana" in gold at center stage. Accents to the piece are three golden florals which each hold a ruby stone. Lynn Fuselier Lavergne proudly wore the new crown throughout her reign as Miss Rodeo Louisiana 2000.
This same crown has become a perpetual crown and is passed on to each young woman that has won the title of Miss Rodeo Louisiana. Although the names and faces change from year to year, the crown of Miss Rodeo Louisiana remains the same. It represents the true heart of rodeo and friendships of the rodeo queen family.
See more at MissRodeoAmerica.com