103rd Reno Rodeo Officially Underway
PRCA Xtreme Bulls Night Brings Top Riders in the Nation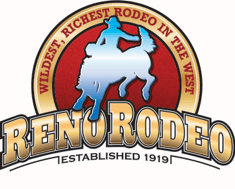 RENO, Nev. — Xtreme Bulls marked the first night of the Reno Rodeo. Bull riding champions from across the U.S. traveled to Reno, Nev. to compete in front of a sold-out crowd. There were plenty of qualifying rides in the first go, but the bulls got the best of the riders in the short go with only two qualifying rides to close the night.
Garrett Smith of Rexburg, Idaho took the No. 1 spot tonight with an impressive 177.5 on two, besting world bull riding leader Stetson Wright who came in second with a total of 172 on two.
---
Xtreme Bulls Results:
1. Garrett Smith, Rexburg, Idaho
First ride: 86.5 on Diamond G Rodeo's Battle Mountain
Second ride: 91.0 on Big Stone Rodeo's Shot in the Dark
Two-ride total: 177.5
2. Stetson Wright, Milford, Utah
First ride: 83.0 on Big Stone Rodeo's Tin Star
Second ride: 89.0 on Big Stone Rodeo's Hell Storm
Two-ride total: 172.0
*Scores are unofficial until verified by the Rodeo Secretary. Current PRCA leaderboard can be found here.