15/15 Preview: Santos Going 90 Despite Ongoing Groin Injury
By: Justin Felisko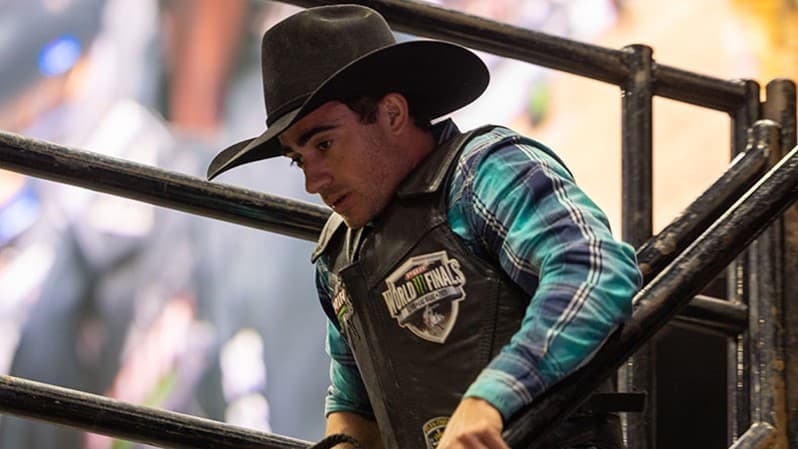 PUEBLO, Colo. – It sure appeared as if Rafael Henrique dos Sasntos' weekend in Tulsa was over when the PBR Sports Medicine Team had to carry him off the BOK Center dirt on Saturday evening following his 91.5-point ride aboard Diddy Wa Diddy.
The 26-year-old could barely put any weight on his left leg, and it seemed like it was a foregone conclusion Santos would be ruled out for the championship round.

Instead, 15 minutes later, Santos re-emerged from the locker room to talk with 2019 Rookie of the Year Dalton Kasel about which bull he should pick in the championship-round draft.
Kasel recommended Bread Basket, and Santos took his fellow rider's advice and spurred his way to a 91.25-point ride and a second-place finish overall at the PBR Express Ranches Classic, presented by Hard Rock Hotel & Casino.
Santos has only competed in 12 of 17 premier series events this year. Still, he is going to try and keep pushing through, beginning with this coming weekend's PBR ZipRecruiter Invitational, presented by Cooper Tires, in Nampa, Idaho.
The Sebastianopolis, Brazil native is set to take on Liston (11-3, UTB) in the 15/15 Bucking Battle (Sunday at 1 p.m. ET on CBS national television).
"It is just my groin," Santos said with the help of Paulo Crimber translating. "I am going to have to suck it up. I am hurting, but I need to get on like I did in Tulsa. I am behind because of the events I had to miss, but now I want to catch up and go into Finals in great shape."
15/15 Bucking Battle Matchups
Bob Mitchell vs. Drago (29-3, UTB)
Rafael Henrique dos Santos vs. Liston (11-3, UTB)
Manoelito de Souza Jr. vs. Juju (8-4, UTB)
Eli Vastbinder vs. Taking Chances (0-0, UTB)
Mason Taylor vs. Mezcal (21-0, UTB)
Eduardo Aparecido vs. Brusta (6-0, UTB)
Derek Kolbaba vs. JAG Metal's Grand Theft (13-4, UTB)*
Dener Barbosa vs. Forbidden Fruit (4-0, UTB)
Chase Dougherty vs. The Punisher (13-2, UTB)*
Luciano de Castro vs. HomeBru (11-4, UTB)
Dalton Kasel vs. Manaba (12-1, UTB)
Jose Vitor Leme vs. Pookie Holler (22-4, UTB)
Kaique Pacheco vs. High Brow Cat (20-2, UTB)$
Daylon Swearingen vs. Another Lunatic (0-0, UTB)
Joao Ricardo Vieira vs. Charmer (1-3, UTB)
*Bull previously bucked rider off
*Rider has successfully ridden bull before
Santos has been struggling with a left groin injury dating back to last year when he first injured it in October at the San Antonio UTB tour stop. Originally, Santos was going to opt for surgery following the 2021 PBR World Finals, but he later decided to avoid surgery.
What has ensued in 2022 has been a frustrating season for the No. 18-ranked bull rider in the world.
Santos is 11-for-26 (42.31%) with three 90-point rides and two round wins in limited action. Depending on his health status and if he declares for the 2022 PBR Team Series Draft, presented by ZipRecruiter, Santos will be an interesting rider for teams to consider on May 23 at Texas Live! in Arlington, Texas.

Similar to world No. 6 Mauricio Moreira, who is now out of competition until the World Finals because of a hip injury, Santos is one of the top up-and-coming Brazilians on the Unleash The Beast, but injury concerns make his draft stock cloudy.
Santos, in particular, could be placed in a second or third tier of potential right-handed bull riders for the draft, and his ceiling could be higher if he could overcome his nagging injury.
The second-generation bull rider first attempted a bull at 8 years old under the watchful eye of his father, Roberto Antonio, who rode professionally in Brazil for about five years.
Rafael moved to the United States in 2020. He navigated the COVID-limited PBR non-premier series schedule to make his Unleash The Beast debut on April 25 in Guthrie, Oklahoma. He went 7-for-28 and ultimately placed 41st in the world standings after being unable to compete at the World Finals.
Last season, Santos flashed his potential and won his first premier series event (Little Rock, Arkansas) following a near-two-month layoff because of broken ribs. He then injured his groin in San Antonio in October and had his World Finals cut short after three rounds because of a concussion.
Santos is 36-for-103 (34.95%) on the premier series with a median career ride score of 87.25 points. He is on pace for the best finish in the world standings of his career.
Santos sat out the last three events before Tulsa not only because of his groin injury but also because he and his girlfriend, Maria, welcomed their son, Lucas Henrique, to the world two weeks ago.
"It is amazing," Rafael said. "I always wanted to be a dad. It is something I can't even explain, how great this is."
Follow Justin Felisko on Twitter @jfelisko
Photo courtesy of Andy Watson/Bull Stock Media
© 2022 PBR Inc. All rights reserved.