18-Year Old Kaiden Loud Wins the Average Title at Hobbs Tuff Hedeman Bull Riding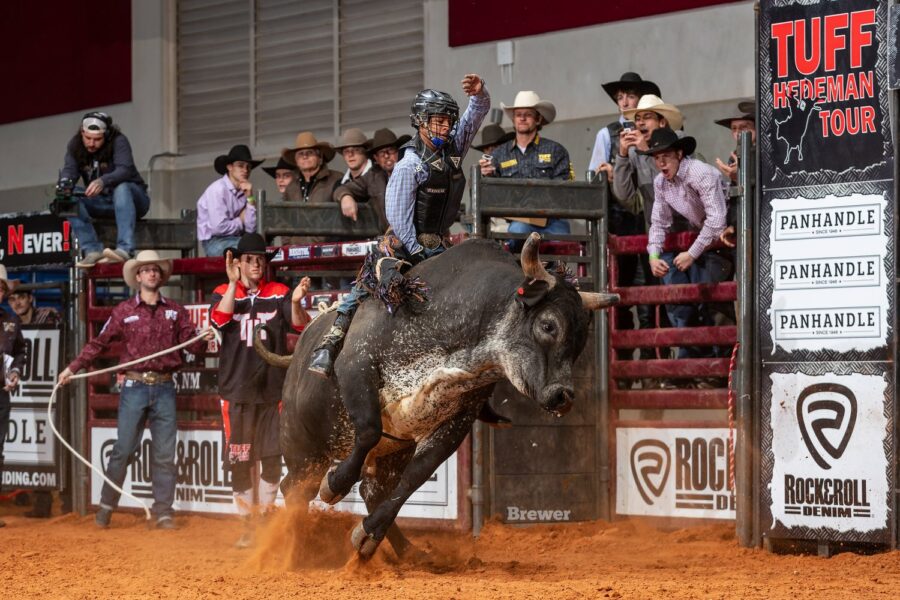 2022 Texas High School Bull Riding Champion, Kaiden Loud, wins first Tuff Hedeman Bull Riding title in Hobbs
Capturing his first Tuff Hedeman Bull Riding title, 2022 Texas State Bull Riding Champion Kaiden Loud of Kaufman, Texas, earned the 2023 Hobbs event with 175.75 points on two qualified rides. He left New Mexico on Saturday night with a championship buckle. Still, the $38,000 in prize money he left on the arena floor of the Lea County Events Center will probably be the memory he takes to the next competition.
The annual fan-favorite event kept the fans on the edge of their seats with only 10 qualified rides during the two-hour event. The bulls were the superstars as they bucked off 25 riders including all four Shoot Out Round qualifiers. Tuff Hedeman events pay on qualified rides so when no one hears the whistle in the Shoot Out round while still aboard, Tuff Hedeman events add a prize to the next Tuff Hedeman bull riding event scheduled for February 4th in El Paso, Texas.
The 18-year-old Texas Cowboy rode 2 of his 3 bulls in Hobbs, but in Tuff Hedeman's sudden death event format, you have to earn the highest-scored qualified ride in the final round to take home the bulk of the prize money.
Fans saw the leaderboard change with each round with only 2 riders going 2 for 2.
"Three rounds are challenging with three bulls back-to-back, you have to stay strong mentally and physically to get the win," said Hedeman about his signature format.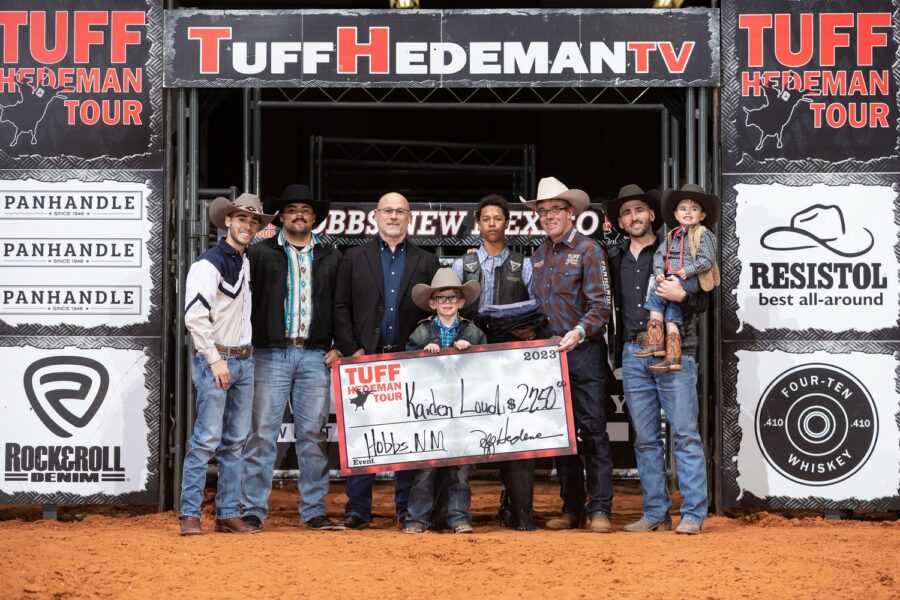 ROUND ONE
With 7 qualified rides in round one, NFR qualifier Koby Radley took the lead with 88.5 on Danny Mason's Ink Spot. Caden Bunch was close behind with 88 points on T & G's Hard and Often. Wacey Schalla was 87.25 followed by Kaiden Loud with 86.75. Maverick Potter, Riker Carter, and Marco Juarez posted scores and would advance to the Semifinal round.
SEMIFINALS
The Semifinal round pitted the 7 qualified scores with 3 advancing on time-ridden. Andy Guzman led the round and the highest earned score of 89 points on Universal Pro Rodeo's Outer Limits. Loud matched that with 89 on Burruss's Whamo. Caiden Bunch rode his second bull for 86.25 and a spot in the final four to stay in the hunt for a share of the $40,00 prize.
SHOOT OUT ROUND
With over $30,000 on the line in Hobbs, the top ride score in the Shoot Out round was set to earn the bulk of that big check. With two qualified rides on two bulls, Loud and Bunch advanced to the top spots and picked their bulls. Guzman and Radley advanced on one score each. Each would earn $1,000 for their efforts but the payout would end when the bulls bucked off each one of Shoot Out round cowboys.
BULL TEAM
Superstars at Hobbs put on a show of who's who in the back pens. The top team, Richardson Land and Cattle Company's bulls cleared the field by 3 points and outperformed the 11 teams entered in the Hobbs Bull Team competition. Richardson earned $22,000 in prize money by bucking off three cowboys, but his bulls bucked hard and his rank scores earned the title and the win.
Second place was Danny Mason's trio of buckers with 276.53 points and one qualified ride from Wacey Schalls. Less than one point behind Mason was veteran bull team owner Lyndal Hurst with 275.49 and no rider making the 8-second whistle but solid bull scores carried him to the pay window.
HOBBS RESULTS
1, Kaiden Loud, Kaufman, TX, 175.75 points on 2 bulls, $2,250.00. 2, Caden Bunch, Tahlequah, OK174.25 pts on 2, $2,250. 3, Andy Guzman, Oakdale, CA, 89 pts on 1, $1,750. 4, Koby Radley, Montpelier, LA, 88.25 pts on 1, $1500.
BULL TEAM RESULTS
1, Richardson Land and Cattle Co., Clifton, TX, 279.07 points, $22,000. 2, Mason Bucking Bulls, Mineral Wells, TX, r276.53 pts, $16,500. 3, Lyndal Hurst, 275.49 pts, $17,000. 4, Knapp Bucking Bulls, 274.72,$8500.
Tickets are on Sale for the next two stops of the Tuff Hedeman Bull Riding Tour on tuffhedemanbullriding.com. The tour continues to El Paso on February 4, and Las Vegas on March 4, at the South Point Hotel and Casino Arena.
Courtesy of TuffHedemanBullRiding.com