Reno Rodeo Day Seven Results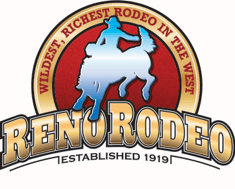 RENO, Nev. – Coors Night at the Reno Rodeo was damp but that didn't stop rodeo fans. The crowd stuck around to watch exciting performances and tight races.
Starting strong, No. 3 bareback bronc rider in the world standings Cole Reiner had an 83.5 on Big Bend Rodeo's Spring Blues.
It was a tough night for the team ropers tonight with only two qualified rides and one without penalty. It was Garrett Tonozzi and T.J. Watts who got the victory lap with an impressive 6.6 tie.
With a perfect Reno sunset as a backdrop, recent Red Bluff Roundup saddle bronc winner Wyatt Casper earned an 85 on Flying 5 Rodeo's Young Felon, giving him an opportunity for another high scoring ride tomorrow night and a shot at the Saturday night performance.
In the fastest collective group of barrel racing we've seen so far, Megan McLeod-Sprague had the quickest run around the barrels with a lightning fast 16.85, placing her at the very top of the leaderboard ahead with the only score in the 16 second range yet.
Here are the night's top results:
Bareback (score in points):
1. Cole Reiner, Buffalo, WY 83.5 on Big Bend Rodeo's Spring Blues
2. Jacob Lees, Caldwell, ID 81.5 on Flying 5 Rodeo's Black Mary
3. Jayco Roper, Oktaha, OK 80.5 on Big Bend Rodeo's Feather Woman
Steer Wrestling (score in seconds):
T1. Nick Guy, Sparta, WI 4.1
T1. Tucker Allen, Oak View, CA 4.1
2. SHOOP Stocking, Salina, UT 4.4
3. Laramie Warren, Adair, OK 4.8
Team Roping (score in seconds):
1. Garrett Tonozzi, Lampasas, TX & T.J. Watts, Eads, CO 6.6
2. Reno Cash Stoebner, Stephenville, TX & Russell Cardoza, Terrebonne, OR 15.8
Saddle Bronc (score in points):
1. Wyatt Casper, Miami, TX 85 on Flying 5 Rodeo's Young Felon
2. Jake Finlay, Goondiwindi, AU 78 on Flying U Rodeo's Professional Cho
3. Ross Griffin, Tularosa, NM 77.5 on Bridwell Pro Rodeo's Many Moons
Tie-Down Roping (score in seconds):
1. Kater Tate, McLean, TX 13.8
2. Garrett Jacobs, Bosque Farms, NM 19.6
3. Justin Brinkerhoff, Corinne, UT 19.7
Breakaway Roping (score in seconds):
1. Taylor Munsell, Alva, OK 2.7
2. Shalee King, Kaysville, UT 2.9
3. Shelli Scrivner, New Plymouth, ID 3.5
Barrel Racing (score in seconds):
1. Megan McLeod-Sprague, Marsing, ID 16.85
2. Leslie Smalygo, Skiatook, OK 17.10
3. Jordon Briggs, Tolar, TX 17.14
Bull Riding (score in points):
1. Gavin Michel, Nixa, MO 79.5 on Rosser Rodeo's Priefert Pete
2. Jesse Hopper, Mangum, OK 77 on Rosser Rodeo's Red Dawn
3. Matt Palmer, Claremore, OK 76.5 on Rosser Rodeo's Dancehall
*Scores are unofficial until verified by the Rodeo Secretary
For more information and live results every night visit the newsroom. Current PRCA leaderboard can be found here.