2022 Schedule to Feature Plenty of Familiar Cities where Greatness has Occurred
By: Justin Felisko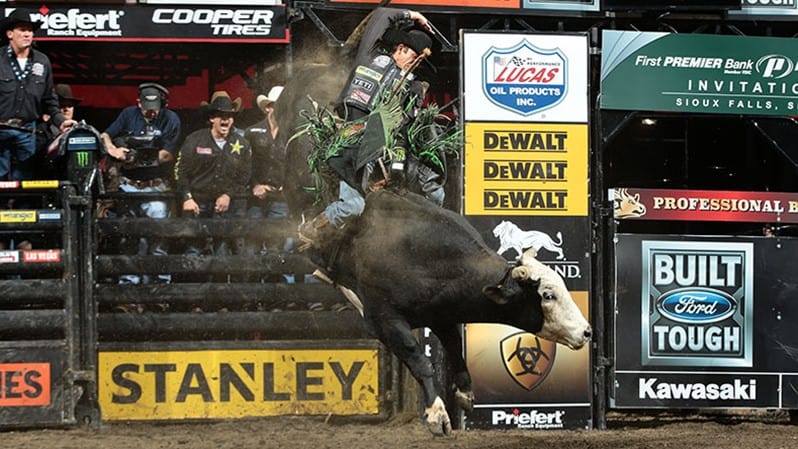 PUEBLO, Colo. – The PBR announced its 2022 schedule for the Unleash The Beast and Pendleton Whisky Velocity Tour on Tuesday. There will certainly be plenty of opportunities for fans to witness the toughest athletes in sports face off against the rankest bulls in the world.
The 2022 season will be a grind unlike never before, with 19 UTB events slated to occur in a quick five-month span, highlighted by the first PBR World Finals held in Fort Worth, Texas (May 13-15 / May 19-22).
Five of the 19 events will be crucial three-day events as riders attempt to win the PBR's 29th world title. The 2022 campaign will also include mid-week premier series events in a changeup from past years.
While the PBR may be bringing its World Finals to a new city, the 2022 schedule features a slew of tour stops it has visited before in illustrious history.
Below is a look back at just some of the top rides in each city the PBR Unleash The Beast will be visiting in 2022.
INDIANAPOLIS (1/1/22)
The PBR premier series is returning to Indianapolis for the first time since 2012, but it was in 2004 when PBR legends Justin McBride and Adriano Moraes each went for 91.5 points. McBride rode Mossy Oak Mudslinger, while Moraes made the 8 seconds on Western Wishes.
NEW YORK CITY (1/7/22 – 1/9/22)
Following a one-year hiatus, the PBR is ready to buck once again inside Madison Square Garden this coming January.
Two-time World Champion Jess Lockwood has had endless amounts of success in the Big Apple, winning the PBR Major event in both of his World Championship seasons (2017, 2019). In 2019, Lockwood clinched himself the season-opening victory with 91.75 points on Prayer Warrior.
CHICAGO (1/14/22 – 1/15/22)
The PBR is also back in Chicago after not stopping in the Windy City this past season. In 2013, Billy Robinson won his first premier series event in nearly 10 years by riding Smackdown for 92.5 points in the championship round at Allstate Arena.
DULUTH (1/22/22 – 1/23/22)
Two-time World Champion J.B. Mauney owns the two highest-scored rides in Duluth PBR history with 92.25 points on Crosswired in 2009 and 91.75 points on Rango in 2014. In the final PBR event last season before the COVID-19 pandemic shut down the sports and entertainment world, rising star Mauricio Moreira rode Big Black for 91.25 points in an empty arena.
SACRAMENTO (1/28/22 – 1/30/22)
When in Sacramento, the PBR gets to buck bulls in one of the most prestigious venues on the calendar at the Golden 1 Center. However, the PBR has a long history in Sacramento, going back to events at the old Sleep Train Arena. In 2012, Valdiron de Oliveira made a sensational 94-point ride on Buckey to win the first-ever 15/15 Bucking Battle in PBR history, holding off Austin Meier (92.25 points on Shepherd Hills Trapper) and J.B. Mauney (91.5 points on Larry The Cable Guy's Git-R-Done).
MILWAUKEE (2/4/22 – 2/5/22)
2021 PBR Ring of Honor inductee Robson Palermo made the best ride of his career in Milwaukee when he rode RMEF Gunpowder & Lead for 93.5 points 10 years ago. The ride was one of Palermo's 37 career 90-point rides.
Fans can watch Palermo's Ring of Honor induction exclusively on RidePass on Pluto TV on Nov. 2.
OKLAHOMA CITY (2/11/22 – 2/12/22)
In the heart of bull country, there is no surprise to see two 94-point rides in the Oklahoma City record books. 2018 World Champion Kaique Pacheco rode Chiseled earlier this year for 94 points as he asserted himself as a 2021 World Champion contender. The ride came almost 18 years after PBR co-founder Gilbert Carrillo rode Crossfire Hurricane for 94 points in Oklahoma City.
ST. LOUIS (2/18/22 – 2/19/22)
Speaking of Carrillo, the Stephenville, Texas, bull rider made the first of his two 96-point rides of his career in St. Louis. Carrillo's first came aboard Perfect Storm 20 years ago in St. Louis. Carrillo would then hit the 96-point mark the next season on Blueberry Wine at the 2002 Ty Murray Invitational in Albuquerque, New Mexico.
LOS ANGELES (2/21/22 – 2/22/22)
The PBR will be back at STAPLES Center in downtown Los Angeles for the third time in league history next season, and once again, Joao Ricardo Vieira may just be the man to keep an eye on. Vieira won the inaugural event at STAPLES Center two years ago when he took home the Iron Cowboy title with a 90.25-point ride on Cochise. Vieira then nearly won a second consecutive Iron Cowboy title in 2020, but he was ultimately eliminated in the final round of competition.
LITTLE ROCK (2/25/22 – 2/26/22)
The 2002 event in Little Rock saw a trio of memorable rides – Dusty Labeth rode 1999 World Champion Cripple Creek's Promise Land for 95.5 points, Kelly Armstrong rode Mossy Oak Mudslinger for 94 points and Ednei Caminhas, the eventual World Champion, rode two-time World Champion Dillinger for 94 points.
GLENDALE (3/12/22 – 3/13/22)
2006 PBR World Finals event winner L.J. Jenkins posted the best ride of his career by riding Voodoo Child for 94 points at the 2010 tour stop in Glendale.
KANSAS CITY (3/18/22 – 3/19/22)
This past season in Kansas City showcased two of the best rides of 2021 – 2020 PBR World Finals event winner Boudreaux Campbell rode No. 1 YETI World Champion Bull contender Woopaa for a career-high 95.5 points, and 2016 World Champion Cooper Davis made a marquee ride on Chiseled for a career-best 94 points.
ALBUQUERQUE (3/25/22 – 3/27/22)
The Ty Murray Invitational, one of the PBR's longtime events, is returning to arguably the loudest venue on the tour following a two-year hiatus. It was only four years ago when Stormy Wing made a phenomenal 95.25-point ride on three-time World Champion Bull SweetPro's Bruiser that brought all of the fans inside The Pit to their feet.
SIOUX FALLS (4/1/22 – 4/3/22)
South Dakota has become a staple for PBR events, and the Sioux Falls faithful could give The Pit a run for its money in terms of decibel volume. Two-time World Champion J.B. Mauney made quite the first impression on the Sioux Falls fan base when he rode Pearl Harbor for 94.25 points five years ago at the first premier series event held inside the Denny Sanford PREMIER Center.
EVERETT (4/6/22 – 4/7/22)
Everett, Washington, is the only new city the PBR will be visiting in 2022 that has yet to host a premier series event.
TACOMA (4/9/22 – 4/10/22)
1999 Rooke of the Year Mike White posted the second-best ride of his career by riding Splinter for 94.5 points inside the Tacoma Dome in 2003.
NAMPA (4/22/22 – 4/23/22)
Michael Gaffney's 96.5-point ride aboard three-time World Champion Bull Little Yellow Jacket in 2004 sat atop the PBR record books for more than 17 years. Jose Vitor Leme set the new standard for the highest-scored ride in PBR history with his 97.75-point ride on Woopaa in Tulsa, Oklahoma, this year.
BILLINGS (4/29/22 – 5/1/22)
One of the consistent mainstays on the PBR calendar will be the final regular-season stop before the World Finals next season. In 2002, Cory McFadden rode three-time World Champion Bull Little Yellow Jacket for 95.5 points. Last year, Jose Vitor Leme rode two-time World Champion Bull Smooth Operator for an iconic 94.25 points as he continued his march to his first world title.
FORT WORTH – PBR WORLD FINALS (5/13/22 – 5/22/22)
Fort Worth is no stranger to the PBR and its elite level of competition. Fans already witnessed greatness at Dickies Arena this past summer when Paulo Lima won the Iron Cowboy event with a 95.25-point ride on Woopaa.
What will happen next year at the PBR World Finals?
Follow Justin Felisko on Twitter @jfelisko
Photo courtesy of Andy Watson/Bull Stock Media
© 2021 PBR Inc. All rights reserved.