22 Moments We're Thankful for in 2022
By: Darci Miller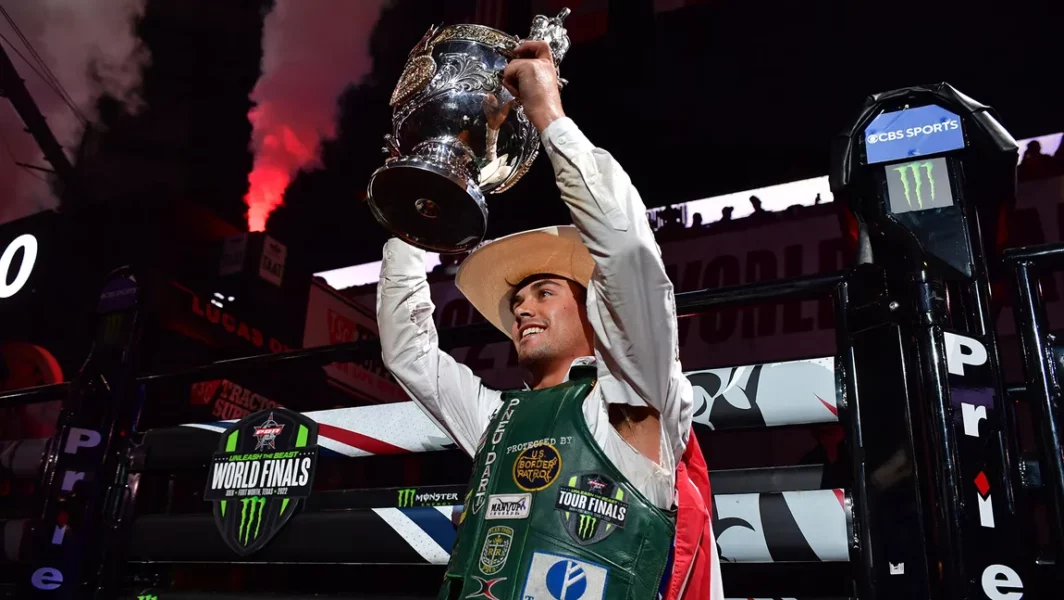 PUEBLO, Colo. – The 2022 seasons – both of them! – are officially in the books, and we can officially say this was a year like no other in PBR history. We started things off with one of the closest world title races in PBR history, made history with the PBR Team Series, and watched an incredible run by the Nashville Stampede to close the season. 2022 was definitely a year we'll never forget.
Here are 22 moments we're thankful for in 2022, and we wish you a safe and happy Thanksgiving.
Tune in to CBS Sports Network on Nov. 24 for a marathon of some of the highlights from the 2022 PBR Team Series season.
Mason Taylor rings in the New Year with a win
The 2022 Unleash The Beast season began with the New Year on Jan. 1 in Indianapolis, Indiana, and it was Mason Taylor making good on those New Year's resolutions. Less than two months after breaking out at the 2021 PBR World Finals, finishing third in the race for the event title, Taylor won the one-day event in Indy for the second premier series win of his career.
"I'm not looking forward 'cause I'll only get in my own way," Taylor said. "I'm just taking it one bull at a time and having fun."
Stetson Lawrence wins first UTB event since 2017
Veteran Stetson Lawrence missed most of the 2021 season due to injury. While he was out rehabbing and recovering from a broken neck, the fire to return only grew stronger. In Chicago in January, the Firewalker went 3-for-3 – 4-for-4 if you include the 15/15 Bucking Battle – to earn his first premier series event win in more than four years. It would ultimately be the last UTB win of his career, as he retired at the PBR World Finals in May.
"I am here to compete more than just to hang out," Lawrence said at the time. "I don't have many years left to ride, and I want to make these last ones count. Win the freaking title and say, 'Peace.' There is a different motivation and a different set of eyes this year. Breaking your neck brings a lot out. I went through a lot, especially mentally, to get back to this point."
Team USA Eagles win second consecutive Global Cup
It's been a hell of a run lately for the Team USA Eagles at the PBR Global Cup. After first winning the event in 2017, the Eagles took almost three years to win their next, taking the title at the 2020 Global Cup USA in Arlington, Texas. After a yearlong layoff, the Eagles took flight in Arlington once again in 2022. The U.S. squad went a near-perfect 6-for-7, led by two 90-point rides by Daylon Swearingen – more on him in a minute – to defend home soil and their title.
"I love everything about this sport," Team USA Eagles Coach Ross Coleman said moments after the win. "I love watching these young men. They're role models and good cowboys, and they get the job done."
Dakota Louis wins at home
A native of Browning, Montana, Dakota, Louis grew up following his father to bull ridings around the state and even attended the PBR premier series event in Billings as a kid. Two decades later, he was back in Billings, this time as a competitor, and won the first premier series event of his career in front of his friends, family and home state.
"This is an event I came to as a little kid up there watching, and it has been my motivation to make myself better and be at this level," Louis said. "To get a win here definitely marks off one of the goals. To have my dad here is so special. He has taught me everything I know."
Eduardo Aparecido's 300th ride…
The 300 ride club is a prestigious one – only 21 riders in league history have notched 300 rides on the premier series. Eduardo Aparecido became member No. 20 in April in Sioux Falls, South Dakota, when he rode Catfish for 86.75 points and ride No. 300 after nearly being cut from the premier series earlier in the season.
"I am very happy for this," Aparecido said. "I knew I would one day get to 300. This year started no good for me, but last week I started riding better, and I got 300. I think I can get to 400, 500. I don't know."
…and Kaique Pacheco's 300th ride
Member No. 21 joined the club in October when 2018 World Champion Kaique Pacheco hit the milestone. A member of the Nashville Stampede, Pacheco helped his squad to a 2-1 and third-place overall finish at Ridge Rider Days.
"I'm really happy to reach that number," Pacheco said. "That's really hard, to reach that number on that kind of bulls. That's why we are here. That's what we're working for, to ride the bulls.
"That's really important for me, for the team to win, and for my career, this is a good moment. I'm pretty happy."
Dalton Kasel wins for Ouncie
Tragedy struck the PBR in September when Ouncie Mitchell passed away. Just over two months later, the 2023 Pendleton Whisky Velocity Tour season opened with the Ouncie Mitchell Memorial Invitational in Fort Worth, Texas. With Ouncie's family looking on, Dalton Kasel went 2-for-2 to start his season strong but, more importantly, honor his fallen friend.
"I ended up giving the buckle back to his family," Kasel said. "It seemed like the right thing to do at the moment. It's the very first one of many that we're going to have, and they deserve it. I wanted them to have it."
Ednei Caminhas becomes the oldest ever to qualify for a World Finals
They say that age is just a number, and Ednei Caminhas is out there proving it every day. The 2002 PBR World Champion unretired in 2021 and just missed out on qualifying for the PBR World Finals. He didn't make the same mistake in 2022, finishing fifth at the Pendleton Whisky Velocity Tour Finals to earn a World Finals berth and making history as the oldest ever to do so at 46 years old. He would go on to record his first qualified ride at a World Finals in 13 years.
"A World Champion may lose his ability, but he never loses that same fight," Caminhas said. "I know my body is not the same, but I still have the same World Championship mindset that helped me win a gold buckle. A World Championship gives you power. It gives you more aggression. My mind is still great."
Cody Jesus lights up the Velocity and World Finals
For years, the story around Cody Jesus has been about his potential. In 2022, it finally became about his achievements. Jesus exploded at the end of the season, winning the Velocity Tour Finals event title and nearly following that up with a World Finals event win as well – he ultimately finished second.
"This is very special," Jesus said after his Velocity Finals win. "I always wanted to win something big, and this was it. I am trying to be the best as I can be. Mentally, I'm there. Physically, I'm there. And we're backing it up with the riding a little bit. I've just got to keep doing what I do and just having fun with it."
Bob Mitchell wins Rookie of the Year
Bob Mitchell might look like a grizzled veteran with his Fu Manchu mustache from another era, but don't let the facial hair fool you – he's just 19 years old and finishing his first full season in the PBR. Season No. 1 was a good one, too, as he finished No. 21 in the world and earned Rookie of the Year honors. After bucking off his first four bulls at the World Finals, he notched his first qualified ride in Round 5.
"The good Lord made it work for me," Mitchell said. "I was praying to God. If I were to come here, to make it here, and then fall off everything? That would have been horrible. I've wanted to be here since I was a kid."
Ridin Solo defeats Woopaa to win World Champion Bull title
This season's World Champion Bull race was a doozy, as Ridin Solo and Woopaa were neck and neck all season long, beginning the PBR World Finals in a dead heat. But Ridin Solo separated himself in Fort Worth, posting two consecutive 47-point bull scores to earn his – and stock contractor Cord McCoy's – first World Championship.
"One year in the season, I was in the Top-5 (as a rider), but, no, I never had a shot like this," McCoy said. "I've only had about 12 shots at $1 million between the PBR and the Amazing Race. But to win that gold buckle, it will last forever. Today's his day."
Daylon Swearingen stuns, wins World Championship
Daylon Swearingen was the underdog in one of the tightest world title races in PBR history, battling against the likes of two-time World Champion Jose Vitor Leme, 2018 World Champion Kaique Pacheco and perennial world title contender Joao Ricardo Vieira. But that didn't matter at the PBR World Finals, where the 23-year-old went an astounding 6-for-8 to take the event win and the World Championship buckle.
"It's crazy. Unreal," Swearingen said. "This hasn't really all sunk in yet. Everything's going still, and I'm just really thankful that my family got to be here with me."
PBR Team Series Draft kicks off a new era of bull riding
The day after the World Finals, all eyes turned to the PBR Team Series. The new eight-team league would compete in five-on-five bull riding games in a season culminating with a championship in Las Vegas… but before any of that could happen, teams needed to select their rosters. The five-round draft was held in Texas Live! and forecasted a thrilling season ahead.
"I'm impressed by a lot of teams," Texas Rattlers head coach Cody Lambert said. "There's a lot of good teams, and so it's going to be very, very competitive, and they'd better bring the best bulls, or nobody will ever get bucked off around here."
Daniel Keeping is unstoppable for Texas
The Team Series gave us a chance to meet a few new faces. One of them was Daniel Keeping, who became a bona fide star for the Rattlers. During the regular season, he was 9-for-12 (75%) and a perfect 5-for-5 in the closer role with two 90-point rides and two walk-offs.
"It was a blessing that popped up and an opportunity to take being a Rattler," Keeping said. "There is a good feeling when you have done something for your teammates and not just yourself. It will boost your self-esteem."
Three walk-offs for Derek Kolbaba
Derek Kolbaba has been a mainstay in the PBR for the last seven years, but he had yet to make an impact since finishing No. 2 in the 2017 world title race. That all changed, though, when he put on the Oklahoma Freedom jersey. At the squad's home event, Freedom Fest, Kolbaba notched not one, not two, but three walk-off rides – two for 90 points – as the Freedom earned the event win.
"It was really cool," Kolbaba said. "It's one of those things that's just trickling down. The pressure just starts building a little bit, and those are the kinds of moments you want to put yourself in just to see what you're made of. It was definitely a special feeling, just to step off and know that you just rode a great bull with the game on the line, and all your buddies are right there trying to build you up as well. It was pretty special, for sure."
Chase Outlaw punctuates Freedom's win with ride on Woopaa
Chase Outlaw is known as one of the most fiery riders in the PBR. Woopaa, of course, is known for propelling riders to historically high scores. So when the two finally got together, you knew there would be fireworks. Outlaw rode Woopaa for a career-best 94.5 points, capping the Freedom's incredible weekend at home with the Bonus Round win.
"Winning's fun, but when you've got everybody here, all these cats from Oklahoma, everybody – man, this is awesome," Outlaw said. "You can't ask for nothing better. That is why we run our hand in the bull rope, and that's why we do what we do, is opportunities like that. And when they present themselves, you have to be ready for it."
Cooper Davis's dominant return
Cooper Davis almost retired from bull riding. After wrecking out of the UTB season in January and requiring two shoulder surgeries and a six-month recovery, Davis was pretty sure it was the end of the line. But then the PBR Team Series came calling, and he couldn't resist getting back in the game. He was an immediate impact player for the Carolina Cowboys, riding his first four bulls back and leading the team to a second-place finish at Cowboy Days.
"Man, when you get Cooper back, Cooper is a momentum-giver to everybody," teammate Mason Taylor said. "Even during the regular season, when Cooper rides, it especially fires me up because we are so close. It does nothing but good things for the team. Cooper is captain America, and he is freaking awesome."
Rattlers go 5-for-5 in Glendale
It took the entire regular season, but at the last event before the PBR Team Series Championship, a team finally went a perfect 5-for-5 in a game. That team was the Texas Rattlers, and their perfect game was the highlight of a streak that saw them win three consecutive events.
"That's what we're shooting for," said Cody Jesus, who contributed the final ride. "If we go 3-for-5 and we win a game, that's cool, but every time we crawl down in the bucking chutes, we want 5-for-5. So I felt like the job wasn't done yet, so we had to go 5-for-5."
Jose Vitor Leme clinches Team Series MVP award
Leme may not have won the world title this season, but he did win the inaugural MVP award for his incredible Team Series season. Leme went a cool 19-for-25 (76%) in the regular season, outpacing his closest competitor in the MVP race, Daylon Swearingen, by 189 points.
"It's always a goal of mine to win something," Leme said. "If you have a prize and you can win that, I always want to win that. I want to win everything I can, but MVP is not my first goal, of course. My first goal is to help the team and win with the team. Of course, I am so happy to be the first one ever to win this prize. It's another great accomplishment for my career."
Cinderella Nashville Stampede win inaugural PBR Team Series Championship…
The Nashville Stampede are the story of the year. Following a disappointing regular season that saw them finish dead last in the standings, they came into the PBR Team Series Championship and won out, upsetting everyone to win the largest gold buckle in the world.
"It's crazy," said Nashville Stampede Head Coach Justin McBride dirtside. "I got to win two individual titles as a bull rider in this sport, and it's nothing compared to this. The buckle is awesome, but for me, it's about these guys who never gave up and finished on top."
…Dirt retires as a champion…
When Ryan Dirteater unretired earlier this year, it was for one reason: to join a team and win a PBR Team Series Championship. While it looked unlikely for most of the season, Dirteater went 2-for-4 in Las Vegas to help his squad take the title. Now, he rides back off into the sunset with the championship he always wanted.
"I had my eyes on it, and this was my goal," Dirteater said. "This is an amazing feeling. This was the goal from the beginning, win a title with a team. Now I can walk away on top and enjoy retirement."
…and Silvano Alves wins a fourth gold buckle
Silvano Alves is one of just two riders ever to win three PBR World Championships and is also one of two riders to win gold buckles in consecutive years. He's unquestionably one of the greatest bull riders of all time, and in winning the PBR Team Series Championship with the Stampede, he earned something no rider in the PBR has ever won: a fourth gold buckle (three individual, one Teams)
"I like Vegas. I always love riding in this place here in Vegas," Alves said. "Every time, I joke that this is my house. I'm very happy, and very happy for my team to win."
Photo courtesy of Andy Watson/Bull Stock Media
© 2022 PBR Inc. All rights reserved.