By Joe Kusek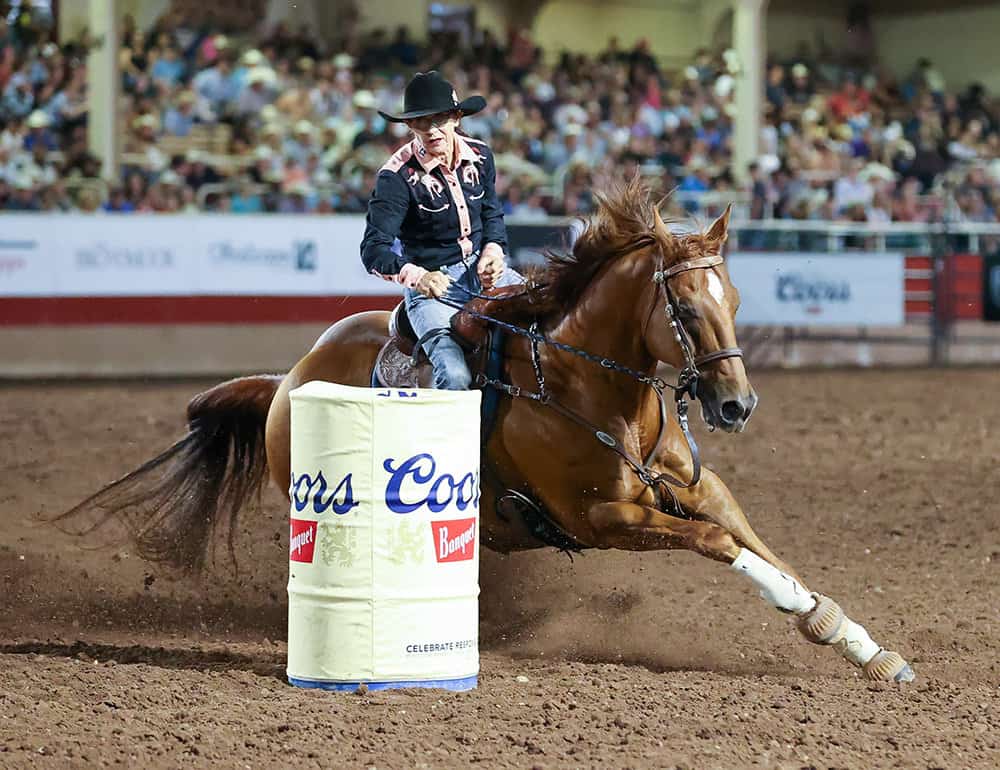 Cheyenne Allan closed her eyes and took a deep breath, allowing the sounds of celebration cascade over her.
This was a moment to savor.
"It almost felt like the NFR," said the barrel racer.
She was close.
Allan was on the awards stand, reaping the physical and emotional benefits from winning the NFR Open.
The veteran barrel racer from the state of Washington delivered her best run of the event against a star-studded field to emerge as the champion at the NFR Open at a packed Norris Penrose Event Center in Colorado Springs, Colorado.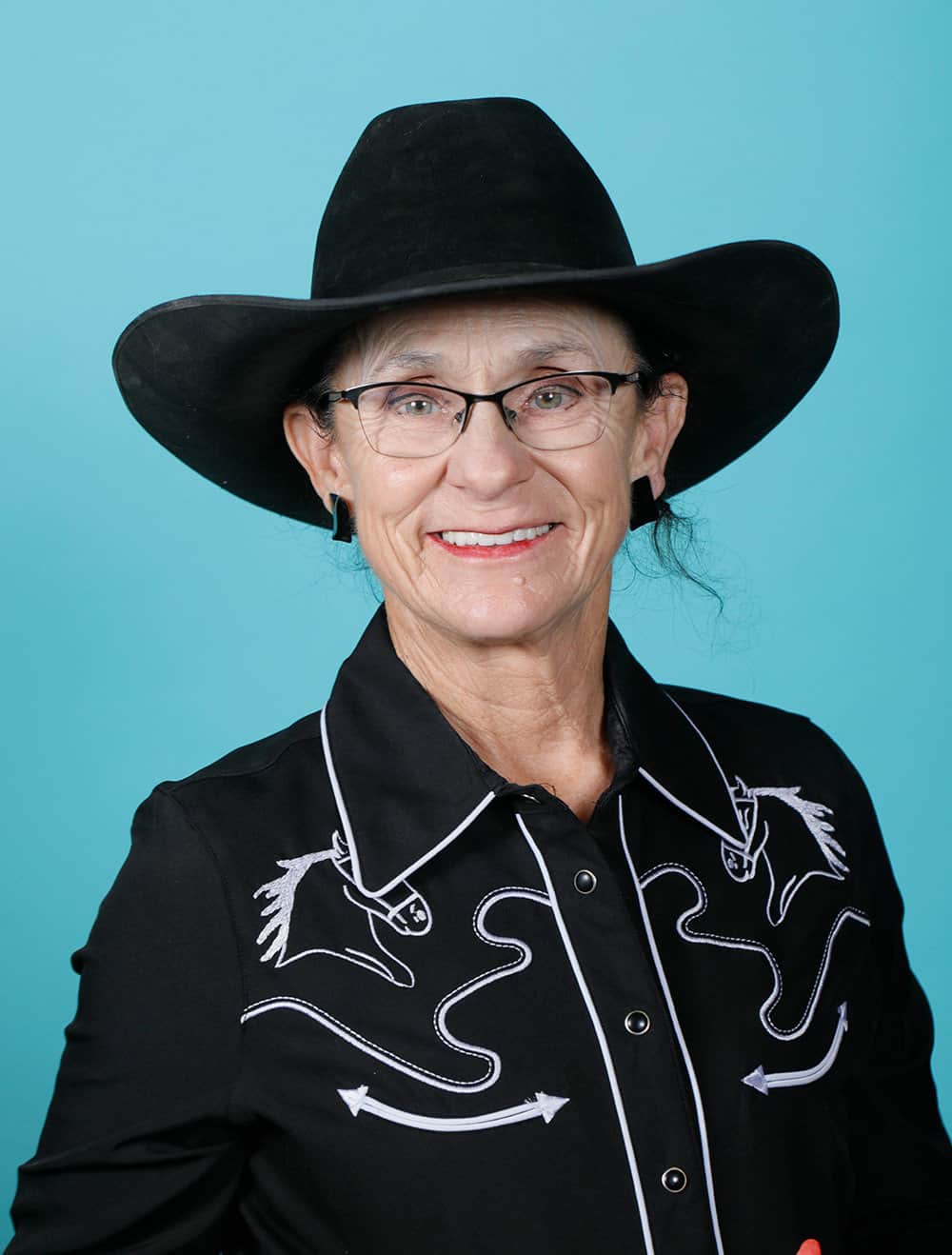 "Oh, I'll tell you what, this is so special," Allan said. "As one of the older racers, it might happen again. It might not. You try to savor every moment."
The NFR Open July 13-16, replaced the Ram National Circuit Rodeo Finals.
"From beginning to end it was a success," said Allan, who qualified by winning the year-end Columbia River Circuit title for 2021. "The committee, everybody involved, worked their tails off. This rodeo was outstanding."
As was Allan and her horse Three.
The pair capped off the week of competition by winning the final round of four with a stellar time of 17.04 seconds, the second-fastest run of the week.
The finals included reigning WPRA world champion Jordon Briggs of Tolar Texas, three-time NFR qualifier Shelley Morgan of Eustace, Texas and Leslie Smalygo of Skiatook Oklahoma, who is having a break-out season.
"On any given run on any given day, somebody can win. There is so much horsepower out there," Allan said.
Second out, Allan and Three swept around the barrels for the victory. A glance at the scoreboard brought an uncharacteristic fist pump.
"Oh no, that's not me. But I was pretty excited," said Allan. "The run felt smooth."
Briggs would follow in 17.17, while Morgan was third in 17.40 and Smalygo fourth in 17.43.
Allan earned $16,378 and jumped from 71st to 36th in the WPRA world standings.
Allan was 17.59 in the first round, missing the top eight by four-hundredths of a second. She followed with a 17.30 in the second round to finish third in the average behind Briggs and Morgan. Smalygo won the first round in 17.27 while Briggs won the second run in 17.00, the fastest of the event.
Briggs, who won RodeoHouston earlier this year, also won the semifinal round in 17.21 while Allan was third in 17.40 to reach the finals.
Allan and Three were not bothered by running the semifinals and finals back-to-back.
"What was really cool with back-to-back was I knew it would work in my favor," said Allan who calls Mabton, Washington home where she and her husband Randy raise and train colts. "At home, we have a little club and run our horses back-to-back.
"I knew we would come back stronger."
Ironically, Allan was considering leaving Three home before the NFR Open.
"My horse was working really, really bad," said Allan of the nine-year-old sorrel gelding registered as RCA Royal Flush.
"He was constantly kicking off shoes and having trouble with the bit. If that continued, I was not going to drive all the way to Colorado with him and embarrass myself. But we got the shoe issue fixed and made a change with the bit."
Exactly a week prior to the NFR Open, Allan and Three won at Elgin, Oregon. "Well, OK, we did something right," she said.
"I had no expectations for the NFR Open. None going in."
This is Three's second year as Allan's primary horse. Along with winning the Columbia River year-end championship, the pair also placed second at the Pendleton Round-Up.
Allan and her husband got Three as a colt and their trainer Josh Auman spotted something special in the horse right away.
"Josh told us, 'He's a good one. This one is a keeper,' " Allan said. "The horse has a wonderful personality, a great disposition. He's a gentle giant. Three is very polite and minds his manners. He reads you very well. And he does love his treats."
Allan and Three plan to focus on their circuit schedule for the remainder of 2022 but may add a few more rodeos.
"We want to qualify for the big winter rodeos," she said of 2023. "The horse tells you where you need to go. It's fun to win and now you move on to the next one.
"You know, it really hasn't hit me that I won."
However, she does have a reminder. Contestants had to return their championship buckles to be engraved but got to keep the rest of their prizes.
"When I go and open the tack door, oh boy, there it is," Allan said of the championship saddle. "This is frosting on the cake."
Courtesy of WPRA