Almeida Wins Second Straight Challenger Series Event in Erick, Oklahoma
By: Darci Miller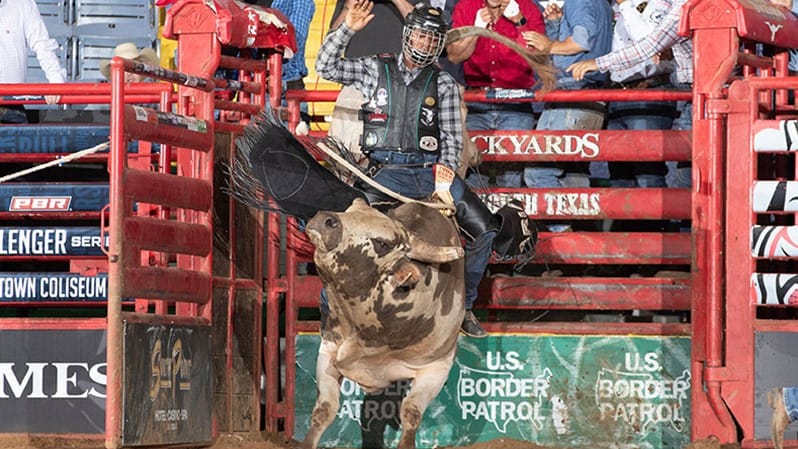 PUEBLO, Colo. – Just three days after Ednelio Almeida won his first PBR Challenger Series event, he has win No. 2 under his belt.
Almeida, who signed to the Texas Rattlers of the PBR Team Series as a free agent, was victorious at the Nothin' But Try Ranch PBR on Wednesday in Erick, Oklahoma, going 1-for-2 to earn his second consecutive event win.
In fact, Almeida's qualified ride – 86 points on Blessed – in Round 1 was the only qualified ride in Erick, giving him both the Round 1 and event victories. He was bucked off by Crack the Latch in the championship round in 2.26 seconds.
For his efforts, Almeida earned four Challenger Series points and is now ranked No. 3 in the tour standings. Texas Rattlers teammate Rafael Jose de Brito is No. 1 with 70.5 points overall, while Tye Chandler is ranked No. 2 with 41.66 points, just .66 ahead of Almeida.
Between Almeida and Brito, the Rattlers have taken the Challenger Series by storm. In the last three weeks, the two have won three events and placed second at another.
Almeida and Brito will next be in action this weekend at the PBR Dakota Community Bank & Trust PBR Team Series Preseason Event (8:30 p.m. ET Friday and Saturday on RidePass on Pluto TV). The Rattlers take on the Carolina Cowboys on Friday and the Arizona Ridge Riders on Saturday.
This past Sunday, Almeida won his debut Challenger Series event, going 1-for-2 to win PBR Sunday at Cowtown in Fort Worth, Texas.
As the first rider to convert Sunday afternoon, Almeida delivered what would be the high-marked ride of the event to win Round 1, riding Bobkat for 88 points. He could not remain perfect in the championship round, bucked off by Ain't Foolin in 3.13 seconds.
That event win earned him 37 Challenger Series points.
This is Almeida's first time competing in the PBR in the United States. He competed in PBR Brazil in 2018-2019 before the COVID-19 pandemic halted competition in 2020 and came to the U.S. early in 2022. In March, he placed 10th at his first Pendleton Whisky Velocity Tour event, the PBR Tractor Supply Co. Invitational in Fresno, California.
The Challenger Series next heads to Marion, Illinois, for Bulls at the Ballpark on June 18. The tour's residency in Cowtown Coliseum continues in Fort Worth with another PBR Sunday at Cowtown on June 19 (RidePass on Pluto TV at 3 p.m. ET).
© 2022 PBR Inc. All rights reserved.