Alves Healthy and Confident Ahead of Stockyards Showcase
By: Justin Felisko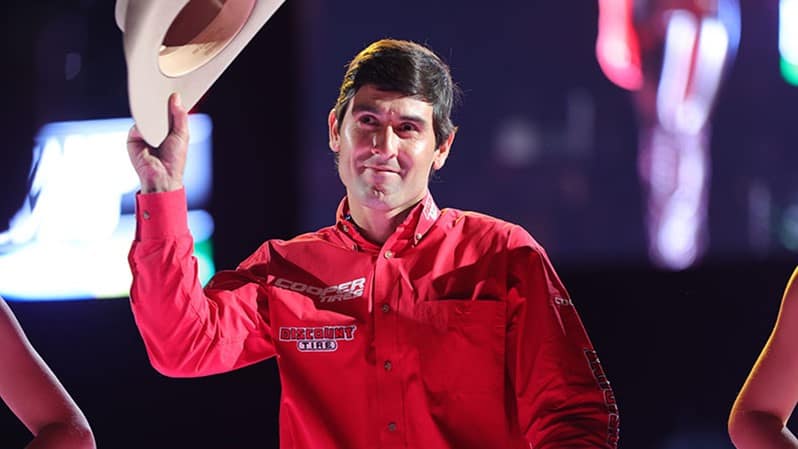 PUEBLO, Colo. – It has been seven years since Silvano Alves was on top of the PBR throne.
Alves went 6-for-6 at the 2014 PBR World Finals, riding 2012 World Champion Bull Asteroid for 87.25 points, to become only the second rider in PBR history to win three world titles.
At the time, it appeared nothing would be slowing Alves down in his pursuit of a fourth world title.
However, Alves has yet to finish inside the Top 10 of the world standings since he left the Thomas & Mack Center on October 26, 2014, with his third PBR gold buckle. In the last three years, Alves has finished no higher than 20th in the PBR world standings as injuries began to take a toll on the future Ring of Honor inductee.
Alves, though, is quietly hanging inside the Top 10 this season, and the 33-year-old heads into this Friday's Stockyard Showcase Touring Pro Division event in Fort Worth, Texas, sitting No. 10 in the world rankings.
"I try to ride really well every year, but the last few years I had some injuries," Alves told CBS Sports Network's Kate Harrison in Billings, Montana. "I had not much confidence because of my injuries. Right now, this year, my body is 100%, and I feel nothing. I started really good, and I keep my head up every single time. I just focus on riding each bull each day."

Fellow Top 35 riders No. 5 Dener Barbosa, No. 27 Ezekiel Mitchell and No. 31 J.T. Moore are also tentatively slated to compete at Cowtown Coliseum in Fort Worth.
Mitchell heads into Fort Worth following a fifth-place finish (2-for-3) in Jacksonville, Florida, at the PBR Bad Boy Mowers Invitational, presented by Union Home Mortgage.
Alves's bid at a record-setting fourth world title came to an end in 2015 when he broke his left hip in Nampa, Idaho, and underwent surgery. The Pilar do Sul, Brazil, bull rider returned later that season and finished 12th in the world standings.
The 11-time PBR World Finals qualifier's career then nearly ended two years ago when he ruptured his kidney in Springfield, Missouri. Southern Style stepped on him inside JQH Arena, and doctors had to scramble to save his kidney altogether.
Alves is still not riding at the 50-69% clip of his championship prime as he is only 13-for-43 (30.23%) this season, but he still appears on track for his best season since an 11th-place finish in 2017.
He is 702 points behind No. 1 Kaique Pacheco in the world standings.
At the season-opener in Ocala, Florida, Alves said that he was excited for his 12th PBR season, especially because he was feeling 100% healthy following a productive offseason. In the week leading up to the 2021 campaign, Alves attempted an estimated 15 practice bulls.
"For me, I am very happy about this year," Alves said. "I am healthy 100% this year. I am going to try hard every week. This past week, I got on 15 bulls before the season in Texas. I got on a lot of practice bulls to start the season well. I needed to get on bulls. I know some exercise is good, but I needed to stay on all the time to be ready. In seasons before, I wouldn't do this.
"I think mentally I am ready to get on every week."
UNLEASH THE BEAST RESUMES ON JUNE 11-12 IN LAS VEGAS
The Unleash The Beast series will have its final event of the first half on June 11-12 in Las Vegas with the PBR Las Vegas Invitational at the MGM Grand Garden Arena, which hosted the PBR World Finals from 1994-1998.
Alves may have never competed at the MGM Grand Garden Arena, but he is no stranger to Vegas success. Alves is 44-for-70 (62.86%) on the premier series in Las Vegas, including a 2013 Last Cowboy Standing victory and a 2014 World Finals win. However, he went 0-for-8 last year at the Monster Energy Team Challenge in Vegas.
The UTB will then be on its summer break until PBR Last Cowboy Standing on July 26-27 at Cheyenne Frontier Days.
Follow Justin Felisko on Twitter @jfelisko
Photo courtesy of Andy Watson/Bull Stock Media
© 2021 PBR Inc. All rights reserved.