Alvidrez Expects to Make Season Debut in Kansas City
By: Justin Felisko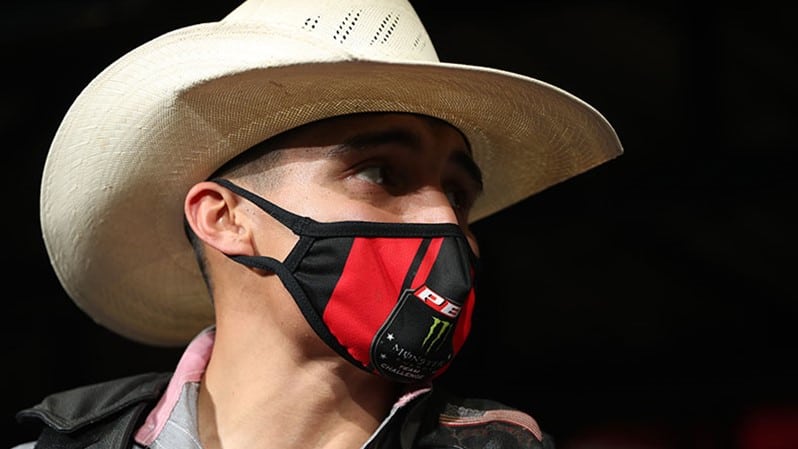 PUEBLO, Colo. – Ask any of the cast members of the Snapchat series Life By The Horns about Andrew Alvidrez and they will all tell you to watch out for the Texas cowboy in 2021.
Alvidrez may still be out of competition because of a broken neck he sustained last October, but the 24-year-old has been obsessively rehabbing and training in North Carolina in anticipation of taking the next step in his career this coming season.
The Seminole, Texas native's determination and drive inspire Ezekiel Mitchell to push himself harder outside of the arena, and Alvidrez's commitment has his agent Max Maxwell believing Alvidrez has yet to reach his full potential so far in his career.
View this post on Instagram
While discussing the Snapchat docuseries during an exclusive PBR Virtual Experiences panel discussion on Monday night, Alvidrez shared the good news that he expects to make his season debut on March 20-21 in Kansas City, Missouri, at the PBR Caterpillar Classic.
"The goal is I am going to be cleared March 11, and I plan on coming back for Kansas City, Missouri," Alvidrez said. "I have been staying ready. As soon as they put that neck brace on me, there are no breaks. This is my livelihood. This is my way to provide for my family and to just help others, so I can't take a break. I am constantly working. I have already dropped 15 pounds while in the neck brace. I am just ready."
Alvidrez was amidst the best season of his career last year and was poised to qualify for his first PBR World Finals before he broke his C-7 vertebrae on Oct. 10 when Oreo bucked him off in 3.71 seconds in Tulsa, Oklahoma. He was sitting fourth in the 2020 Rookie of the Year race at the time of his injury. He made a splash in his debut in Little Rock, Arkansas, with a second-place finish, and he would finish runner-up again in September in Billings, Montana.
Alvidrez still finished the 2020 season ranked 26th in the final world standings. The 2018 Touring Pro Division champion went 9-for-33 on the Unleash The Beast.
Based on his Top 30 finish in the 2020 standings, Alvidrez will have eight injury exemptions to begin the 2021 season as he tries to work his way back into the Top 30.
Also participating in the PBR Virtual Experiences panel Monday night were Mitchell, Maxwell and Tyler Werner.
"Even when he had the neck brace on, he was here every single day (working out at our personal gym)," Maxwell said. "So that is why I know. Him coming back, he is probably going to get a round win his first event back. It is going to be amazing. I can't wait to see it."
Mitchell, the No. 28-ranked bull rider in the world standings, has been training with Alvidrez in North Carolina and has developed a close friendship with him over the past five years.
"Through Andrew, I have actually started to try to work out more and get in the gym," Mitchell said. "I can't always say it goes exactly that way, but for the most part, for me, I like to just do things that keep me active. I do indulge in a little sleeping, but I try to stay active. Whatever I can do to make sure I am conditioning my body and my mind."

Alvidrez explained on Monday night that mental conditioning is a big part of his training regimen.
"Everything that is going into my training is mental conditioning," Alvidrez said. "Just like you have calloused hands whenever you are working outside, you have to callous your mind. You got to do something every day that you don't want to do. Because when you get in a tough predicament in bull riding, you are never in the spot you want to be, so you have to train your mind to say, 'You know what, I am not in the spot I want to be, but I am going to be what I want to be.' That is how you get rid of the doubt. Preparation. Training, mental conditioning is a must."
Many people believe Alvidrez is always focused on "bulking up" because of his background as a Texas High School Powerlifting Association state champion, but he explained that is far from the truth.
"A lot of people assume, 'Oh Andrew, you are in there working out (to get big),'" Alvidrez said. "My whole purpose of training is not to get stronger. Of course, that is going to come, but I am preparing to battle the beast. That is what we are all doing. Back in medieval times, people would get into gladiator arenas, and they would fight lions, animals, each other. They would prepare their body for war. And that is how I like to view it. We are preparing for war, so why not push your body to the full limit? Because when you get in that box, you are the only one in there that is going to help yourself, so why not prepare yourself for the fullest."
Stay tuned to PBR.com and the PBR's social media channels for more information about future PBR Virtual Experiences, including the opportunity for fans to meet one-on-one with their favorite bull riders, stock contractors and Western sports personalities. The PBR will also be announcing additional panel discussions in the coming weeks.
Follow Justin Felisko on Twitter @jfelisko
Photo courtesy of Andy Watson/Bull Stock Media
© 2021 PBR Inc. All rights reserved.