Alvidrez Gets Back into World Finals Race with Livingston Victory
By: Justin Felisko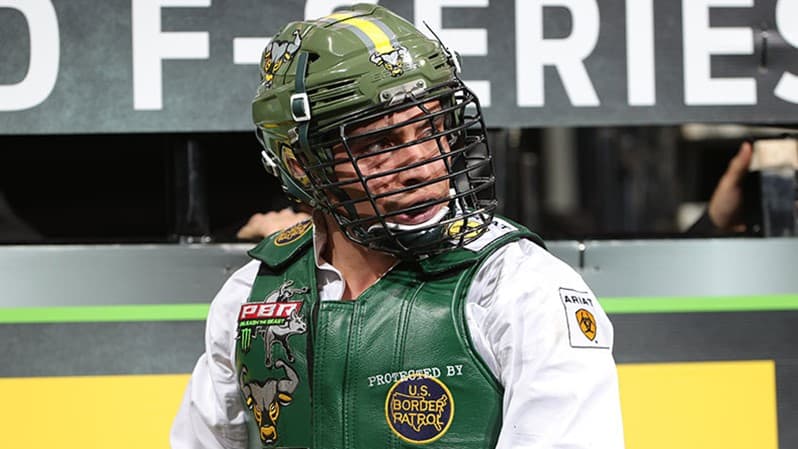 PUEBLO, Colo. – Andrew Alvidrez's second 90.5-point ride in the past month propelled the 24-year-old to his first victory in more than two-and-a-half years this past weekend at the Livingston Classic PBR.
Alvidrez earned the victory by riding Two Socks for 90.5 points in the championship round, while all five riders who entered the final round with a qualified ride bucked off their respective bulls, including Round 1 winner Eli Vastbinder.
View this post on Instagram
The last time Alvidrez took home a belt buckle was October 6, 2018, in Chattanooga, Tennessee.
"To be honest, it felt like me – the real me – the way I'm supposed to finish," Alvidrez said. "It was great to get that confidence boost, but the job is not done."
Alvidrez made it back to the championship round on Saturday night via his 5.94-second buckoff against Big Red in Round 1 because there were only six qualified rides in Round 1 at the Park County Fairgrounds.
The Seminole, Texas, bull rider's win came at an important time, too, as he earned 15 points toward the world standings. Alvidrez is now ranked No. 37, and with multiple injuries affecting the Top 35, he should qualify for the upcoming PBR Major – Last Cowboy Standing at Cheyenne Frontier Days – on July 26-27.
Alvidrez is also only 45.5 points behind No. 30 Dalton Kasel.
Last Cowboy Standing will feature the Top 35 healthy riders in the world standings as of July 19, as well as four Velocity Tour invites and one Native American rider invite.
Alvidrez qualified for the 2020 PBR World Finals, but he could not compete because of a broken neck. He has started slowly in 2021; he went 5-for-23 on the UTB before running out of his injury exemptions, but Livingston may just spearhead back onto a path to the 2021 World Finals.
Meanwhile, Vastbinder also punched himself a ticket to Last Cowboy Standing with his performance in Livingston. Vastbinder was double-entered, and both of his rides in Round 1 on Pink Tornado and Blue Stone were for 88 points. He could not convert in the championship round, though, as The Lodge (6 seconds) and WSM's Bad Situation (5.22 seconds bucked him off).
Vastbinder still placed in third and fourth place to walk away with 11 points toward the world standings, moving up to No. 36. The 30-year-old is attempting to qualify for his first PBR World Finals.
View this post on Instagram
Vastbinder and Alvidrez are both expected to compete at the Big Sky PBR in Big Sky, Montana, this coming Thursday-Saturday.
D.J. Parker placed second (8 world points) in Livingston with his 89-point ride on Delbert Sr., and Chase Dougherty continued to chip away in the Rookie of the Year race with a fifth-place (3 world points) showing.
Dougherty is next slated to compete Wednesday at the Days of '47 Cowboy Games & Rodeo in Salt Lake City. Fans can watch the action for free exclusively on RidePass on PlutoTV beginning at 9:30 p.m. ET.
RidePass on PlutoTV officially launches tonight at midnight ET with the airing of the first premier series event in 1994 from Fort Worth, Texas.
Clint Branger won the inaugural event (1994 Tuff Hedeman Challenge) with a 3-for-3 performance at the historic Cowtown Coliseum.
Professional Bull Riders – Livingston Classic PBR
Livingston, MT, 2021 – Event Leaders (Round 1-Round 2-Event Aggregate-Event Points)
1. Andrew Alvidrez, 0-90.5-90.50-15 Points.
2. D.J. Parker, 0-89-89.00-8 Points.
3. Eli Vastbinder [2], 88-0-88.00-5.5 Points.
(tie). Eli Vastbinder [1], 88-0-88.00-5.5 Points.
5. Chase Dougherty, 87.5-0-87.50-3 Points.
6. Vinell Mariano, 85.5-0-85.50-2 Points.
7. Keyshawn Whitehorse, 85-0-85.00-1 Points.
8. Stetson Lawrence, 83-0-83.00
Conner Halverson, 0-0-0.00
Logan Biever, 0-0-0.00
River Stephenson, 0-0-0.00
Gage Gay, 0-0-0.00
Dylan Madsen, 0-0-0.00
Dalton Rudman [1], 0-0-0.00
Dalton Rudman [2], 0-0-0.00
Weston Hartman, 0-0-0.00
Hunter Salter, 0-0-0.00
Shannon Terrazas, 0-0-0.00
Zac Osborne [2], 0-0-0.00
Zac Osborne [1], 0-0-0.00
Jay Bowen, 0-0-0.00
Jason Bold, 0-0-0.00
Justin Ketvzenberg, 0-0-0.00
Pete Bradshaw, 0-0-0.00
Bruin Bradshaw, 0-0-0.00
Follow Justin Felisko on Twitter @jfelisko
Photo courtesy of Andy Watson/Bull Stock Media
© 2021 PBR Inc. All rights reserved.