Austin Gamblers Announce Founding Partnerships with Three Iconic Austin Companies
By: Austin Gamblers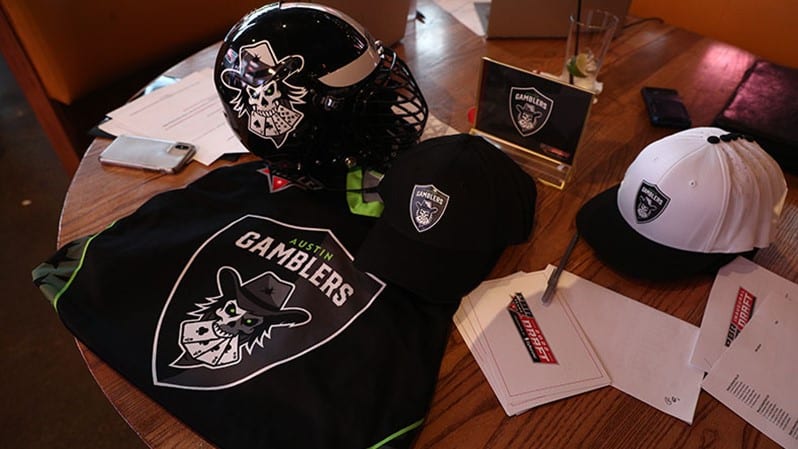 AUSTIN, Texas—The Austin Gamblers, the professional bull riding team set to compete in the inaugural PBR (Professional Bull Riders) Team Series, today announced founding partnerships with three renowned local companies—Dell Technologies, YETI, and Driftwood Golf and Ranch Club—ahead of the historic, inaugural season.
"We are thrilled to welcome these acclaimed, home-grown companies into the Gamblers family," JJ Gottsch, CEO of the Austin Gamblers, said. "Dell Technologies, YETI, and Driftwood Golf and Ranch Club exude exemplary leadership, hard work, innovation and energy—all characteristics of a Gambler rider. We could not be more excited to team up with these businesses to fuel the growth and longevity of our franchise."
Through the Dell Technologies partnership, the Gamblers will utilize the unparalleled, innovative services of one of the world's leading technology companies. Throughout the season, the Gamblers riders and coaching staff will be putting Dell's new Rugged laptops to the test each weekend, utilizing them on the dirt and in the chutes for real-time data and information to help in making rider and bull selections during events.
Gambler Days, the three-day weekend homestand during the season in which all eight teams compete against each other at the brand new Moody Center from August 26-28, will be "Powered By" Dell Technologies.
YETI, the Austin-based leading premium outdoor brand best known for its iconic coolers, drinkware and outdoor equipment, will be the team's primary uniform partner. The YETI logo will be featured prominently within the fabric of the Gamblers' visual identity, appearing on the helmets, jerseys and vests of the riders throughout Austin's historic inaugural season.
YETI is also a current official partner of PBR (Professional Bull Riders), including sponsoring the world champion bull each season. The YETI World Champion is awarded to the bull with the highest average bull score from his top-six regular-season outs and two outs at the PBR World Finals. An out is when a bull exits the chute gate with a rider on board attempting to earn a qualified score by staying on for eight seconds without touching the bull, himself, or the ground.
"YETI has a longstanding heritage within the ranch and rodeo community, and we've proudly supported PBR and its riders for the past six years," Cory Wiese, director, sports & entertainment community marketing at YETI, said. "It was a natural fit for us to support the Gamblers team here in our hometown of Austin and we are honored to be given the opportunity."
Driftwood Golf and Ranch Club, a private residential community 25 minutes outside of Austin which provides world-class luxury experiences and services to its members, will have the interlocking 'DW' logo branded across the uniforms of the Gambler riders during the 2022 season.
Driftwood's staff and members are committed to finding meaningful ways to contribute to the unique character of the community as Driftwood continues to take shape in Texas Hill Country. This sponsorship is one such method, establishing a long-lasting relationship between the project, its members, and the team's growing fanbase. Driftwood members will receive exclusive access to the Gamblers and events surrounding Gambler Days in August.
"Driftwood's members love anything that embodies friendly competition, action, and adventure. PBR has always been an exhilarating sport that appeals to fans of all ages, so there's a perfect synergy for Driftwood," Casey Paulson, president of sales and operations at Driftwood, said. "Our members are endless fun-seekers and are accustomed to bold, innovative, and audaciously creative experiences, so what could be more fun than to give them a home team during the inaugural year of the PBR Team Series?"
All three founding partners will also have a major presence in Gamblers branding during the season, including during Gambler Days at Moody Center in August.
The Gamblers will begin their season next week, when the PBR Team Series launches on July 25 in Cheyenne, Wyoming. Austin will play the Arizona Ridge Riders in a game carried on CBS Sports Network. The live coverage begins at 9 p.m. CT. The Gamblers will play a 28-game regular season schedule, and all games will be broadcast on either CBS, CBS Sports Network or Pluto TV, a free streaming network.
Austin will play all seven other teams in the league four times each, across 10 different venues, with each team hosting a weekend homestand, along with two neutral-site venues. The event will showcase traditional 8-second bull rides structured in a tournament-style format with all teams competing in head-to-head matchups against a different opponent each day.
To purchase tickets to Gambler Days Powered By Dell Technologies, fans can visit PBR.com, Ticketmaster.com, MoodyCenterATX.com, or by calling PBR Customer Service at 1-800-732-1727.
© 2022 PBR Inc. All rights reserved.