Barbosa: 'I thought I would never ride bulls again'
By: Justin Felisko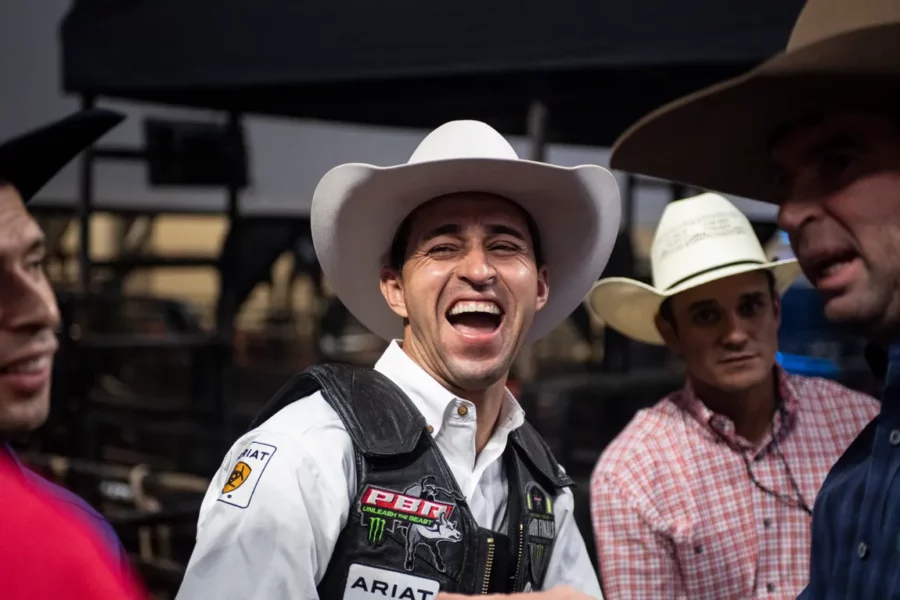 MINNEAPOLIS – Dener Barbosa stood up straight and proudly recounted his 83.75-point ride on Two Socks on Friday night inside Target Center during Round 1 of the PBR Minneapolis Invitational.
"This is really important because I've had six months I did not ride bulls," Barbosa said. "I know I had one really hard bull today. He bucked with strong heart, and was really difficult, but I felt confident, felt really good. I am happy to make my work."
It was only a few months ago that standing up without a pain was a simple win in itself for Barbosa.
In the initial days and weeks of his now six-month recovery from a career-threatening broken back (T12) he sustained at the 2022 PBR World Finals in Fort Worth, Texas, Barbosa was unsure if he would ever return to the sport he loved.
Doctors had to use 10 screws to repair his back after Flapjack stepped on him 203 days ago inside Dickies Arena moments after Barbosa made the best bull ride of his career – 92.5 points.
According to Barbosa, the surgery involved doctors using five screws on each side of his T12, T10, T11, L1, L2 vertebrae.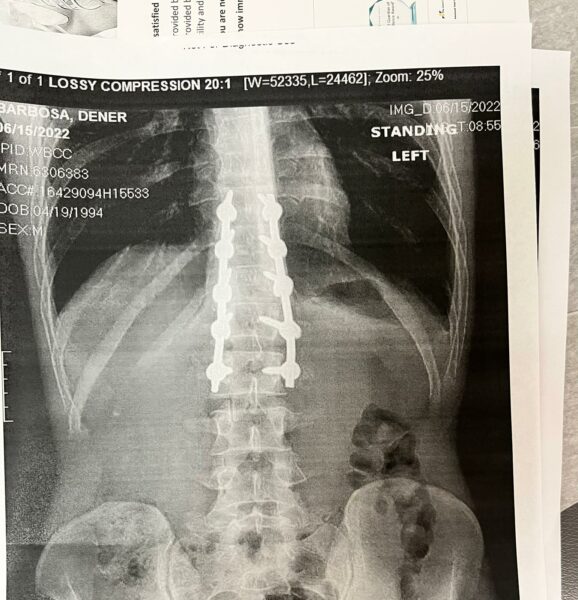 The surgery did not leave Barbosa pain free either.
Barbosa remained in tremendous agony for two-and-a-half months as he continued to attend physical therapy and regain his ability to walk on his own two feet.
"After surgery, I thought I'm never riding bulls again because it's hard for me to stand up, it causes a lot of pain," Barbosa told PBR.com on Friday night. "After surgery, even a month and a half, I had a lot of pain. Like to stand up, my son and my wife had to help me after surgery, but God helped me a lot being able to come back and ride."
Barbosa's entire 10-year professional career has been riddled by injuries, but nothing compared to this last one, he admits.
Barbosa has battled back from multiple shoulder surgeries and injuries to his knees to still be a perennial world title contender when healthy.
This last one, though, left him rattled.
He was close to finally saying no more.
In fact, his back surgery was the ninth surgery of his lifetime, and he has missed time during five of his 10 professional seasons because of injuries.
"After I had broken my spine, I tell my wife I can't ride my bulls because it will hurt too much," Barbosa said. "I've had nine surgeries now. That's really hard for me. I have 10 years in professional bull riding. Five years, I stayed out because surgeries, but my wife (Flavia) says, 'stay relaxed, take your time and think about if you want to ride anymore.'
"After about three or four months, I feel no more pain."
Barbosa credits Flavia for being a pillar of strength in his own sense of self-doubt. When he wanted to quit, she reminded him that if his heart still had a passion for professional bull riding, he could overcome the odds.
There was another person as well that invoked confidence into Barbosa's rehab.
Two-time World Champion Justin McBride – the head coach of the Nashville Stampede.
The Stampede were willing to select Barbosa with the No. 15th overall pick in the inaugural PBR Team Series Draft, presented by ZipRecruiter, despite the fact that Barbosa's career was in jeopardy. Prior to his injury, Barbosa was easily an early first-round draft pick.
Barbosa said knowing a team like the Stampede thought he could come back only gave him more determination to keep rehabbing for a return to the arena.
"I felt really happy staying with the Nashville Stampede because the coach picked me," Barbosa said. "Maybe I ride this year I told them, but (McBride's) message for me was to relax, take time and you have a spot on my team next year."
Barbosa will now look to continue his comeback story on Saturday night in Round 2 (8 p.m. ET CBS Sports Network) when he takes on Sucker Punch (4-0, all levels) as he attempts to win his first Unleash The Beast event since the PBR Las Vegas Invitational on June 12, 2021.
Photo courtesy of Andy Watson/Bull Stock Media
© 2022 PBR Inc. All rights reserved.