Barbosa Puts up Historic 95.75-Point Ride at World Finals
By: Darci Miller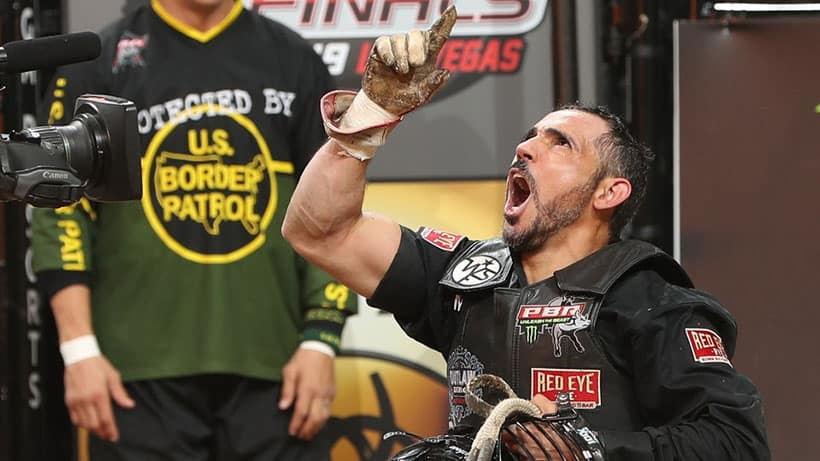 LAS VEGAS – Rubens Barbosa knew Round 4 of the 2019 PBR World Finals was going to be good to him.
However, not even he could've guessed just how good.
When he returned to the locker room after riding Medicine Man for 89.5 points in Round 3, he was approached by Claudio Montanha Jr.
"Hey," Montanha said, "you've got the bull Eduardo (Aparecido) won the round on."
"You're lying," Barbosa replied. "The draft hasn't been done yet."
Montanha confirmed that it had, and that Barbosa would indeed match up against Chiseled, the talented 4-year-old bull that helped Aparecido to 91.25 points and the Round 1 win Wednesday night.
"Well, then I think I'm going to win a round, because they ain't going to score me less than Eduardo," Barbosa replied.
Barbosa turned out to be entirely prescient. His ride was all but flawless, and as he waited for his score, he expected to see a 92 or 93.
Nobody was more gobsmacked than he was when the results came in.
95.75.
It's the fourth-highest score in PBR World Finals history, and the highest since Chris Shivers rode Dillinger for 96.5 points in 2001. Only 10 rides in PBR history have ever been scored higher, and none have even matched it since Mike White and Renato Nunes did so on Troubadour and Chicken on a Chain, respectively, in 2008.

"I don't have words to say, because I'm surprised," Barbosa said. "I knew it was a good ride, and I never…"
He trailed off, at a loss for words, and shook his head in disbelief.
"I'm surprised."
An hour and a half later, with the Round 4 winner's buckle on the table in front of him at the post-round press conference, the words were beginning to come a little bit easier.
"I knew I was going to win it, and it was something really great," he said. "I was really confident about the bull, and I knew I was going to be great on him."
Great, however, turned out to be an understatement.
Barbosa may have been the least likely candidate to record such a score. Ranked No. 28 in the world standings prior to Round 4, he struggled with injuries and ineffectiveness this season, recording only three Top-5 finishes on the Unleash The Beast and none since the Tacoma Invitational in March.
No surprise here. Rubens Barbosa calls tonight's ride the best moment of his career. Amazing reaction when he walked into the locker room. pic.twitter.com/Q5tuUFj7aP

— Justin Felisko (@jfelisko) November 10, 2019
This is following a 2018 season in which he finished ranked No. 41 in the world, by far his lowest ranking in four years.
"I gave 100 percent the entire season of myself, but there was a lot of things that worked against me throughout the season," Barbosa said through a translator. "There was injuries, personal problems with family, things like that. So all of that gets in your head. It takes your head out of the game a little bit, so you can't concentrate fully on what you want to do. But now I'm here. I feel like I did a lot better. I rode that first bull that no one had ever been on before, so that helped my confidence even better, and then we got what we got today."
That unridden bull was Rodeo Houston, who Barbosa covered for 71.25 points and 11th place in Round 2 on Thursday.
The score may not've been high, but after bucking off Secret Sauce in 2.13 seconds in Round 1, Barbosa is now 3-for-4 and sitting sixth in the event aggregate with 256.5 points. He also earned 300 world points for his round win and is now ranked No. 22.
"It definitely means a lot to me, for sure, especially me at my age," Barbosa said. "I'm 36. You would never imagine that I would get a score that big, one of the highest in the history of PBR. You would never imagine it. You see all these other guys that are much younger than me covering all these bulls that are much harder. I have confidence, but given my age, it just means so much to me."

It means a lot to the other riders as well. When Barbosa entered the locker room following his ride, it erupted in cheers. He could barely move a few yards in the back hallways of T-Mobile Arena without being accosted by yells, hugs and handshakes from well-wishers celebrating their friend's historical accomplishment.
Of course, he didn't do it alone. Chiseled was marked a massive 47 points and is now in the lead for the $25,000 YETI Bull of the Finals honors. Chiseled also won the 2019 ABBI Classic Championship and World Finals Classic event title courtesy of his performance.
"That bull bucks really hard all the time," Barbosa said. "He's just very strong and bucks really hard. But because I'm lighter and I'm a smaller guy, I think it's easier. I'm faster, I'm quicker, I'm stronger, because I'm lighter on him.
"When I get bucked off bulls, they're 44 points, 45. And the other guys that are probably a little bigger than me get bucked off on 42s and 43s. So for me, I have to do everything more and stronger because I'm a lighter guy."
Barbosa is competing at his fifth PBR World Finals, and his Round 4 victory is the third of his Finals career. The first came in 2011, the second in 2015.
He'll have another opportunity to do so when he takes on Stretch (15-6, UTB) in Round 5. Fans can catch Round 5 and the championship round on CBS Sports Network at 4 p.m. ET and RidePass at 3:45 p.m. ET.
Barbosa knows he's the unlikely hero, but with a new buckle to add to his collection and his name now firmly etched in the PBR history books, he's feeling as good as he ever has.
"I have no words to explain how much I'm very happy," Barbosa said. "My high score in the PBR was 92 points in 2011, eight years ago.
"And today, my dream came true."
© 2019 PBR Inc. All rights reserved.