Barbosa Still Not 100% But Rounding Back into Form at World Finals
By: Kacie Albert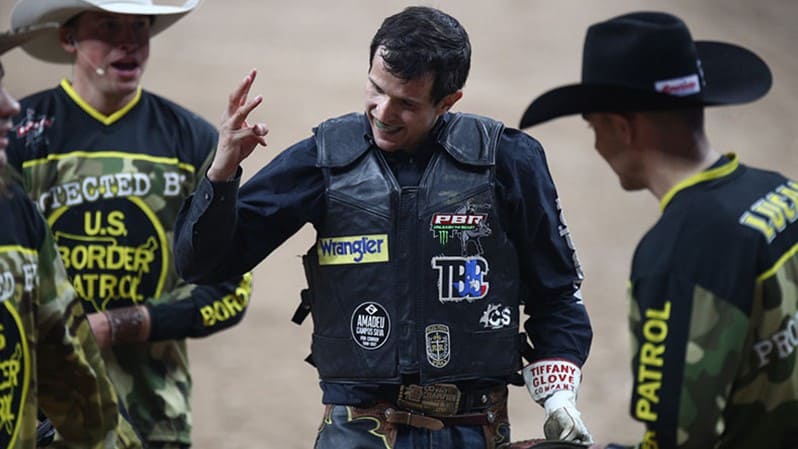 LAS VEGAS – It's been a few years since Dener Barbosa has been at a PBR World Finals in Las Vegas.
Three, to be exact.
And it's been longer than that since the real Dener Barbosa has been at a PBR World Finals in Las Vegas.
Barbosa was a world title contender in 2017, placing fifth overall at the World Finals and finishing the season ranked No. 8 in the world.
Since then, it's been a slog.
But fans watching the 2021 World Finals in T-Mobile Arena would be none the wiser watching his performance this week, as the No. 6 rider in the world standings is 2-for-3 and ranked sixth in the event aggregate with 179 points.
Barbosa rode Happy Camper for 89.75 points in Round 3.
"This is the third time I've had this bull," Barbosa said. "He always goes right there, one jump and around the left. I knew I had to pretty much do the same thing I'd done the last times on him, and I was waiting for him to do the same, and he did, and it worked out great."
Barbosa became the first rider to cover Happy Camper at the 2017 World Finals, drawing him in Round 3 and earning an 87-point score. In 2018, Barbosa again drew the Canadian bovine in Round 3, this time earning 84.75 points.
This season, Happy Camper, who earned a 44-point bull score in the pair's third Round 3 matchup, looks to become the first two-time PBR Canada Bull of the Year. Bucking nine times north of the border, Happy Camper has earned a league-leading five Bull of the Event honors, with three of those trips yielding scores of 45 points or more.
"Every time in the draft, he's always kind of left over for me to pick him, and I like the way he bucks," Barbosa said. "He's pretty honest. He does the same every time. That's why I pick him every time."

That 2018 matchup was the last time Barbosa was at a Vegas World Finals, placing 22nd in the event and finishing the season ranked No. 15.
That season, he began the year ranked No. 3 before a broken foot forced him to sit out for five months. In 2019, he competed in just eight premier series events.
He returned strong in 2020, winning his first premier series event in nearly three years at the Gwinnett Invitational in Duluth, Georgia, before returning home to Brazil as the world began to shut down due to the COVID-19 pandemic.
Barbosa has won two events in 2021, including the PBR Las Vegas Invitational at the MGM Grand Garden Arena in Las Vegas.
"The first half of the season was really great," Barbosa said. "I was riding great. And then I got my scapula kind of hurt, and I was riding with pain. Towards the start of the second half, I broke my collarbone, and I had to kind of stay out for a while, and I just came back for the Finals, unfortunately, but that's alright.
"I'm not 100% just yet. It doesn't bother me during the ride, but it still hurts after I ride, my collarbone. And I think when we start the season, and if I'm healthy, I can be my 100%."
Barbosa has drawn Hostage (33-4, UTB) for Round 4 (11 p.m. on CBS Sports Network). Earlier this season, at Last Cowboy Standing in Cheyenne, Wyoming, Hostage bucked Barbosa off in 4.06 seconds.
While he's still aspiring for more in future seasons, Barbosa is thrilled to be back in Vegas and riding well.
"It's always been a dream to be in Vegas," he said. "There's something special about Las Vegas, and it's my second year, and I'm very happy to be here and hope to ride my next three bulls."
He's managed to sneak in under the radar without any pressure or expectations, and he plans to simply go to work these next two days with the goal of winning the World Finals event title.
"I just tried to come here and just do my job, and always do what I'm supposed to do," Barbosa said. "And that's always the same. It's been working out like that."
Photo courtesy of Todd Brewer/Bull Stock Media
© 2021 PBR Inc. All rights reserved.