Batista Oozing with World Champion Confidence Following Woopaa Ride
By: Justin Felisko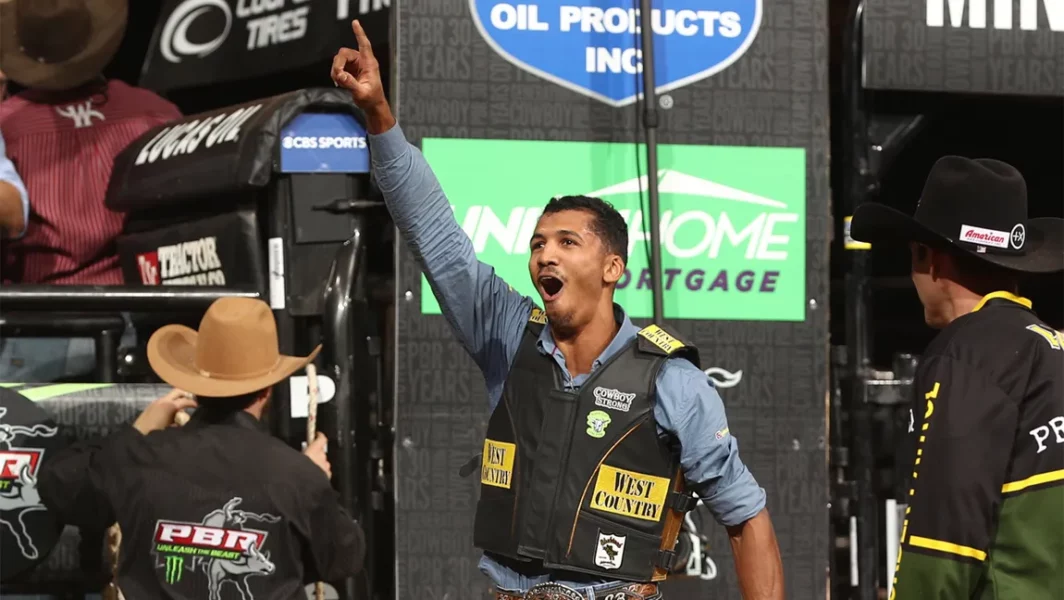 MINNEAPOLIS – Maybe the adrenaline was still pumping through Sandro Batista's veins on Saturday night inside Target Center, but Batista is not shying away from what his ultimate goal is in 2023.
Sure, he knows he can win the 2023 PBR Rookie of the Year title, but the 23-year-old repeatedly mentioned what's really on his mind.
"I know I can win Rookie of the Year, but I want to be the World Champion. I am going to win that," Batista said with the help of Paulo Crimber translating.
Batista had just ridden 2021 YETI World Champion Bull Woopaa for a career-high 91.25 points to cap off his 3-for-3, third-place finish at the Minneapolis Invitational when he started talking about his gold buckle aspirations.
The No. 9 ranked bull rider in the Unleash The Beast standings admittedly was surprised to have a shot at selecting Woopaa with the fourth pick of the championship round, but that was the case after Daniel Keeping, Rafael Jose de Brito and Colten Fritzlan elected to pass on taking the highlight-reel bovine.
"I always dreamed to get on Woopaa, and especially getting the job done is a huge win in my books," Batista said. "I wanted him, but I thought he would be gone."
The draft worked out well for Keeping and Brito too.
Keeping won the event with his 92.5 points on Flapjack, while Brito converted on Mike's Motive for 90.75 points and a second-place finish.
Fritzlan bucked off Sneaky Situation in 6.52 seconds.
Batista and the top bull riders in the world will now turn their focus to the PBR Manchester Invitational next weekend at SNHU Arena in Manchester, New Hampshire.
The rookie trails No. 1 Keeping by 158 points in the UTB world title standings after beginning the season 4-for-5. Batista rode Ponotoc for 85.75 points in Round 1 Friday night before converting on Fearful for 81.75 points in Round 2 on Saturday.
"I am going to be working all year to try to win that (world title)," Batista concluded.
Photo courtesy of Andy Watson/Bull Stock Media
© 2022 PBR Inc. All rights reserved.