Ben Andersen Continues Climb to Wrangler NFR with Hermiston Win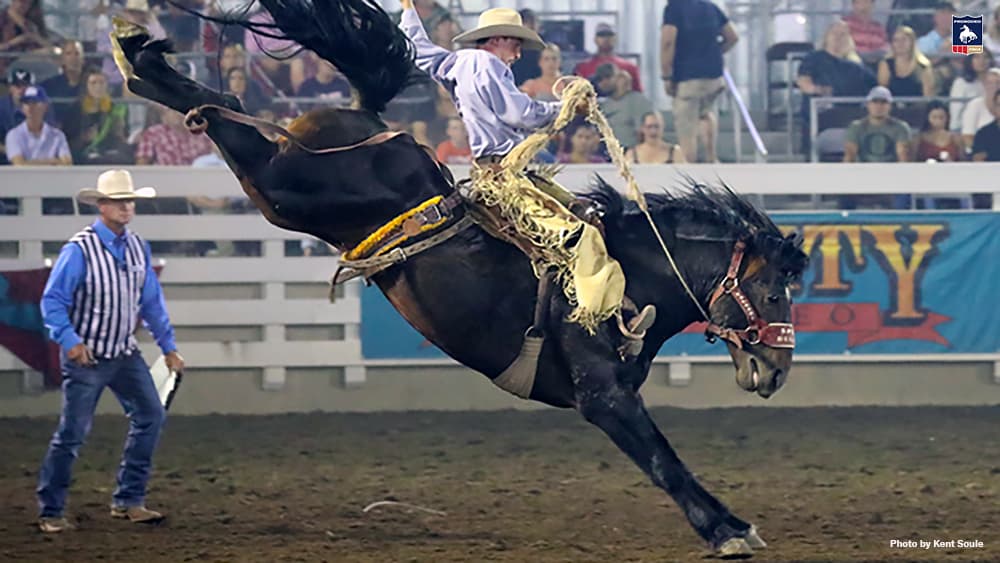 For Canadian saddle bronc rider Ben Andersen, rodeoing right now is all about having fun.
"I just plan to keep going and having fun," Andersen said. "I try not to worry about much, as you can get yourself mentally mashed up.
"I'm just focused on rodeoing, riding bucking horses and having fun."
Andersen couldn't have enjoyed his experience at the Farm-City Pro Rodeo in Hermiston Aug. 13 much more, after putting up 90.5 points on Calgary Stampede's Special Delivery. Andersen not only claimed the rodeo championship, he also set an arena record.
"It's pretty cool, I don't think I had an arena record anywhere before this," Andersen said.
Andersen had been hoping for a date with Special Delivery. The black stallion has a storied history in the sport, the progeny of Wrangler National Finals Rodeo parents Grated Coconut and Zippy Delivery and himself a multi-time NFR qualifier in bareback riding.
"That's a horse I've wanted to get on for a long time, and I was happy to finally draw him there in Hermiston," Anderson said. "He went to the Finals a bunch in the bareback riding, and then the bareback riders didn't take him one year so they switched him over to the broncs.
"The bareback guys made a big mistake there," he laughed. "We love him in the broncs."
As for the dance in Hermiston, Andersen had to be patient and then cowboy up to get the ride started.
"He's kind of a goof ball in the chutes, kind of leans and wants to put his head over the gate," he said. "Goose (Ken Rehill, Calgary's flankman) said, 'I think he'll leave,' so I took him there and got a good spur out.
"He's a bucker and he feels frickin' great."
Andersen jumped to the top after a salty bronc riding that saw the previous arena record fall three times and 87s fail to get a check.
He earned $6,514 along with points toward standings in the ProRodeo Tour presented by Pendleton Whisky. The Rocky Mountain House, Alberta, cowboy is 13th in the PRCA | RAM World Standings and 12th in the Tour. Securing a spot at the ProRodeo Tour Finale in Salinas, Calif., on the final weekend of the season is important for Andersen given the prize money available there.
"I have to go to just about all of them that are left to get my count," Andersen said, referring to the requirement to attend 35 Tour rodeos in order to qualify for the Finale. "I think I'm good on the points if I can get my count, and I think I can get that done."
With six weeks left in the regular season, Andersen is staring down his first trip to the NFR and the chance to ride in Las Vegas alongside his cousin Dawson Hay. But don't expect to see Andersen checking the standings regularly between now and Sept. 30.
"I'll just keep pickin' away as we're getting down to it," he said. "We'll see where we are at the end."
Other winners at the $253,289 rodeo were bareback rider Clayton Biglow (92 points on Calgary Stampede's Xplosive Skies); steer wrestler J.D. Struxness (7.0 seconds on two head); team ropers Kaleb Driggers/Junior Nogueira (8.8 seconds on two head); tie-down roper Ty Harris (16.7 seconds on two head); barrel racer Kylee Scribner (16.92 seconds); and bull rider Laramie Mosley (86.5 points on Corey & Lange Rodeo's Short Bus). Jason Minor was the all-around cowboy ($2,573, tie-down roping and team roping).
Courtesy of PRCA