Bennett Hits Right Number to Win Corpus Christi
by Bob Stephens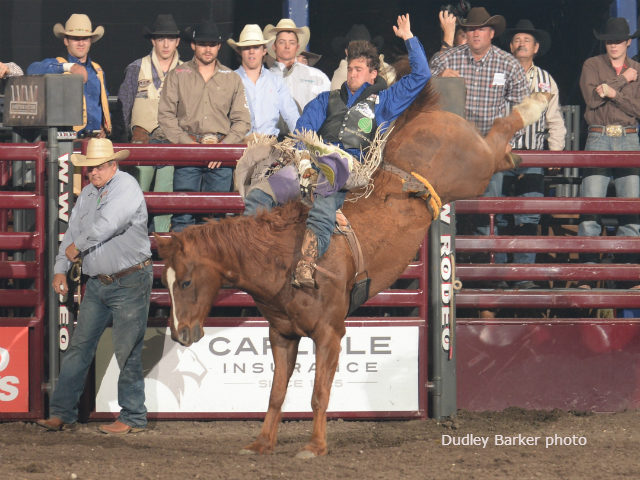 CORPUS CHRISTI, Texas – Caleb Bennett wasn't sure what to expect when he drew Frontier Rodeo's No. M5 at Rodeo Corpus Christi, but he got all he wanted.
"I didn't know that horse, but it turned out pretty good," he said. "I found out when I got there that it was an old barrel (racing) horse. That made me more nervous than ever, because you can't get bucked off a barrel horse or you'll never hear the end of it. That horse turned out to be a little more than I expected, but I was able to muscle through it."
He rode No. M5 for 85.5 points and the win, good for a check worth $6,126.
"Frontier (Rodeo) packs real horsepower," he said. "That's my first win at Corpus; I entered there for the first time two years ago and probably could've won it then but missed my horse out."
Before the win, Bennett sat seventh in the WEATHER GUARD® PRCA World Standings with $29,217. He's got an eye on the Wrangler National Finals Rodeo presented by Polaris RANGER; it would be his fifth straight qualification. He finished seventh in the world standings in 2012, eighth in '13, 12th in '14 and 15th last year.
He still dreams of winning a gold buckle, but has changed his philosophy about chasing that goal.
"I'm trying to focus on my performance and my ride, and if I end up at the NFR, that's great," he said. "I'm going to nod my head one at a time and capitalize on that ride, instead of worrying about that pot of gold at the end."
The 27-year-old cowboy from Tremonton, Utah, was the 2007 National High School Finals Rodeo bareback riding champion. That came in his senior year, after three previous qualifications.
"That was my first stepping stone to where I wanted to go in my career," he said. "Winning the high school nationals was a lot harder than people think. There are so many kids out there trying for that. It'll forever be a huge memory for me and something I use to feed my fire and remember what got me started."
Bennett grew up in a rodeo family as his father, John, rode bucking horses and bulls, and his mother, Claudine, ran barrels. His older brother, Dustin, was a PRCA circuit cowboy and a talented roper. His three sisters all rodeo, as does his little brother, Cooper, a high school sophomore who he's taken under his wing.
"He's a very handy team roper and calf roper," Bennett said of Cooper, "but I've been holding him off barebacks until this year. It's nerve-wracking when I put him on in practice. He wants everything to happen so quickly; it takes me back to when I started and reminds me how far I've come. It's a neat experience, and very humbling."
Bennett, who owns 10 acres in Tremonton, college rodeoed for two years at Weber State University and two years at Utah Valley State University. He qualified for the College National Finals Rodeo four times, and made the short go three times.
"I have a couple of team roping horses on my place," he said. "I like to rope with my brothers. I have a string of bucking horses, about 15 of them. I don't practice on them, but I take some to college practices and to my rodeo school I do once a year down in Mount Pleasant (Utah) and let the kids get on.
"It'd be cool if someday I had a horse good enough to get to the NFR."
Frontier Rodeo animals get there on a regular basis, and their roughstock shined again in Corpus Christi.
Saddle bronc riding winner Rusty Wright and bull riding champion Aaron Pass each rode for 91 points, for one of the highest-scored rides of the year in either event. Wright was aboard Frontier Rodeo's Medicine Woman and Pass reached the whistle on Frontier Rodeo's Live Hostage.
Other winners at the $206,602 rodeo were all-around cowboy JoJo LeMond ($5,090 in team roping and steer roping), steer wrestler Shane Frey (4.1 seconds), team ropers Nathan McWhorter and Dustin Davis (4.5 seconds), tie-down roper Scott Kormos (7.8 seconds), barrel racer Michele McLeod (13.49 seconds) and steer roper Jason Evans (46.2 seconds on four head).
Read more about Rodeo Corpus Christi in the May 6 ProRodeo Sports News.
Courtesy of PRCA