Bennett Rebounds to Win San Antonio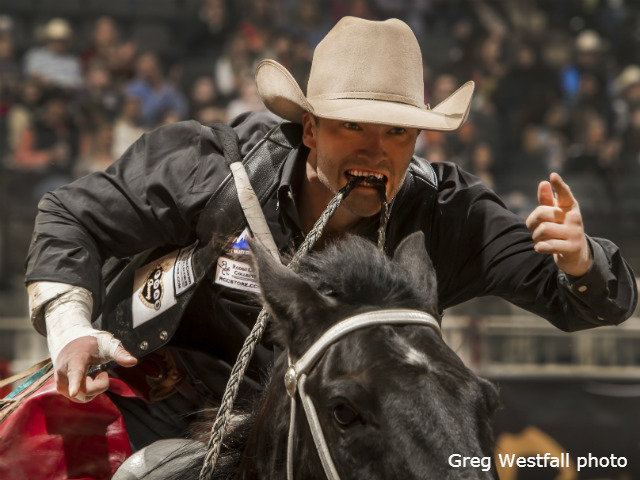 SAN ANTONIO – Bareback rider Caleb Bennett didn't earn a score in the second round of his bracket at the San Antonio Stock Show & Rodeo.
The lack of a score had Bennett thinking his trip to San Antonio probably wouldn't amount to much. But a pep talk from his traveling partner turned things around in a big way.
Bennett won the San Antonio Stock Show & Rodeo, taking home his first championship buckle from the prestigious rodeo, along with $22,169.
"This is one of those rodeos where you can get bucked off one or have one not go your way and still advance and still continue to make money and make it back," said the Ogden, Utah, cowboy. "I had that happen my second round here. I was kind of down on myself and my traveling partner Clint Laye pulled me aside and said, 'You've got the best horse tonight. Don't worry about it, brush it off.' Sure as heck, I jumped out and won the round that night and advanced.
"You've got to take one at a time, and if you do bobble or something doesn't go your way you can't let it get to you. That was a huge learning curve and an accomplishment just this year all in itself."
Bennett proved his traveling partner prescient, winning the third round. Then he took second in the semifinal qualifiers.
In the finals, Bennett had an 88.5-point ride on Calgary Stampede's Tootsie Roll, the second-highest score of the round, which helped him finish with the most money among bareback riders at the 17-day rodeo.
Bennett was familiar with Tootsie Roll.
"I'd been on her before," he said. "I was 83 on her in Puyallup (Wash.) and thought she was going to be 88 (then). Today, she just had a phenomenal day and I was 88.5. Now, I get to check this rodeo off my bucket list. I've been waiting a long time to take this buckle home."
Standing in a tunnel below the arena following the win, Bennett was still in shock with his new buckle.
"When I was standing out there in the arena and they told me I had won, I don't think it's sunk in yet," said Bennett, 29. "This is a big rodeo that everybody wants to win. It's a prestige deal that pays a lot of money. I'm still speechless of the whole deal."
Bennett entered the weekend in fifth place in the 2018 PRCA World Standings. He's aiming for his seventh-consecutive trip to the Wrangler National Finals Rodeo, where he placed fourth last year, helping him finish sixth in the 2017 World Standings.
"This paid just over $20,000, that's a quarter of the way there to the Finals already and we're only in the month of February," Bennett said. "This is definitely a huge step in the right direction of making my way back to the NFR."
Other winners at the $1.7 million rodeo (including prizes) were steer wrestler Dakota Eldridge ($23,081), team ropers Coleman Proctor and Billie Jack Saebens ($23,015 each), saddle bronc rider Jacobs Crawley ($25,765), tie-down roper Ryle Smith ($18,928), barrel racer Hailey Kinsel ($25,142) and bull rider Garrett Tribble ($34,574, including ground money).
Courtesy of PRCA