Blake Knowles Reclaims Winning Ways in Tucson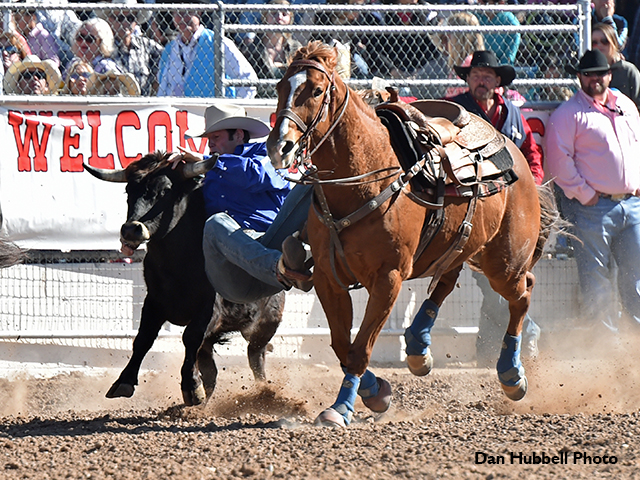 TUCSON, Ariz.- The Tucson (Ariz.) Rodeo, affectionately known as La Fiesta De Los Vaqueros, translates to The Cowboy Party. After his performance on February 25, steer wrestler Blake Knowles has plenty of reasons to celebrate.
The 35-year-old Knowles, a three-time Wrangler National Finals Rodeo qualifier, entered Sunday's final performance placed second in the average with a two-head time of 10.6 seconds. Despite the logjam atop the steer wrestling leaderboard, Knowles saved his best for last, closing out his weekend with the rodeo's best bulldogging run of 4.3 seconds. Needless to say, the Columbia River Circuit cowboy was pleased to add an important win early in the season.
"It feels good", Knowles said. "Obviously, anytime you can come away with a win at one of these winter rodeos, you're always happy. It always feels good to succeed."
During the concluding performance, Knowles saw fellow bulldogger Josh Clark reclaim the average lead immediately before he was set to ride into the box. Knowles said that despite the inherent pressure the rodeo presented, his focus was on himself.
"I tried to watch the first couple guys go to get a feel for the start," Knowles said. "I was trying to get a feel for my strategy. I knew Josh had made a good run, but to be honest, I knew I had a good steer that I was supposed to win the rodeo on. At that point, I wasn't really paying attention to the times because I dang sure had drawn a great one."
Behind the scenes, Knowles was scrambling to come up with a solution to a rather common conundrum. Knowles' go-to roan horse recently developed mild lameness issues, and he ultimately decided that hauling the horse wouldn't benefit either party. However, the family aspect of rodeo always seems to find a way to lend a hand.
"My good friend Billy Bugenig had a horse there that he purchased last fall," Knowles explained. "I was able to call Bill and he said 'Yeah, sure, you can ride him'. That was the first time I'd ever rode that horse and I was really pleased with him. It's always nice to have good horses of your own, but it's pretty valuable to have friends with good ones too.
"(Tomcat) had great feet in the field, and he just felt good to me."
Knowles' previous two seasons hadn't gone his way following his third WNFR qualification in 2015. Still, having added a check worth $4,786 to his early season money line, Knowles is satisfied with his winning pace.
"I just feel like having some luck here catches me up a little bit. It takes a little pressure off the spring. To capitalize here in Tucson makes me feel a lot better about my month of February."
Other winners at the $311,161 rodeo were all-around cowboy Sean Santucci ($6,838, steer wrestling and team roping), bareback rider Devan Reilly (171.5 points on two head), team ropers Zane Barnson/Cole Wilson (21.4 seconds on three head), saddle bronc rider Jade Blackwell (166.5 points on two head), tie-down roper Jake Pratt (32.7 seconds on three head), barrel racer Christine Laughlin (34.89 seconds on two head), and bull rider Dave Mason (147.5 points on two head).
For more coverage of the Tucson Rodeo, check out the March 9 edition of ProRodeo Sports News.
Courtesy of PRCA