Welsh Wins the 19th Annual Lane Frost Challenge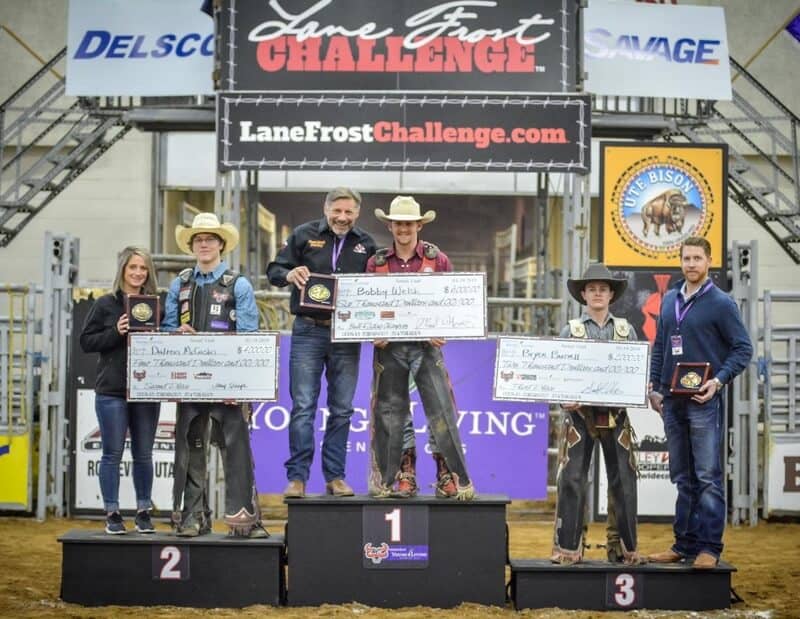 VERNAL, UTAH – Fifty bull riders filled the arena floor, under the cover of smoke and fire. Anticipation began to build in the crowd as Vernal's most exciting event of the year kicked off an action-packed weekend. This yearly event is in honor of the one and only Lane Frost and the sport he loved.
For the second year in a row, the crowd witnessed an all Wyoming winner's podium. Thirty four-year old Bobby Welsh (Gillette, Wyoming) is one of the oldest contestants of the event and already well established in his sport, having been to the Wrangler National Finals Rodeo a number of times. Welsh showed he's just getting started, by claiming the coveted Lane Frost Challenge champion title. He gained a combined score of 159.5 riding two out of his three bulls, earning him a payday of $6,000. Having not gotten on a bull in 3 years, he stated "I just kinda did this on a wing and a prayer!" Welsh's first time at the Lane Frost Challenge turned out to be quite the experience as he went on to say "It's a spectacular event! This is honestly a professional production, you can't go anywhere in the nation and find something of more quality than this."
The weekend, presented by Young Living, had a record high attendance, displaying some of the toughest up and comers in the sport of bull riding. Newcomer to the Lane Frost Challenge, seventeen-year-old, Dalton McCaslin (Grover, Wyoming) was off to a great start, finishing in the top three after the first night's ride with a score of 78.5 His enthusiasm escalated as he finished the final round in second place with a total score of 157. McCaslin earned $4,000 in winnings. "I couldn't be a part of anything bigger than this. I'm so grateful to my friends, family and fans for being here to support me."
Twenty four-year old Bryce Burnell (Dixon, Wyoming) is no stranger to the Lane Frost Challenge, having won first place in 2018 he returned in an attempt to defend his title, but fell short. With spirits still high, he finished in third place with a score of 156.5 on his two bulls. Burnell shared "It's pretty awesome coming back to support such an amazing dream. I'm going to put my winnings towards a new car!" Burnell walked away with a $2,000 paycheck.
In all, over $40,000 in cash and prizes was awarded during this two-day event.