Breakaway Roper Tacy Kay Webb to Rope for Chance at $1 Million at Rodeo Corpus Christi
By: Darci Miller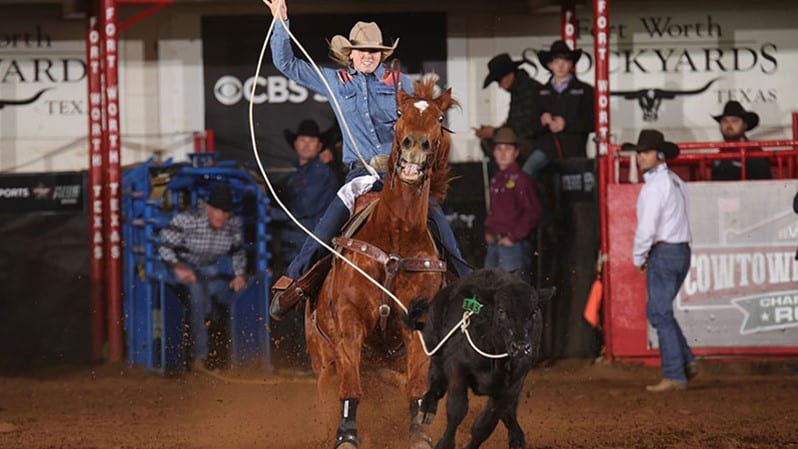 PUEBLO, Colo. – This week at Rodeo Corpus Christi, breakaway roper Tacy Kay Webb is eligible to win potentially $1 million.
But that's only the second-most important thing happening to her this week.
A registered nurse, Webb is working on her applications to CRNA (Certified Registered Nurse Anesthetist) school.
"You have to take so many tests and have all your certifications and essays and recommendation letters, and so many things go into it," Webb said. "I actually stayed home a few weekends ago just to literally sit and study. It felt like I was in nursing school again."
While a few applications are due in several months, she also has one due May 15 – the day after Rodeo Corpus Christi ends (May 11-14, 8 p.m. ET on RidePass on Pluto TV).
"I've been working on it while I was here," Webb said. "I was actually studying on the way here, and I'll still be pulling out my computer and working on stuff later today. It's like a never-ending process."
Webb admits that it's been a ton of stress on top of what could be one of the biggest events of her rodeo career.
Following wins at Days of '47 last summer and Cowtown Christmas in December, Webb is eligible for the WCRA's Triple Crown of Rodeo.
The Triple Crown of Rodeo is a trilogy of Major rodeos offering a $1 million bonus to any one athlete or collection of athletes who win first place in any three consecutive majors. No athlete has yet walked away with the bonus. If no other athlete wins three consecutive events before the end of the year, Webb becomes a millionaire.
"I feel like there is a little bit more pressure, but I'm definitely excited," Webb said. "It's not going to be a piece of cake by any means, and everyone talks about how cool it is and stuff, and I'm like, yeah, it is really cool, but it's still going to be very hard. So I'm just going to go out there and try to give it my best."
That kind of money would be life-changing for just about anyone, let alone someone working towards going back to school. Webb says the biggest payday of her career so far came at Days of '47 when she walked out with $28,000 – still not too bad for a weekend of work.
"That rodeo's so much fun," she said. "It was a blast, and then they hand you a paycheck like that, and you're like, 'Whew, okay!'"
Her victory at Cowtown Christmas, however, was a bit less fun. Webb admits she's a fair-weather cowgirl, and roping in the cold, rainy conditions was not her favorite thing. She was also concerned about roping in the smaller Cowtown Coliseum, where the start is really fast.
"That week, they lengthened the start, so it was more my setup that I really like, and so I really took advantage of that and enjoyed roping there so much more than I usually do," Webb said. "And so to come out with the win, it was pretty cool because I'm usually not super strong in that arena.
"You've got to tough it out and be a cowgirl sometimes."
Since then, Webb has gotten off to a solid start in 2022. She hasn't been rodeoing as much lately while she focuses on work and her CRNA school applications but has gone to some of the bigger rodeos that she says were pretty good to her.
It's still hectic trying to work rodeos in around her work schedule – she works three 12-hour ICU shifts each week and rodeos on weekends – but now that the pandemic is more under control, things have calmed down significantly.
"I feel like things are kind of slow right now, but my friends at work are going to be mad at me for saying that," Webb said with a laugh. "But it has slowed down right now. It's been kind of nice."
But once the rodeo schedule picks up and her applications are finished, she'll be back to hitting things harder.
"It usually gets so much busier in the summertime, and so I think once I get these applications done, we'll try to go to more rodeos," Webb said. "It gets really busy in the summer, so we'll be pretty dang busy. I'll be working, but I'll also be rodeoing, so it'll be crazy just like it was last year."
Her long-term plan is to go to CRNA school in 2023 and step back from rodeo for a bit. And if she does win the $1 million, she says those plans won't change.
But she's trying not to count her chickens before they hatch and simply prepare for Corpus Christi as she would for any other event.
"I really just tried to practice on my horses this week a couple days, just make sure they're working really good, and just do some slow work with them," Webb said. "And then same with me. Slow work with me, and just make sure I'm on top of my game. You kind of just have to treat it like another rodeo. I know it's a big stage, and it's a big deal, but if you treat it any differently, then you're probably going to have a different outcome than you usually do, so you've just got to go try to be a winner like you do at all the other ones."
However, that's not to say she hasn't thought about it at all.
"I feel like I'm going to be like Hailey Kinsel when she won The American: 'I definitely didn't wear the right mascara for this,'" Webb said, laughing. "Honestly, are there really words for someone handing you $1 million? I would just feel overwhelmingly blessed and would be really excited to see what I could do with that money and how I could invest it for the future."
© 2022 PBR Inc. All rights reserved.