Brit and Jake Smith Claim Prescott Team Roping Title
By Jolee Jordan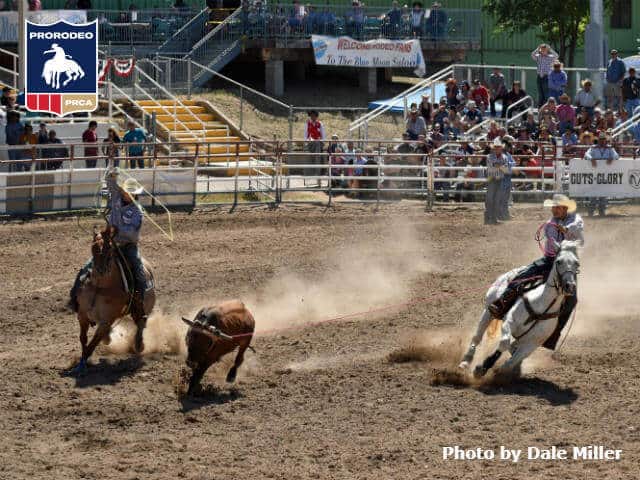 PRESCOTT, Ariz. — Achieving the skills and mindset needed to win major ProRodeos can take time . . . unless you've got an ace in the hole. Then it might only take two months.
Such was the case for team roper Britt Smith who turned 18 on May 6 and bought his PRCA permit. He hit the road with his older brother Jake and on the Fourth of July holiday, the brothers earned a huge win at the Prescott (Ariz.) Frontier Days Rodeo.
"This is for sure my biggest win in ProRodeo," laughed Britt, who has been roping his entire life and won plenty in jackpots including a new truck before joining the PRCA. "I think Clay's won three . . . I've just won one," he joked, alluding to oldest brother Clay, the reigning PRCA World Champion Header.
Having two older brothers with rodeo experience has given the youngest Smith an advantage.
"I talk to Clay just about every day," he said. "I can shortcut stuff, learn from their mistakes, and it gives me an advantage."
"Sometimes, it takes a couple of times being told first," he admitted with a laugh.
The entire Smith family is heavily steeped in roping and rodeo and when Jake and Britt headed out for the Fourth of July run, the whole family went along to compete as well.
"They did pretty good in Reno at the jackpots, Britt did and my dad," noted Jake. After roping at the Reno Rodeo, the brothers had a hectic Fourth schedule that took them through seven states before they concluded their run in Prescott.
Taking advantage of the back-to-back format in the timed events, they roped July 6 during both the matinee and evening performances. After splitting the opening go round with Jeff Flenniken and Tyler Worley at 6.4 seconds, they were solid at 6.7 in round two to finish at 13.1 seconds. They won the rodeo by just two tenths of a second.
Prescott is known by the team ropers for its unique setup: both ropers begin competition on the heeling side of the box.
"Whenever you think of Prescott, you think about coming from the heeling side," said Britt, adding that the brothers practiced it a couple of times at home before coming West. "We stayed at Tom Richards' house (in nearby Humbolt, Ariz.) and before we went to the rodeo, I just scored a couple from that side."
"It's for sure different," agreed Jake. "It's not as big a deal for the heelers. We just have to make sure we wait to swing so we don't interfere with the header and of course, we're behind the barrier too."
The brothers earned $5,234 apiece in Prescott. Jake rodeoed some with Clay when they both cracked out back in 2013 but he took a step back from competition, staying home to build his horse herd and a home with wife Brandi. He's ready to hit the road again with Britt in 2019.
"We're going to go to a bunch this year and let him get his feet wet," he said. He plans to be home in early August for the birth of his first child, a son to be named Rhett Wiley, breaking the family tradition of naming kids after famous team ropers.
"Next year, Britt will get his card and we plan to be in Las Vegas in December with Clay."
Other winners at the $244,470 rodeo were all-around cowboy Tanner Green ($1,953, tie-down and team roping); bareback rider Kaycee Feild (89 points on United Pro Rodeo's Pow Wow Nights); steer wrestler Ty Erickson (9.1 seconds on two head); saddle bronc rider Taos Muncy (87 points on JK Rodeo's High Lonesome); tie-down roper J.D. Kibbe (17.6 seconds on two head); barrel racers Sarah Kieckhefer and Megan Champion (35.26 seconds on two runs); steer roper Vin Fisher, Jr. (38.8 seconds on three head); and bull rider Parker McCown (87 points on 4L & Diamond S Rodeo's Foolish Dreams).
For more coverage of the World's Oldest Rodeo, check out the July 12 edition of ProRodeo Sports News.
Courtesy of PRCA