Bull Rider Laramie Mosley Gets Crucial Victory in Canby (Ore.)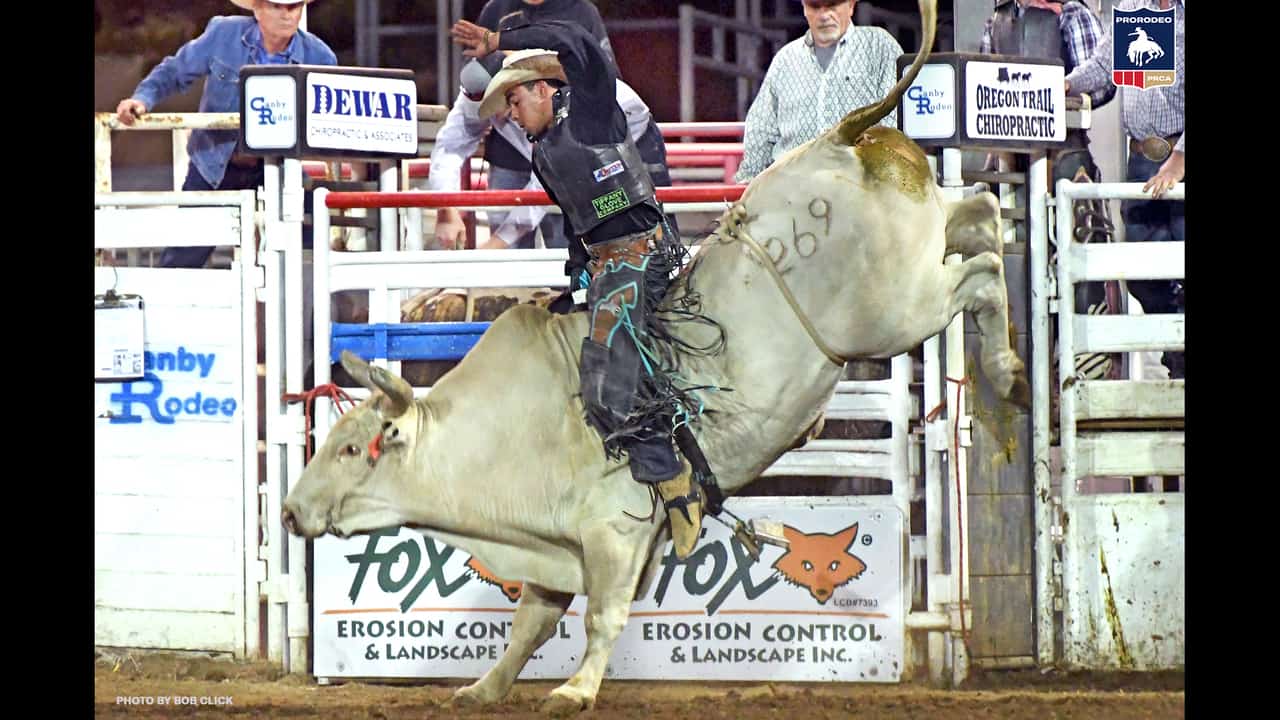 Laramie Mosley was hurting going into the Canby (Ore.) Rodeo on Aug. 20.
The Texas bull rider was stepped on the day prior to his competition at the ProRodeo Tour presented by Pendleton Whisky stop, twisting his ankle and finding it tough to put weight on the sore leg.
But PRCA's regular season ends Sept. 30, and Mosley is in the hunt for his first qualification to the Wrangler National Finals Rodeo so skipping wasn't an option.
"I was banged up, but I needed Canby for my Tour count, so I had to get on," said Mosley, 25.
Mosley is fifth in the ProRodeo Tour standings, but contestants have to compete in at least 35 Tour rodeos to secure their spots at the $1 million ProRodeo Tour Finale Sept. 23-26 in Salinas, Calif.
Mosley also knew he had a good draw in Bridwell Rodeo's Bailey's Rozet Swag, a bull he had previously ridden.
"He's well known as a money bull," Mosley said. "When I saw my name next to his (in the draw), I knew it was kind of a layup, but I had to do my job."
Mosley did just that, registering an 87.5-point ride to win the rodeo and earn $3,835 towards the PRCA | RAM World Standings, keeping him inside the Top 10.
"I used to not look at all (at the standings)," Mosley said. "But now I do. I like watching my name move up."
"It's a cool spot to be in and I use the positive energy of seeing my name in the standings to motivate me."
Watching Mosley's rise in ProRodeo this summer, it's hard to imagine his bull riding career almost ended before it really began.
As a youngster, Mosley had been intrigued by the sport, watching PRCA Wrangler Champions Challenge events and the movie 8 Seconds. He even got on a few calves before a wreck sent him to the sidelines.
"One morning at like 5:30, I got really ambitious and thought I'd buck one by myself," Mosley noted wryly.
"That baby calf reared back and smashed my face on a boulder. My face was all scabbed up and I was crying because the girls wouldn't think I was pretty anymore."
Mosley was around 8 at the time and luckily, returned to the sport as a junior bull rider in the National Little Britches Rodeo Association just a couple of years later. Nothing, including his mother's decree that he couldn't move up from junior bulls to the "big bulls" after two years in the NLBRA, has stopped him from chasing his bull riding dreams since then.
Now, just about a month away from realizing his dream of making the Wrangler NFR, Mosley enjoyed a couple days rest and is ready to finish out the season strong.
"We're almost there but there's a lot of money still to be had," he said. "I've never been to the Northwest and I'm excited about that."
He is also looking forward to the Tour Finale in Salinas.
"I love Salinas," he said. "I've only been once but it's a great atmosphere, a really fun rodeo."
Other winners at the $171,178 rodeo were all-around cowboy Zack Jongbloed ($2,199, tie-down roping and steer wrestling); bareback rider Clayton Biglow (92 points on Calgary Stampede's Xplosive Skies); steer wrestler Tyler Waguespack (7.2 seconds on two head); team ropers Coy Rahlman/Douglas Rich (9.7 seconds on two head); saddle bronc rider K's Thomson (89 points on Calgary Stampede's Special Delivery); tie-down roper John Douch (16.7 seconds on two head) and barrel racer Destri Devenport (16.34 seconds).
Courtesy of PRCA