By the Numbers: Chiseled Erupts for 46.5-Point Bull Score in Del Rio
By: Justin Felisko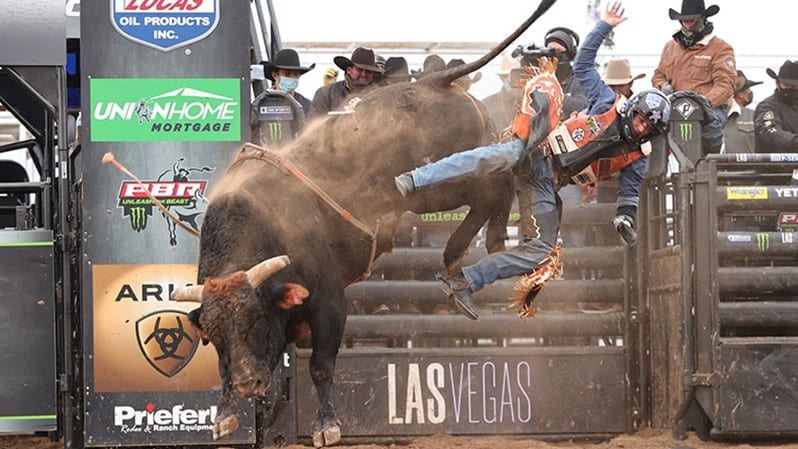 PUEBLO, Colo. – The PBR Built Ford Tough Invitational in Del Rio, Texas, may have been cut short because of inclement weather, but Saturday afternoon brought with it a series of notable performers in Round 1 and the 15/15 Bucking Battle at the Val Verde County Fairgrounds.
The 2021 YETI PBR World Champion Bull race continues to take shape, and another contender made his presence loud and clear on Saturday.
2019 ABBI Classic champion Chiseled, who finished runner-up to two-time World Champion Smooth Operator last year at the World Finals, was outstanding in his season debut. The D&H Cattle Company bovine superstar erupted for a 46.5-point bull score, tied for the second-best of his PBR career, by sending Mauricio Moreira flying in 4.68 seconds.
"Big-time power," two-time World Champion and CBS Sports analyst Justin McBride said during this weekend's broadcast. "Chiseled is full-grown now. He is at the size where they want him. Look at the athleticism. 46.5-point bull score. That is why he was in a battle for a world title last year, and that is why he is going to be in another one this season."
Chiseled's bull score is the second-best in the PBR in 2021. Ridin Solo was marked 47 points when he bucked off 2019 Rookie of the Year Dalton Kasel (2.26 seconds) in Ocala, Florida. Cord McCoy said Ridin Solo is doing OK after the bull hit his head on the bucking chutes, resulting in a 40.25-point bull score and re-ride option for Kasel in their rematch this past weekend.
Solo is good! 👍🏻
Thanks for being concerned!
Headed back to the Ranch! @PBR pic.twitter.com/XtPqJ5ARbk

— Cord McCoy (@CordMcCoy) February 14, 2021
Let's take a look at some other noteworthy stats from this past Saturday in Del Rio.
2: Chiseled was scored 46.5 points or higher on two occasions in 2020. Like his debut in Del Rio, he began last season with a bang, bucking off Ezekiel Mitchell in 4.63 seconds in Sacramento, California.
5: World No. 1 Cooper Davis is now tied for the second-most career 15/15 Bucking Battle victories after earning the win Saturday with 90 points on Born To Sin. Davis's last 15/15 win came in 2020 when he won the Fort Worth, Texas, 15/15 Bucking Battle with 89.5 points on Preacher's Kid. That win had broken a three-year drought Davis was in without a 15/15 Bucking Battle victory.
5: There are five riders tied for third place in the PBR with five qualified rides on the Unleash The Beast – 2018 World Champion Kaique Pacheco, Moreira, Dener Barbosa, Marco Eguchi and Alex Cerqueira. Davis continues to lead the PBR with nine qualified rides, and Junior Patrik Souza ranks second with six.

4: It has been feast or famine so far in Rafael Henrique dos Santos's brief PBR career. Santos won his first premier series round Saturday by riding Mike's Motive for 89.5 points in Round 1. Santos is 9-for-36 in his premier series career, with four of those rides being scored 88.25 points or higher.
44.75: Yadi earned the highest bull score in Round 1, which was the first ABBI Classic round on the Unleash The Beast this year, bucking off Aaron Pass in 4.04 seconds. Manaba took home the title of Del Rio ABBI Classic Champion after his 90.2-point performance against Cody Jesus. Manaba had a 44.5-point bull score for bucking off Jesus in 3.41 seconds.
2: 2018 Rookie of the Year Keyshawn Whitehorse and Dener Barbosa were the only two riders to notch a qualified ride in both Round 1 and the 15/15 Bucking Battle. Whitehorse rode Cherry Bomb (87 points) and Last Resort (87.25), and Barbosa reached the 8 seconds on Hurts So Good (84.75 points) and Wild Onion (87.5 points).

60%: PBR Commissioner and CEO Sean Gleason announced this weekend that the 2021 PBR World Finals will be held at T-Mobile Arena on Nov. 3-7 with seating capped at 60% capacity. Five-day ticket packages are up for renewal for fans who purchased five-day tickets in 2019, and five-day packages will be available for the general public beginning on March 3.
Follow Justin Felisko on Twitter @jfelisko
Photo courtesy of Andy Watson/Bull Stock Media
© 2021 PBR Inc. All rights reserved.