By the Numbers: First Month of 2022 Season Showing Good Parity
By: Justin Felisko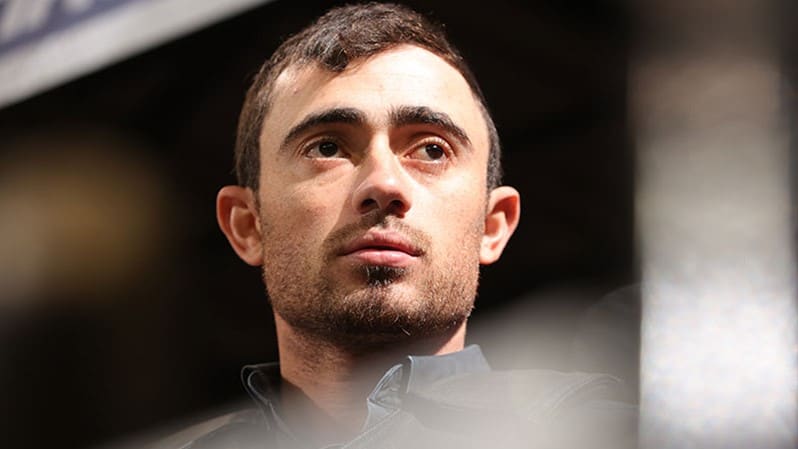 SACRAMENTO, Calif. – Rafael Henrique dos Santos still has one guaranteed Unleash The Beast event before being subject to the premier series cutline, but the No. 32-ranked bull rider started trying to turn around his season on Sunday afternoon.
Santos won Round 3 of the PBR Wrangler Long Live Cowboys Classic, presented by Bass Pro Shops, with his 91-point ride on Dr. Kittleson.
The 26-year-old went 2-for-4 in Sacramento for a 19th-place finish overall. Santos also turned down a re-ride following his 65-point ride on Bringin' Trouble in Round 1.
Santos finished 2021 ranked No. 20 in the world standings and will head into the PBR Ariat Invitational in Milwaukee a mere 15.85 points outside the Top 25.
Every UTB event in 2022 guarantees the Top 25 healthy/active riders in the world standings a draw spot. The next draw spots for an event are filled by riders with guaranteed UTB exemptions, injury exemptions and Pendleton Whisky Velocity Tour event wins. If any draw spots remain following that criteria, alternate positions are filled via the world standings.
Three other riders from last season's Top 25 will enter the Fiserv Forum on Friday night down to their final guaranteed event: No 33 Marco Eguchi, No. 54 Boudreaux Campbell, and No. 70 Paulo Lima. Eguchi would have likely received an alternate spot this week if he was out of exemptions, but Campbell and Lima will need to jump in the rankings if they hope to remain on the UTB following Milwaukee.

Here are some other noteworthy stats from this past weekend.
14: The Unleash The Beast has featured significant parity this year, with Mauricio Moreira becoming the fifth different event winner. Even more so, Moreira is one of 14 riders who have won a round at the PBR's highest level. Kyler Oliver and Stetson Lawrence are the only two riders in the PBR with two UTB round wins through the first five weeks of the season. Parity has also been on display on the Pendleton Whisky Velocity Tour, with Dakota Louis (Jacksonville) and Ramon de Lima (Grand Rapids) becoming the ninth and 10th different event winners on the PBR's development tour this past weekend.
9.5: Kyler Oliver cut the deficit between himself and world No. 1 Joao Ricardo Vieira to 9.5 points. Both riders went 2-for-4 in Sacramento, but Oliver finished 11th overall compared to Vieira's 18th-place finish. The World Finals takes place on May 13-22 in Fort Worth, Texas, at Dickies Arena.
1,067: It had been 1,067 days (two years, 10 months and 30 days) since Luciano de Castro last won a UTB round. Before his Round 2-winning ride (88.75 points on Mr. Winston), Castro's last UTB round win was on March 1, 2019, when he rode Canadian Mist for 90.75 points in Little Rock, Arkansas.
21: Marquis Metal Works Coriolis Effect had bucked off 21 consecutive riders on the premier series until Castro capped his impressive weekend by riding him for 85.25 points.
45: Surprisingly, Moreira is the first rider to make a qualified ride on a bull who scored 45 or more points this season. Moreira's winning ride of 91.75 points came aboard WSM's Jive Turkey, who was marked 45 points in the championship round. Before Moreira, 45-plus bulls were 20-0 on the premier series. Moreira should be in contention to possibly earn a Team Brazil roster spot for the upcoming PBR Global Cup USA on March 5 at AT&T Stadium.

7: Dalton Kasel may not have gotten the win this past weekend, but he remained perfect inside the Golden 1 Center. Kasel's 90.5 points on Nasty Wishes made him a flawless 7-for-7 in two trips to Sacramento. Kasel also leads the PBR with three 90-point rides.
45.25: High Brow Cat was the YETI "Built for the Wild" Bull of the Event after he bucked off Cannon Cravens in 2.25 seconds in the championship round, earning a bull score of 45.25 points.
13: Thirteen riders currently ranked inside the Top 35 of the world standings did not finish inside the Top 35 last season.
Follow Justin Felisko on Twitter @jfelisko
Photo courtesy of Andy Watson/Bull Stock Media
© 2022 PBR Inc. All rights reserved.