By the Numbers: Sage Kimzey Finding his Stride Upon Return to PBR Teams
By: James Youness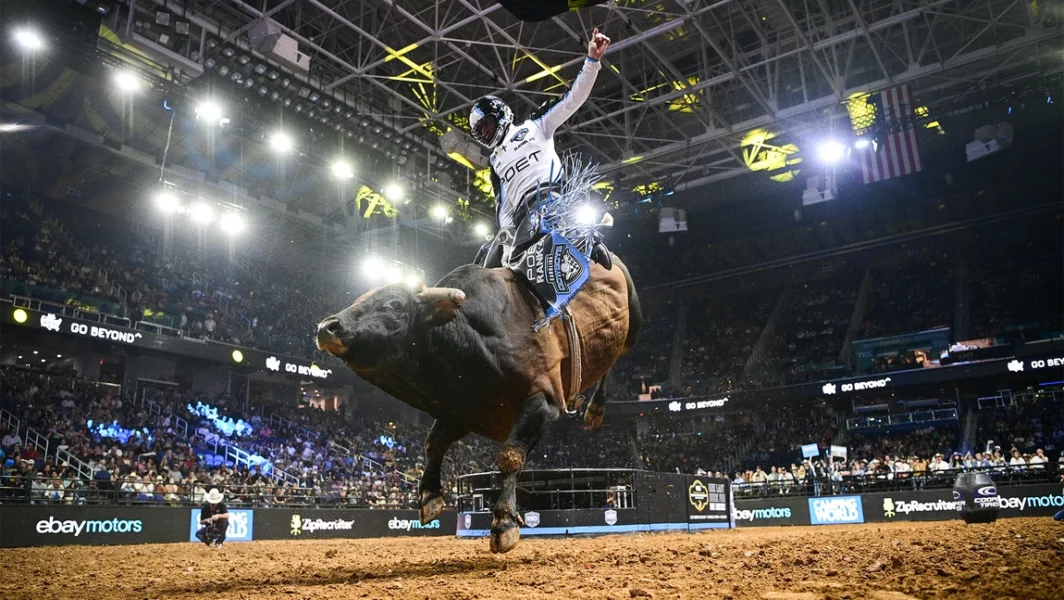 PUEBLO, Colo. – The Carolina Cowboys may be sitting in the No. 5 spot at 10-12 with two regular season events remaining, but they've only had seven-time PRCA World Champion Sage Kimzey in the lineup for six of those games.
Three of which came last weekend during the team's homestand event, Cowboy Days, where Kimzey stormed back onto the scene during his first 5-on-5 action since the season-opener in Cheyenne, Wyoming.
Suffering a broken clavicle during some extracurricular competition just days after making his debut with Carolina, Kimzey was forced to watch the league's next six events from the sidelines.
But it didn't take long for the revered veteran to round back into shape.

Quickly reminding the tour of just how potent he can be, Kimzey went on to post a sick 91-point conversion atop Mike's Motive.
"Great matchup," Kimzey shared.
"I feel like Jerome has done a great job matching the bulls up and it feels to get one knocked down, for sure."
Eventually pairing that ride score with 2016 World Champion Cooper Davis's 87.25-point mark after dueling Black As Coal, Kimzey stepped right into a winning lineup, as the home team captured a big 178.25-173.75 final over the streaking Arizona Ridge Riders to begin the weekend.
Celebrations a plenty, it had to feel good to be able to provide a spark for his teammates after sitting on the sidelines for the past month and half.
"I really think this is the future of the sport of bull riding," Kimzey admitted.
"There's a lot of growth potential for the league as a whole and I really think it's a great place, especially for the young kids coming up. There are obviously some kinks to work out, but it's a great place where if we can get everything worked out as the stewards of the sport, I know the PBR has done a great job with advancing the sport, then it really is going to be the future of the sport, and I'm happy to be a part of that."
While Friday night's victory would be Carolina's only win of the weekend, that wouldn't stop Kimzey from staying hot. Picking up a quality 89.25-point ride aboard Buckeye Nation on Championship Sunday, Kimzey completed the weekend 2-for-3.
Now 3-for-5 on the season, Kimzey has produced a 90-pointer in two of his three conversions.
After being selected No. 1 overall during the 2023 PBR Teams Draft in Fort Worth, Texas, this past May, just ahead of a good friend in Josh Frost being picked No. 2, Kimzey had plenty of expectations to live up to.
"It's awesome. Josh and I have been travelling together for the last three years and obviously everybody wants to be the No. 1 pick. It was kind of like my life's work was rewarded when I was selected as the No. 1 pick, so it was great," Kimzey offered.
"To know the group of guys that Austin Dillon and our front office has assembled, it's a great group of guys and we're all friends too, so we've got a pretty special locker room atmosphere."
View this post on Instagram
Continuing to understand his role in the chutes and locker room alike, Kimzey, who now gets to travel and compete alongside his younger brother, Trey Kimzey, just wants to keep it simple ahead of the 2023 PBR Teams Championship.
"I think we just take care of business. At the end of the day, our team has a lot of talent on it. It's just about us showing up and performing to the best of our ability. Every single out, during every single game, throughout the rest of the season," Kimzey concluded.
"It can be a long grueling season, but I think we're a really determined and a really focused group of guys and that's what we'll keep working on."
With the PBR Camping World Team Series set to invade Glendale, Arizona, Sept. 29-Oct. 1, we're taking a quick look back at some of the numerical takeaways from Cowboy Days in this week's By the Numbers!
Year 2, 4 Wins: There are a lot of ways to paint a picture which illustrates how dominant the No. 1 Austin Gamblers have been in year two of the PBR Camping World Team Series. Pulling out the record books may be the most convincing, though, as the green and blank contingent continues to set the bar when it comes to success. Having posted the only flawless 3-0 record last weekend in Greensboro, North Carolina, the Gamblers successfully captured their PBR Teams record-setting fourth event title of the season. Adding to wins earned earlier this season in Cheyenne, Wyoming, Anaheim, California, and Austin, Texas, (their hometown event), the Gamblers have also shattered the league's previous record for most game wins in a season.

17 & Counting: While event titles bring extra valor and bigger paydays, it's a team's game win total that will ultimately earn Austin and competing organizations the prized regular season championship (and first-round bye in Las Vegas). Entering this weekend's showdown in Glendale, Arizona, with a league-leading 17 wins, they've already surpassed last year's circuit-pacing mark (16), which three teams managed to produce when things were said and done in 2022 (16-12: Austin Gamblers, Oklahoma Freedom, Texas Rattlers). With the No. 2 Kansas City Outlaws sitting at 12-10 and just six games remaining in the 2023 regular season (three each at Ridge Rider Days and Rattler Days), Austin needs just one more game win to officially secure a first-round bye at the 2023 PBR Teams Championship, while two more wins will earn the Michael Gaffney-led squad its second regular season championship in as many seasons.
RELATED: #InCaseYouMissedIt: Gamblers pull away atop standings with league-best fourth event win
163: Well, we can't discuss the Austin Gamblers without calling out its one-two punch in Jose Vitor Leme and Dalton Kasel. But after seeing Kasel produce an uncharacteristic 0-for-3 performance last weekend in Greensboro, which represented the first instance in eight events where the talented rider failed to record a qualified ride, Cassio Dias took advantage of the slow weekend en route to surpassing Kasel for the No. 2 spot in this year's MVP race. A flawless 3-for-3 on the weekend, Dias picked up another event MVP title Sunday afternoon with his second 90-pointer of the weekend. First teaming up with Walks Far for an electric 90.5-point out, he doubled down less than 24 hours later with another, this time scored 90.25 points atop Oreo. Climbing within two ride scores (163 points) of the leader, Dias will still have to deal with one of the sport's best to ever do it in the two-time World Champion. Leme, who is set to bring his tour-best 16-for-23, wasn't able to find the whistle to stay perfect on Sunday, but converting in eight of his last 10 attempts, there's no doubt he'll continue to give it his all as he attempts to capture his second PBR Teams MVP title when the regular season comes to a conclusion in Fort Worth, Texas, Oct. 6-8.
90s Galore: If it seemed like there were a few more 90s this past weekend than usual, that's because there were! Prior to Cowboy Days, the most 90s in one weekend occurred in Nashville, Tennessee, where three different riders met the mark (Cassio Dias x3, Kaiden Loud, Braidy Randolph). But after seeing a season-high seven rides qualify for the flashy status, (including rides from Cassio Dias x2, Ezekiel Mitchell, Jose Vitor Leme, Trace Redd, Sage Kimzey and Caden Bunch), the fireworks were flying inside the Greensboro Coliseum. While a majority of the rides came from established riders, it was rookie standout Caden Bunch who may have solidified himself a permanent spot within the Oklahoma Freedom's starting lineup.
7-for-9: Since making his 2023 PBR Teams debut with the Freedom on Sept. 8, no rider has been as hot as Caden Bunch. Now 7-for-9 on the season, the youngster went 2-for-3 at Cowboy Days, but it was his triumphant win atop Hoka Hey that represents his first 90-point conversion in the 5-on-5 series. Racking up a career-best five-out ride streak (87.75, 88, 85.25, 90.5, 88) throughout the league's last two events, Bunch has quickly become his team's top rider, albeit now tied with Elizmar Jeremias with seven conversions each, despite participating in nine less attempts. After acquiring Dawson Gleaves last week, who logged a conversion of his own during his first out with the red, white and blue squad, the team seems to be getting younger as the season progresses. But after allowing the Nashville Stampede to sign veteran Chase Outlaw from the team's Reserve Roster last week, they had to watch on as he returned to prime form with his new squad.

No. 200: Not only did Chase Outlaw solidify himself in the 200 Ride Club Sunday afternoon courtesy of his 88.25-point dance aboard Twisted Feather, but he went 2-for-3 on the weekend while being welcomed to a brand new locker room. Now under the insightful watch of Justin McBride, the veteran made his presence felt right off the bat Friday evening during his matchup with Dang Thang. Helping his Stampede squad to a favorable 2-1 weekend as they attempt to climb the standings before next month's 2023 PBR Teams Championship inside T-Mobile Arena, he began his time in blue and yellow with a quality 85-point ride.
Photo courtesy of Josh Homer/Bull Stock Media
© 2023 PBR Inc. All rights reserved.