California Rodeo Salinas' Friday Night Performance Was a Sell Out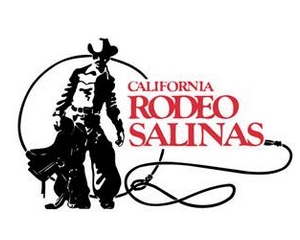 SALINAS, CA, July 22, 2022 – Night two of the California Rodeo Salinas brought a sold-out crowd of 17,500 out to the Salinas Sports Complex, an increase of 11.7% over Friday night in 2019 (a total of 1,837 tickets). Fans arrived early to eat, drink, shop, enjoy the McDonald's Kids Corral and more before experiencing professional rodeo entertainment in the arena and local events, trick riding and clown acts on the track. Church Brothers' The Mighty Green won the produce mascot race benefitting Ag Against Hunger.
Round one roughstock event leaders remain the same as last night and are bull rider Maverick Potter with a score of 85 on Hell Hound owned by Four Star Rodeo Company, bareback rider Cooper Cooke with an 84-point ride on Barracuda owned by Flying Five and saddle bronc rider Sage Newman with an 89-point ride on Holy Hoppin' Hell owned by Bridwell Pro Rodeos. In the timed events Stockton Graves is winning the steer wrestling average with a time of 12.4 seconds on two steers, Cody Snow and Wesley Thorp lead the team roping average with a time of 17.1 seconds on two head, Jordan Jo Hollabough still leads the breakaway roping average with a time of 9.4 seconds on two calves, Blake Ash is leading the tie down roping average with a time of 21.0 seconds on two runs and Brittany Pozzi Tonozzi leads the barrel race with a time of 32.30 seconds after two runs. Chance Moorman and Alex McWilliams split the 2nd round of the freestyle bullfights with a score of 87.5.
Full event results as of Friday, July 22nd can be found here: https://www.carodeo.com/p/events/2022-rodeo-results—track–arena
Don't miss Salute to Military Day presented by Tanimura & Antle on Saturday July 23rd and the Crown Royal Day of Champions and Man Up Crusade Day on Sunday July 24th at the California Rodeo Salinas. Tickets are available at www.carodeo.com or 1034 N. Main Street after 10am each day. Prices are $12* for children, $20* for adult general admission and $25* for adult reserved seats; prices are $5.00 less online than in-person at the ticket office. A clear bag policy is in effect with full details at www.carodeo.com.
'Like' the California Rodeo on Facebook at www.facebook.com/CARodeoSalinas to receive alerts. Follow the Rodeo on Instagram (@carodeosalinas) and twitter (@CaliforniaRodeo) for daily updates, photos and more.
About California Rodeo Salinas
The 112th California Rodeo Salinas will take place July 21st – 24th. The California Rodeo Association is a not-for-profit organization that strives to preserve and promote the traditions of the California Rodeo Salinas and the West. We support the community and other non-profit organizations through the staging of the annual California Rodeo Salinas and other year round operations of the Salinas Sports Complex. Through donation of our facility, vending and fundraising opportunities during Rodeo and other events, the California Rodeo Association returns almost $500,000 annually to local non-profits. For more information about the California Rodeo Salinas, log on to www.CARodeo.com or call the California Rodeo Office at 831-775.3100.