Career-Best Ride Leads Jacob Lees to Second Round Bareback Win in Reno
By Tanner Barth, PRCA Media Coordinator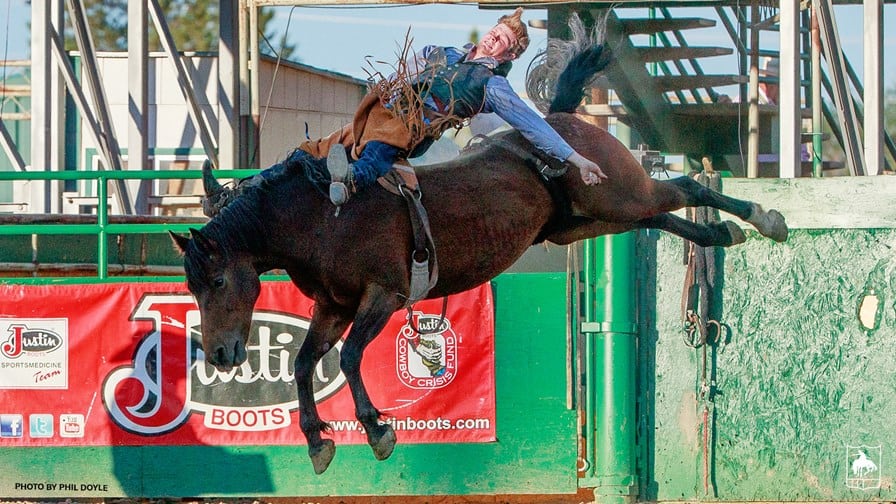 Jacob Lees, 25, had never competed at the Reno Rodeo but the Caldwell, Idaho native put on quite the show for the sellout crowd in his debut appearance.
"I'm a rookie in Reno, it's my first time here and it'll definitely be one to remember, " Lees said.
In a rodeo littered with world champions and Wrangler National Finals Rodeo qualifiers, Lees won the second round of the saddle bronc riding with an 86-point trip on Bridwell Pro Rodeos' Scarlet Lady. It was a bounce back performance for him after failing to register score in round one.
"I'm fighting a little bit of a rib injury that I got in Pecos (Texas) a couple nights ago and I really wasn't feeling it," Lees said. "I just told myself you have to be a cowboy sometimes. So, I went and got on it and it paid off pretty good tonight."
Lees bought his PRCA card in 2019 and has been to plenty of big rodeos in his young career. The Reno Rodeo may top all of those with a ride like he had Friday night. He said the crowd of 9,000 played a big factor in success.
"It was definitely a big crowd, it was electrifying for us as cowboys," Lees said. "The crowd really makes a guy want to ride good. There's nothing like hearing a load roar when you get off that horse."
The young cowboy currently sits outside the Top 50 in the PRCA | RAM World Standings but nights like these can go along ways towards qualifying for the Wrangler National Finals Rodeo. The win earned him $5,495, which doubles what he's earned so far this season $5,129. It will also provide a financial boost for the Idaho cowboy in his quest to make a long run over Cowboy Christmas.
"That's going to help out a lot and help me get to more rodeos over the next couple of weeks," said Lees. "I was budgeting everything out and seeing how it needed to play out for me to make it deep run. This will definitely take a lot of strain off that budget as we head into Cowboy Christmas."
Courtesy of PRCA