Career-First PBR Victory in Calgary Catapults Smeltzer Into Contention for National Title
By: Covy Moore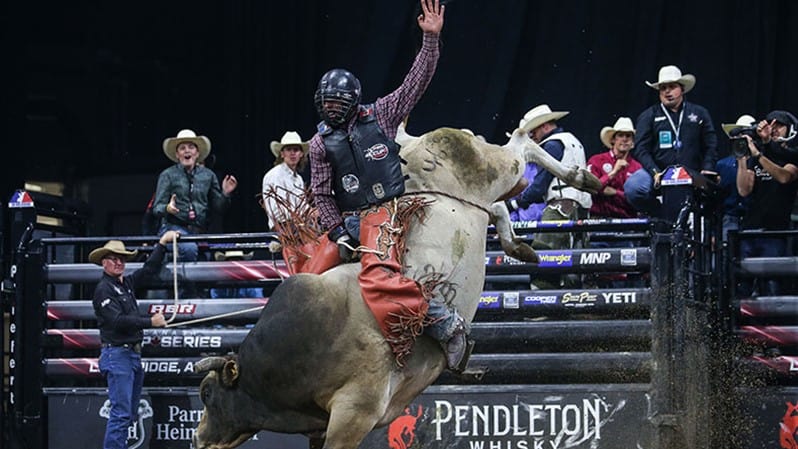 AIRDRIE, Alberta – Claresholm, Alberta's Griffin Smeltzer has been riding a wave of momentum.
And with bull riding known for being a game of momentum, the results will reflect when things are feeling good.
After spending much of the first half of the 2021 PBR Canada season collecting checks and hovering in the Top 10 in the standings, Smeltzer parlayed a 90-point effort on Two Bit Bucking Bulls' Happy Camper at the season-launch Cup Series event in Lethbridge into his first event win with the league two weeks later in Calgary.
Riding former Canadian Rodeo Bull of the Year Blackstone Afterparty for 87.5 points to claim the victory on Sept. 9 in Calgary, Smeltzer catapulted from No. 6 to No. 2 in the national standings.
Looking beyond his win, Smeltzer's surge was also earned in part thanks to his accompanying second- and sixth-place finishes also earned at the trio of Alberta events.
"I have been feeling like things have been clicking for a long time," Smeltzer said. "I haven't been winning everything, but I have been placing almost everywhere. I just feel good. I have been riding a lot of bulls. Just now it seems like I have the confidence in my ability to ride those really, really good ones that get a guy every now and then.
"Seeing I had Blackstone Afterparty was sweet," the 21-year-old continued. "I had him in Bonnyville at a rodeo, and he two-jumped me. I wanted to get some revenge. I was feeling good, and that bull brings it every time. I was just trusting my body, locked my chin down, and it worked out."
During the event week, after bucking off a bull, Smeltzer chronicled how 2011 PBR Canada Champion Tyler Thomson approached him. Thomson, who was working the Calgary event roping bulls, gave him a couple of minor pointers that set him up for success.
"I really respect Tyler. He rode bulls for a living for a very long time," Smeltzer said. "He has seen everything. He told me that I was doing everything right; I just need to be bowing my chest out and locking my chin and taking it to him. And that is exactly what I did. It is just about being confident.
"Everybody is trying to help everybody at these deals," he added. "It is very professional. We are all having fun, we are all doing what we need to do to win, but you have a lot of guys willing to help."
With a busy PBR Canada Cup Series schedule ahead, the young Albertan is in a new place, being near the top of the national standings. Smeltzer is seeking his first national title and his first qualification to the PBR Canada National Finals Nov. 12-13 in Edmonton, Alberta.
But being one of the up-and-coming talents in the sport in Canada gives him a disadvantage, having not had the same PBR Canada Finals experience as some of the other riders.
"I know a guy has to roll in there and ride everything," Smeltzer said of the year-end event. "As far as the rest of the year goes, a guy better be getting some of these round wins in the Cup events that are left. A guy is going to need a lot of points to beat the rest of the boys."
With the ever-popular Championship Round Drafts at the PBR Canada Cup Series events, Smeltzer says he has his eye on one bull that would not only be redemption but a very good shot at the win.
"There is a little black bull of Nansen Vold's they call Gifted," Smeltzer said. "He has bucked me off three times.
"He is just a super quick little bull. He doesn't ever feel like he is doing the same thing. He bucks really hard. Callum Miller was 89 on him at Lethbridge. That would be my next pick. You can win on that bull."
© 2021 PBR Inc. All rights reserved.