Carolina Cowboys Deliver Three Impeccable Rides to Defeat Missouri Thunder in PBR Team Series Preseason
By: Rachel Tighe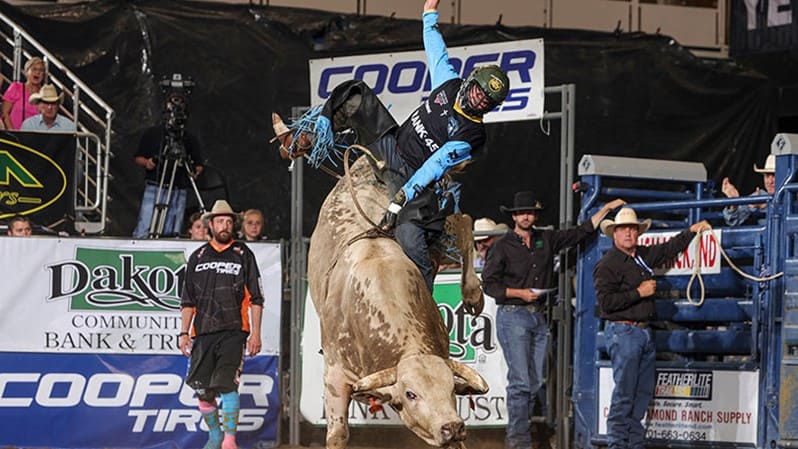 BISMARCK, N.D. – The Kansas City Outlaws (2-0-0) reigned supreme in Bismarck, North Dakota, winning the inaugural preseason event in the PBR Team Series – a new league of eight bull riding teams from across the country competing for a national championship. The Outlaws went 2-0 in their games on Friday and Saturday night and then relied on the first-round draft pick to put up a massive 90-point qualified ride in the one-ride-per-team bonus round.
The Outlaws had defeated the Nashville Stampede (1-1-0) on Friday night and again won their five-on-five game on Saturday by defeating the Oklahoma Freedom (1-1-0) with a 173.75-87.75 victory. In the bonus round set up to determine the two-day event's winning team among the two undefeated teams, the Outlaws and the Carolina Cowboys (2-0-0), who had defeated the Missouri Thunder (1-1-0) earlier in the evening, Dalton Kasel (Muleshoe, Texas) tallied 90.75 points on Oilfield Outlaw's Yellow Feather (Chad Berger/Oilfield Outlaw's Bucking Bulls), while the Cowboys' Daylon Swearingen (Piffard, New York) was bucked off.
Kasel was named the event MVP, tallying an aggregate score of 180.25 points after riding Oilfield Outlaw's Yellow Feather (Chad Berger/Oilfield Outlaw's Bucking Bulls) for 90.75 points and WSM's Nasty Wishes (WSM Auctioneers / Clay Struve / Dakota Rodeo / Chad Berger) for 89.5 points on Friday night.
The Kansas City Outlaws are based at the T-Mobile Center in Kansas City, Missouri, where the team's inaugural Outlaw Days homestand will be held August 5-7, 2022, the second event of the 2022 PBR Team Series season. Fans can find more information about the KC Outlaws by visiting http://www.pbr.com/teams/outlaws/.
The second and final preseason event of the PBR Team Series, the PBR Tryon Chute Out, is scheduled for Tryon, North Carolina, on June 24 (8 p.m. ET) and June 25 (7 p.m. ET), available LIVE on RidePass on Pluto TV (channel 720).
Carolina Cowboys: 350.75 points
Missouri Thunder: 261.5 points

In a showdown between two of the winning teams from Day 1 of the Dakota Community Bank & Trust PBR (Professional Bull Riders) Bull Riding, the Carolina Cowboys (2-0-0) remained red hot, going 4-for-5 to secure the 350.75-261.5 victory against the Missouri Thunder (1-1-0). Continuing his strong momentum, 2022 PBR World Champion Daylon Swearingen (Piffard, New York) started Game 2 on a high note, dominating Bubba G (Dakota Rodeo/Brian & Ashley Pintar/Clay Struve/Chad Berger) for 89.75 points. Junior Patrick Souza (Sonora, Brazil) then scored 87.25 points on Dagger (Dakota Rodeo/Chad Berger). The Thunder's second rider, Clayton Sellars (Fruitland Park, Florida), who rode for 89 points Friday night, countered with a score of 87 points on Gambini (Julie Rosen/Clay Struve/Dakota Rodeo/Chad Berger), putting the Thunder on the board and only one bull back. The young Floridian's teammates, Andrew Alvidrez (Seminole, Texas) and Callum Miller (Warwick, Queensland, Australia), also recorded scores. However, it wasn't enough to allow the Thunder to surpass the Cowboys' four rides, including 87.25 points from Mason Taylor (Maypearl, Texas) and 86.5 points from Wingson Henrique da Silva (Navirai, Brazil). Silva has only been in the U.S. less than three weeks but is making a very strong impression on Cowboys Coach Jerome Davis, including a qualified ride Friday night and tonight's clutch ride.

"It means the world being a part of this team, especially being on a team with such great friends as teammates," said the Carolina Cowboys' Mason Taylor. "We've got big shoes to fill. That has a lot to do with trying as hard as we are. Being on the same team as the reigning World Champ, that also brings out a little extra in you. I think it's going to show that throughout the rest of this year – all of us working together as a team and all of us giving it everything we got. If we give it everything we got, we won't fall off very many."
"I was hoping to get 5-for-5 rode, but we got four, but it felt good when we got our draw last night. We got a good draw and took advantage of it," Carolina Cowboys' coach Jerome Davis said in response to the Game 2 victory. "It ain't over. We've got to take care of these last rounds, so we will see what happens."
© 2022 PBR Inc. All rights reserved.