Cervi Roping Moves to Wickenburg for 2021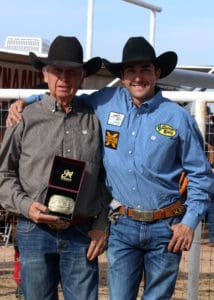 Rancho Rio in Wickenburg will host The Mike Cervi Jr. Memorial Pro Classic and Cervi Pre-Ropings February 16 & 17, 2021. The move comes in the wake of the Tucson Rodeo cancellation. "Rancho Rio is a fantastic facility that can accommodate a large crowd," commented roping producer George Aros. "There are 2 arenas, plenty of space and we will have big TV screens so you never miss the action where ever you are on the grounds." Rancho Rio has become the epicenter of roping activity with enormous turn-out for a multitude of events. The facility has stalls, dry camping and an RV resort, making it perfect for ropers and spectators alike.
The prestigious Cervi Pro Classic is a 5 steer average paying 6 holes, plus there is a $2,000 short go fast time bonus. There is also a $2,500 per man incentive for the #15 or lower team with the fastest time on five. The entry fee is $350 a man, enter 3 times. The Cervi ropings have always benefited from a generous infusion of $40,000 or more in added money. Historically, the Pro Classic pays out 100% and manages to donate money to the Justin Cowboy Crisis Fund as well, totaling over $270,000 to date. There will be an impressive prize line this year, including the coveted Cervi buckle from Gist, and custom Larry Coats saddles to the winners. Prizes also include boots, breast collars, bits, feed, supplements and much more.
The crowd-pleasing 9th Annual Cervi Pro-Am Roping benefiting the Justin Crisis Fund will get things started Wednesday at 10:00AM. Amateur ropers (#4 or under) are drawn with some of the biggest headliners in the sport of Team Roping for 3 full rounds. The event has become so popular, it has been expanded to 12 slots for both headers and heelers. Even with a $500 entry fee, the slots in Pro-Am fill quickly every year. Entries are taken on line at cerviroping.com. The average winners and go-round winners will receive Gist buckles. All teams will receive embroidered Wrangler jackets caps, and team photo.
The Tuesday Cervi Pre-Ropings offer more lucrative pay-outs. The first roping will be a #13 starting at 10AM, pick two partners for $150 a man. That is followed by a Super 15 for $300/go twice and an Open which is a pick two for $150 a man.
Wickenburg, Arizona has become the hot spot for winter roping action over the past few years. With other big jackpots just before and after the Cervi Roping, everyone from NFR champions to and ambitious amateurs will undoubtedly be flocking there to grab some sunshine and cash. For any roper looking for a huge payday or any rodeo aficionado looking for some top notch action entertainment, the Cervi Ropings at Rancho Rio are the place to be in February.
Details can be found at arosroping.com