Chad Masters/Cory Petska Top the Leaderboard in Guymon, Okla.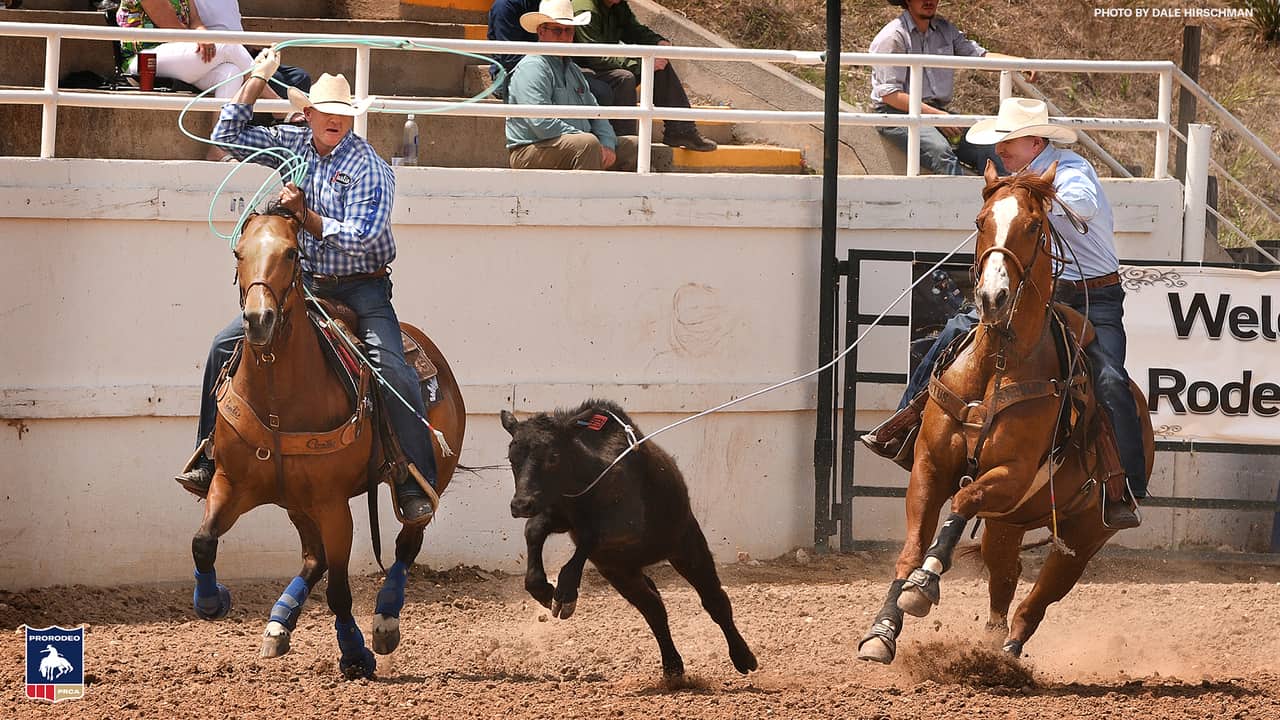 Chad Masters and Cory Petska have won nearly every big rodeo there is in the PRCA. The veteran team ropers added another title to their resumes at the Guymon (Okla.) Pioneer Days Rodeo Sunday.
The PRCA World Champions caught all three steers to take home the average title in 22.1 seconds, which included a 7.4-second run on the final day to lockdown the win. Petska credited his partner for making his life easy on the back end at the key stop on the NFR Playoff Series presented by Pendleton Whisky.
"You know it really helped that I got really good handles all weekend long," said Petska, the 2017 PRCA World Champion Heeler. "My partner (Masters) made it really easy for me to catch two feet. He set them up to where it was an easy catch, so he did all the work really. I just had to do my job."
Over the three rounds the pair pocketed $4,912 to add their totals in the PRCA | RAM World Standings. Heading into the weekend, Masters was sitting 14th, while Petska was outside the Top 15 at No. 20.
The win in Guymon was the final time the two will rope together this season. Petska said while he'll still compete at a few circuit rodeos, he's turning his focus to his cattle operation.
"I'm actually headed to Wisconsin this summer to take care of my yearlings," he said. "It's a good boost for Chad in the standings, but for me it was just a really good rodeo to end my year on.
"We run about 1,500 head of yearlings in the summer, and I just wasn't feeling like doing all the driving this year. So, I just decided I was going to take the summer off and take care of our cattle and ease around to a few circuit rodeos in the Great Lakes."
Other winners at the $322,923 rodeo were all-around cowboy Caleb Smidt ($4,092, tie-down roping and team roping); bareback rider Jess Pope (92 points on Frontier Rodeo's Gun Fire); steer wrestler Tristan Martin (11.6 seconds on three head); saddle bronc rider Ross Griffin (89 points on Frontier Rodeo's Maple Leaf); tie-down roper Marty Yates (25.5 seconds on three head); barrel racer Hailey Kinsel (34.22 seconds on two runs); steer roper Cody Lee (53.0 seconds on four head); and bull rider Garrett Smith (91 points on Frontier Rodeo's Gladiator's Hammer).
Courtesy of PRCA