Challenger Series Roundup: Swearingen Wins Again in Archdale, Petri Takes Victory in Stamford
By: Darci Miller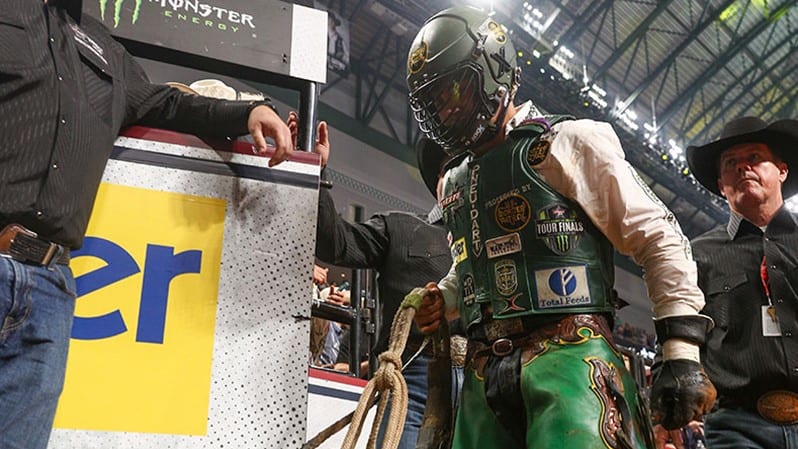 PUEBLO, Colo. – Daylon Swearingen is having the summer break a bull rider can only dream of.
Since winning the 2022 PBR World Championship and the PBR World Finals event title, going 6-for-8, he's finished worse than first place only twice.
After leaving Fort Worth, Texas, he rattled off wins at PBR Canada's Regina PBR Classic and the Sky Dancer PBR Challenger Series event in Belcourt, North Dakota. He helped the Carolina Cowboys to a 2-0 record at the Dakota Community Bank & Trust PBR Team Series Preseason Event, where they finished second, and he failed to place at the Challenger Series event in Binford, North Dakota. (He earned a third-place finish in Belcourt as well, courtesy of a double-entry.)
Swearingen kept up with his winning ways on July 1 at the 23rd Annual Boot Barn Jerome Davis PBR Invitational in Archdale, North Carolina, going 2-for-2 to win his second Challenger Series event.
What's more, he did it at the ranch of Carolina Cowboys head coach Jerome Davis.
Swearingen earned the win courtesy of two round wins. He won Round 1 thanks to 87 points on Lester Jr., and won Round 2 with 89.5 points on Dang It.
Ezekiel Mitchell of the Austin Gamblers finished second (2-for-2), while Swearingen's Cowboys teammate Mason Taylor placed third (2-for-2). Jacob Dunning (1-for-2) and Joao Paulo Fernandes (1-for-2) rounded out the top 5 in fourth and fifth, respectively.
View this post on Instagram
With the win, Swearingen earned 15 points towards the Challenger Series standings and is now ranked No. 2 with 69 points overall, just 2.5 points behind No. 1 Rafael Jose de Brito of the Texas Rattlers.
Meanwhile, on June 29 in Stamford, Texas, the Missouri Thunder's Jesse Petri emerged victorious at the Texas Cowboy Reunion.
With just five qualified rides on the books thanks to the rank bovine superstars, Petri earned the win thanks to his 88-point ride on Monkey Blues in Round 4.
Deklan Garland of the Oklahoma Freedom placed second with 87.5 points on Thunder Dome in Round 4, and Canyon Bass earned third place with his Round 1-winning ride of 86 points on Justice Seeker. Davi Henrique de Lima (84 points on Stretch Armstrong in Round 3) and Casey Roberts (83.5 points on Snap Shot in Round 2) rounded out the Top 5.
Petri earned 15 points towards the Challenger Series standings and is ranked No. 5.
On July 1, the Challenger Series also headed to Paris, Tennessee, for the Allegros Marinade PBR in Paris, presented by Chris Dowdy of Mossy Oak Properties.
Thiago Salgado of the Nashville Stampede earned the win as the only man to go 3-for-3. Though he finished ninth in Round 1 thanks to 78 points on Lieutenant Dan, he finished second in Round 2 with 85.5 points on Rolex. He then won the championship round with a huge 91.5 points on Whiplash – the first 90-point ride of his PBR career at any level of competition.
2018 PBR Rookie of the Year Keyshawn Whitehorse finished second to follow up his win at the Binford PBR Challenger Series event the weekend prior. Whitehorse went 2-for-3 with matching 84.5-point scores on Piacoso in Round 1 and Space Ranger in Round 2.
Eduardo de Oliveira (2-for-3), 2002 PBR World Champion Ednei Caminhas of the Texas Rattlers (2-for-3) and Ross Freeman of the Arizona Ridge Riders (1-for-3) rounded out the top five.
Salgado earned 41 points towards the Challenger Series standings and is tied for No. 9 overall.
Speaking of Caminhas, the 46-year-old phenom won the final event of the Challenger Series' weekend slate. He went a perfect 2-for-2 to win PBR Sunday at Cowtown, part of the Challenger Series' residency at the historic Cowtown Coliseum in Fort Worth.
Caminhas is ranked No. 3 in the Challenger Series standings.
NEXT UP
The Challenger Series has another busy weekend coming up with three events on the docket.
On July 8-9, Shipshewana, Indiana hosts the PBR Bull Bash at the MEC. On July 9, the Koben Puckett PBR hits Amarillo, Texas, while the residency at Cowtown Coliseum in Fort Worth, Texas, continues with PBR Sunday at Cowtown on July 10
© 2022 PBR Inc. All rights reserved.