Clayton Biglow Wins Dixie National Rodeo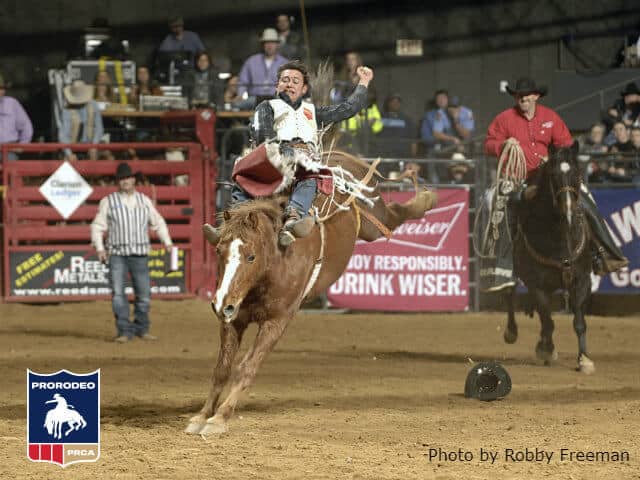 JACKSON, Miss. – Memories can be inviting.
However, bareback rider Clayton Biglow had no reason to reminisce about the Dixie National Rodeo in Jackson, Miss.
During a handful of career trips to Jackson, Biglow won nothing. Not a dime. Zero.
Until Feb. 13 that is.
The Clements, Calif., bareback rider won the rodeo with an 86.5-point ride on Brookman Rodeo's Joe Dirt at Mississippi Coliseum.
"I think I competed at this rodeo four different times and I never won a check," said Biglow, whose win came on a re-ride Feb. 12. "Now, I finally did, and I got the W. I had never been on that horse (Joe Dirt) and I knew when I got my re-ride on that horse I had a good shot at dang-sure pulling a check if not winning it. When I took my re-ride, it all worked out like it should have. This was a cool rodeo with a lot of energy, and I really enjoyed it."
For his performance, Biglow earned $3,753. Biglow was 11th in the Feb. 11 PRCA | RAM World Standings with $13,173.
"Having a re-ride is not that big of a deal," said Biglow, 23. "You just go through the same routine. My re-ride horse was a bucker."
The inaugural win in Jackson is just a step for Biglow, as he strives to achieve his ultimate goal – a coveted gold buckle. Biglow has qualified for the Wrangler National Finals Rodeo the last three years. His best finish came last season when he placed fourth in the world standings with $245,435. He placed in seven rounds at the Wrangler NFR, highlighted by his Round 5 win with a 93-point ride on C5 Rodeo's Virgil, which was an arena record at the Thomas & Mack Center in Las Vegas.
"I'm very happy with my NFR," Biglow said. "I got a lot of things accomplished that I wanted to. Ever since I was a little kid I have wanted to rodeo and ride bucking horses. The gold buckle is always the mission. I've been to the NFR three times, and I'm ready to notch (that gold buckle) off the list."
Other winners at the $171,517 rodeo were all-around cowboy Wyatt Cole Muggli ($1,477, tie-down roping and team roping); steer wrestler Tyler Waguespack (8.0 seconds on two head); team ropers Tucker Menz/Michael Tash (10.1 seconds on two head); saddle bronc rider Jake Watson (86 points on Brookman Rodeo's Satisfaction); tie-down roper Blake Ash (16.8 seconds on two head); barrel racer Ryann Pedone (14.31 seconds); and bull rider Chase Dougherty (89 points on Universal Pro Rodeos' Red Harvest).
For more coverage of the Dixie National Rodeo, check out the Feb. 22 edition of ProRodeo Sports News.
Courtesy of PRCA