Clovis Gives Back, Remembers John W. Jones Sr.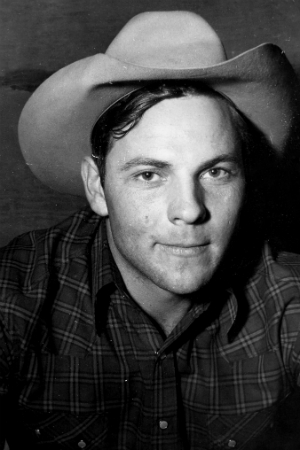 CLOVIS, Calif. – Now in its 103rd year, the Clovis (Calif.) Rodeo is making $200,000 in charitable contributions while also celebrating ProRodeo Hall of Famer and 11-time National Finals Rodeo steer wrestler John W. Jones Sr. with a memorial steer wrestling event.
"It was awesome, a bigger turnout than I expected," said Jones' granddaughter, Shannon Jones. "It started as a small idea and it turned out to be much larger and more exciting than we expected."
Almost 70 PRCA steer wrestlers participated in the memorial steer wrestling competition in front of a crowd of several hundred spectators on April 24.
"It was well-attended and we're really grateful for Clovis helping us host the event," Jones said.
John W. Jones Sr. passed away Oct. 6, 2013, and was inducted into the ProRodeo Hall of Fame in 1979. He is remembered as being the 1970 world champion steer wrestler and the first Rodeo Cowboys Association Rookie of the Year.
"With all the positive responses, we'd like to do it again," Jones said.
All told, the Clovis rodeo gives back about $200,000 to the central California region across multiple nonprofits and charity organizations such as the Veterans Education Program through Fresno State, the Marjorie E. Radin Breast Cancer Center at the Clovis hospital, as well as the local Boy Scout troops, Kiwanis Club and American Legion.
"That's what it's all about – we have a lot of fun doing what we do and love the sport of rodeo and it makes you feel really good," said Clovis Rodeo Association president Gary Bower. "The long days and nights, it's what it's all for and it's very rewarding to know you're helping other groups or charities."
The Clovis Rodeo Foundation gives back to the schools in the area as well as other rodeo or agricultural-based organizations such as the FFA and 4-H, Bower said.
"We've got a lot of good partners and it took us a long time," Bower said. "A lot of it is the number of people who come to the rodeo every year and then we got sponsors coming out left and right – we had a hard time finding enough flag carriers for all the sponsors we had this year."
The Clovis rodeo has grown in both attendance and in payouts – in 2016 it joined the San Antonio Stock Show & Rodeo and eight other Gold Tour rodeos on the Wrangler Million Dollar Tour presented by Justin Boots.
"We've been doing it 103 years, so there's a lot of tradition that goes along with our rodeo," Bower said. "A lot of our committee members and board of directors are third and fourth generation families involved in it, we're really deep in the community and they come out in droves to support us."
For more information about the memorial steer roping, go to www.johnwjonesmemorial.com.
The Clovis (Calif.) Rodeo officially kicks off on April 28 and ends on April 30. Check back with prorodeo.com for full results and coverage.
Courtesy of PRCA