Consistency is Key: Top Finishers in Los Angeles Stay Hot in Little Rock
By: Darci Miller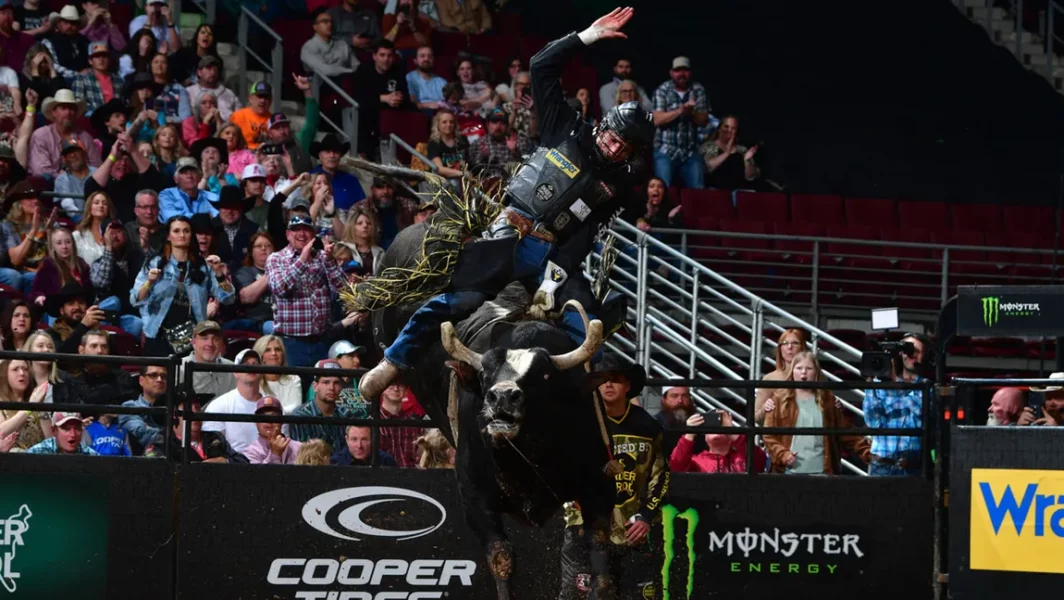 PUEBLO, Colo. – With the 2023 PBR World Finals rapidly approaching – held May 12-21 in Fort Worth, Texas – one thing is for sure: every point matters and consistency is key.
Right now, a trio of riders have been hitting their respective strides and putting everyone in the world title race on notice.
At the top of the list is Dalton Kasel, who went back-to-back with wins at both the PBR SoCal Showdown in Los Angeles and the PBR U.S. Border Patrol Invitational in Little Rock, Arkansas. Not far behind are Dener Barbosa, who finished third in Los Angeles and improved to second in Little Rock, and Joao Ricardo Vieira, who finished fourth in Los Angeles and third in Little Rock.
For Kasel, it was his second event win of the season, on top of a 15/15 Bucking Battle victory, and it didn't come easy.
Kasel started things off in Round 1 with 85.5 points on Old School Cool. In Round 2, he rode Black Ice for 88.25 points, gritting it out to the end and celebrating on the dirt afterward.
"That bull had me trying the whole time," Kasel told CBS Sports Networks' Kate Harrison. "I never was in a comfortable position. I had to try my butt off every time. It was an accomplishment."
He then went on to ride UTZ BesTex Smokestack for 91.25 points in the championship round – his league-leading fourth 90-point ride of the season.
"I'm feeling confident away from my hand and into my hand, and I knew he could go either way," Kasel said. "Riley Sanford told me he'd be a good one to pick, and that's what I went with."
Smokestack earned a bull score of 44.75 points for his efforts.
"That's pretty rank right there," two-time World Champion Justin McBride said on CBS Sports Network. "This bull, he kept getting stronger. It wasn't like he was really strong right here, up and down. He stayed strong the entire way.
"Lot of grit and determination (from Kasel). You can see him hobbling right here. That took a lot right there."
Thanks to his two consecutive wins, Kasel is now ranked No. 2 in the Unleash The Beast standings heading into next weekend's PBR Brew City Classic in Milwaukee, Wisconsin (March 11 at 7:45 p.m. ET on RidePass on Pluto TV).
But Kasel wasn't the only one to provide fireworks in the championship round.
Vieira tied him for the round win with a matching 91.25-point score aboard Chateau Montelena's Montana Jacket, briefly holding the event lead.
"A bull like that is what keeps Joao always relevant to win an event, to win a world title, things like that, always keeps him up in the top," McBride said. "Because he can ride bulls like that darn near every single time."
Vieira won three events last season and is still searching for his first of 2023. After injuries caused a rough start to his 2023 season, he's now ranked No. 16.
Barbosa, meanwhile, also reached the 90-point threshold in the championship round, closing out the night with 90 points even on I'm Legit Too. He fell just .75 points behind Kasel in the aggregate but improved to No. 10 in the Unleash The Beast standings.
"We got to see one heck of a short round with the last three guys," McBride said. "That's what PBR bull riding's all about. Three 90-plus-point rides to close it out."
It's an environment that Kasel says inspires him to constantly strive for more.
"Bull riding's fun, and when you have the Top 35 bulls in the world against the Top 35 guys, it just is next-level excitement, and it fires all of us up," Kasel said. "The Lord's really blessed me, and I've surrounded myself with great people. It helps being at a great place like this, and the crowd's amazing."
Photo courtesy of Josh Homer/Bull Stock Media
© 2023 PBR Inc. All rights reserved.