Contestants Punch Tickets to Calgary Stampede Semifinals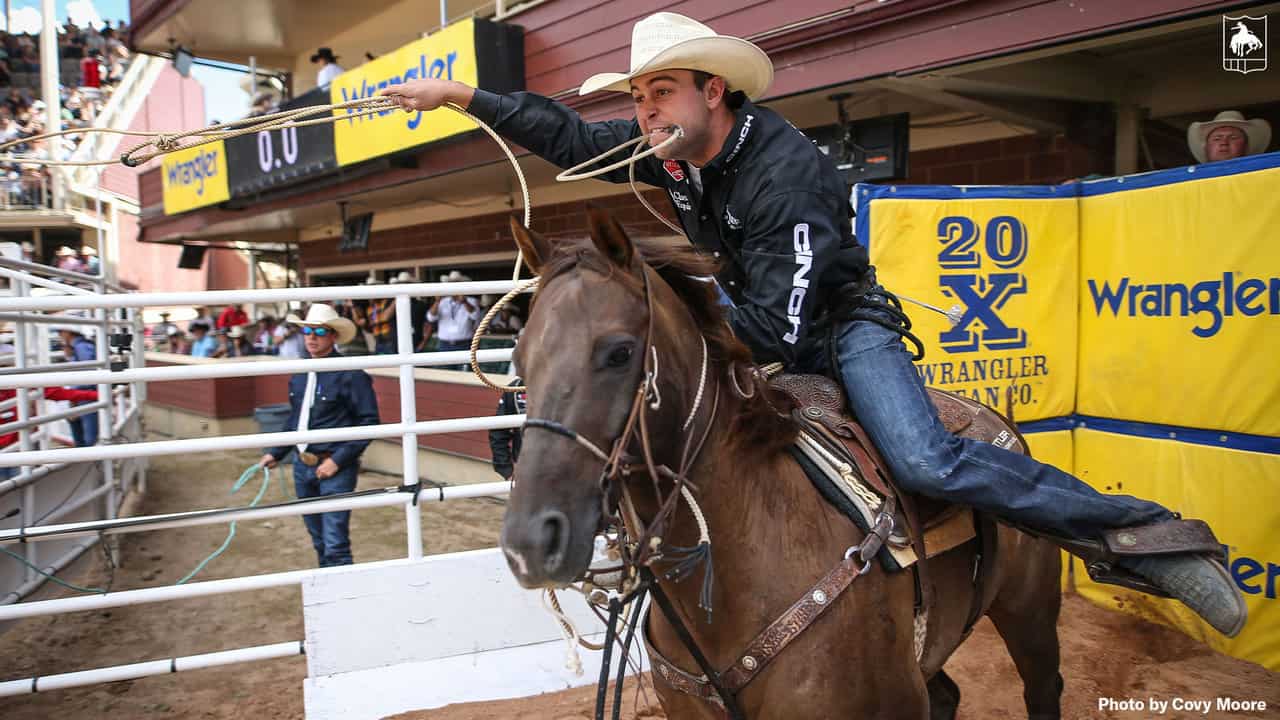 Tyler Milligan had always hoped for an opportunity to compete at the prestigious Calgary Stampede. That moment finally came in 2022 and the two-time Wrangler National Finals Rodeo tie-down roper is making the most of his chance.
Milligan competed in Pool A, making him one of the first cowboys to rope at this year's rodeo. He made his mark quickly, laying down a 7.4-second run to finish second in the first round. He followed that up with another second-place finish in round two to qualify for the semifinals with $9,000.
Caleb Smidt leads all tie-down ropers with $17,000 after the first four rounds of competition.
Canadian saddle bronc rider Zeke Thurston has once again put the Calgary Stampede on notice. The two-time PRCA World Champion won the first three rounds of Pool A to put himself into the No.1 spot headed into the semifinals with $16,500.
Thurston has won Calgary three times throughout his nine-year ProRodeo career. He's well on his way to making it four in 2022.
Ty Erickson has shined in the steer wrestling through four performances. Erickson won round one and placed in the top five in rounds three and four. He's at the top of the leaderboard in Pool A with $14,000.
Pool B gets underway on July 12, with 11 new contestants arriving in Calgary. The NFR Playoff Series presented by Pendleton Whisky stop takes place at 3:30 p.m. (EDT) each day and will air on The Cowboy Channel and PRCA on Cowboy Channel Plus App. The short-go Showdown is set for Sunday, July 17.
Below, are the other semifinal qualifiers from Pool A.
Bareback Riding: 1. Tim O'Connell, $15,500; 2. Clayton Biglow, $13,000; 3. R.C. Landingham, $11,000; 4. Clint Laye, $9,000
Steer Wrestling: 1. Ty Erickson, $14,000; 2. (tie) Will Lummus and Cody Cassidy, $10,500; 4. Stetson Jorgensen, $10,000
Saddle Bronc Riding: 1. Zeke Thurston, $16,500; 2. Sage Newman, $9,000; 3. Chase Brooks, $8,500; 4. (tie) Ross Griffin and Kole Ashbacher, $7,500
Tie-Down Roping: 1. Caleb Smidt, $17,000; 2. (tie) Zach Jongbloed and Logan Bird, $10,000; 4. Tyler Milligan, $9,000
Barrel Racing: 1. Stevi Hillman, $17,500; 2. Dona Kay Rule, $13,500; 3. Emily Beisel, $11,500; 4. Shelby Spielman, $11,000
Bull Riding: 1. Clayton Sellars, $17,000; 2. Reid Oftedahl, $17,000; 3. Cody Coverchuk, $9,000; 4. Jared Parsonage, $7,000
Courtesy of PRCA