Corpus Christi Win Gives Moore Present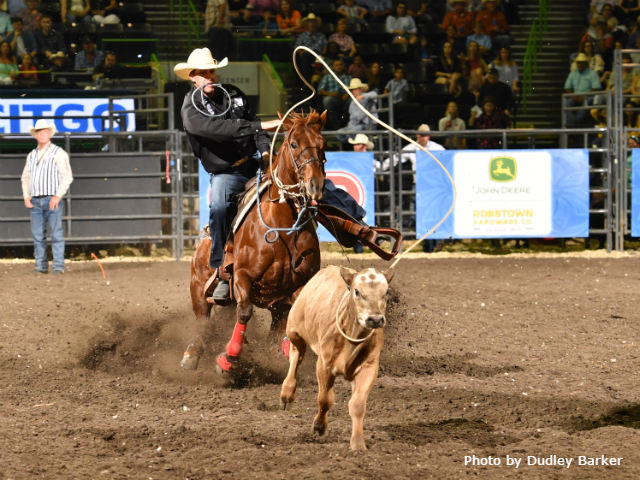 CORPUS CHRISTI, Texas – When tie-down roper Timber Moore heard he had won the title at Rodeo Corpus Christi, it was a belated birthday present for the Aubrey, Texas, cowboy.
Moore, who turned 31 on April 29, clocked a three-head time of 28.3 seconds in Corpus Christi, and it was just enough for the victory when the dust settled April 30.
"This is my biggest win so far this year – I've had a slow season so far and haven't won a lot of money or any big rodeos, until this one," Moore said. "I only had about $12,000 this season, so I should be up to about $17,000 now after this win."
Moore earned a total of $5,287 for winning his first Rodeo Corpus Christi title. However, after his first run, it didn't look like he'd be the victor. But he battled through adversity to earn a narrow win.
"My first one kicked and I was 10.9, and then I came back with a good one in the second and third round," Moore said. "After having a tough first one, you just have to come back and be as fast as you can and not make mistakes."
He was solid in his last two runs, winning the second round with an 8.0, and then placing fifth in the final go with a 9.4. His average time of 28.3 seconds was enough to hold off Caleb Smidt by three-tenths of a second, and Marcos Costa by four-tenths.
"I rode Cimarron Boardman's sorrel mare," Moore said. "She worked great for both of us – he was actually winning the average after two head before drawing a bad one in the third round. I sure didn't think I was going to hang on to win it because there were a lot of good guys up on Sunday."
Moore has established himself as one of the best ropers around the past four years, as he's made it to the Wrangler National Finals Rodeo presented by Polaris RANGER each year since 2013, and also went in 2011.
He owns Colonel, the 2016 PRCA/AQHA Tie-down Roping Horse of the Year, which means he's also confident he can win anytime.
"I have a really good horse right now, and I expect myself to rope well enough to be back at the NFR this year," Moore said. "When you have a horse like that, you always have a chance to win, and have to use your opportunities when you get them.
"This time of year, a win like this means a lot, because it's nice to have a boost before you start into the summer run. Hopefully I can have some momentum and get things rolling to where I can make the Finals again this year."
So, what did Moore do on his birthday, one day after roping in Corpus Christi?
"I flew out of San Antonio at 6 a.m. and roped at Clovis (Calif.) that afternoon," he said with a laugh. "I had a steak with a couple of buddies and then went to bed so I could drive from Clovis to Guymon (Okla.) on Sunday."
Other winners at the $223,325 rodeo were bareback rider Tim O'Connell (89.5 points on Frontier Rodeo's Big League), steer wrestler Cole Edge (15.3 seconds on three head), team ropers Trevor Brazile and Patrick Smith (19.0 seconds on three head), saddle bronc riders Ty Manke (86.5 points on Frontier Rodeo's Delta Force) and Taos Muncy (86.5 points on Frontier Rodeo's Miss Ellie) and bull rider Garrett Smith (87.5 points on Frontier Rodeo's Show Off).
For more coverage of Rodeo Corpus Christi, check out the May 12 issue of the ProRodeo Sports News.
Courtesy of PRCA