Country Music Star Kane Brown to Kick Off Gambler Days with Concert at Moody Center on August 26
By: Matt Grilli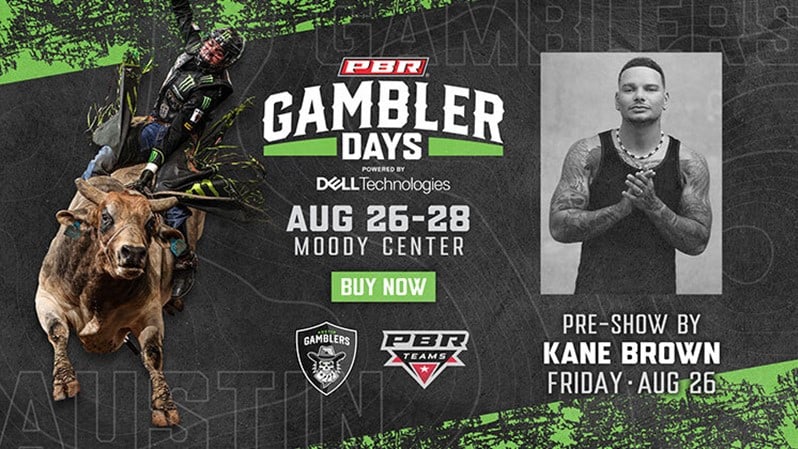 AUSTIN, Texas—The Austin Gamblers, the professional bull riding team in the inaugural PBR (Professional Bull Riders) Team Series, today announced that country music artist Kane Brown will perform at Moody Center on August 26 at 7:45 p.m. to kick off PBR Gambler Days Powered by Dell Technologies. The three-day, action-packed weekend at the new, state-of-the-art Moody Center will feature 12 games with the top bull riders and bulls in the world. The doors open at 6:30 p.m. Brown's concert will begin promptly at 7:45 p.m., and the PBR Team Series bull riding action will start at 8:45 p.m.
"We are thrilled that Kane Brown will usher in the Gamblers era in Austin," JJ Gottsch, CEO of the Austin Gamblers, said. "Live music and entertainment are staples of the Austin culture, and what better way to celebrate that than with a performance by a world-class artist before watching the excitement and competition amongst the world's best bull riders in front of our hometown fans."
Brown is a Multi-Platinum, award-winning artist who became the first-ever artist in Billboard history to simultaneously top every Country chart. Recently named to the Time 100 list of most influential people in the world, Brown released his most recent single, "Grand," earlier this month, and his upcoming, highly anticipated album, Different Man, is set to be released on September 9. Brown's concert in Austin, which will officially kick off the bull riding event, is included in Gambler Days tickets.
All eight teams in the league will compete daily in five-on-five bull riding games. The Gamblers will face off against the Nashville Stampede on August 26, the Texas Rattlers on August 27, and the Carolina Cowboys on August 28.
The Gamblers played their first two games in team history earlier this week, going 1-1, including a dramatic walk-off win when No. 1 draft pick Jose Vitor Leme knocked down a clutch ride to seal a come-from-behind victory. Austin will continue its historic campaign with three games next weekend at Outlaw Days in Kansas City, Missouri, from August 5-7.
To purchase tickets to Gambler Days Powered By Dell Technologies, fans can visit PBR.com, Ticketmaster.com, MoodyCenterATX.com, or by calling PBR Customer Service at 1-800-732-1727.
© 2022 PBR Inc. All rights reserved.