CPRA and Troy Fischer Silverworks Extend Agreement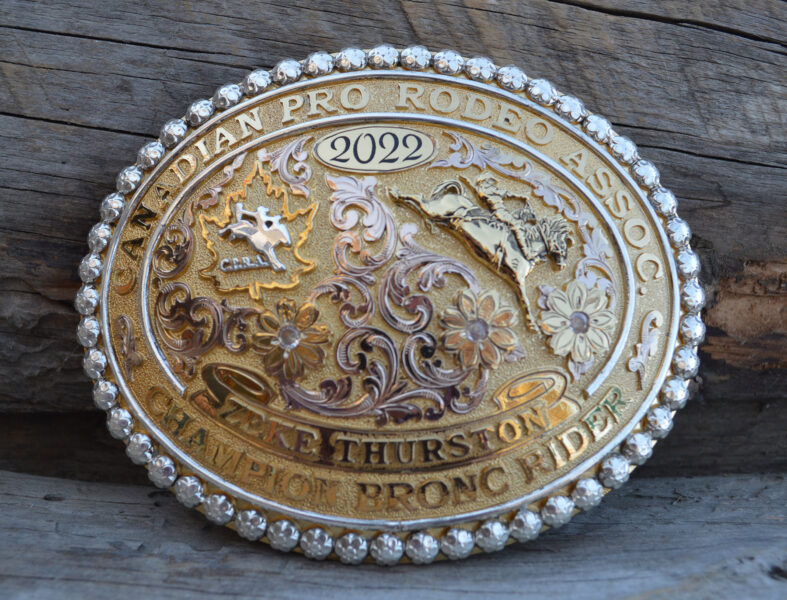 The Canadian Professional Rodeo Association (CPRA) is happy to announce a three-year contract extension with Troy Fischer Silverworks as the official trophy buckle partner of the CPRA.
"We've enjoyed a long partnership with Troy and Tara Fischer," said Denny Phipps, General Manager, CPRA, "one that has provided high quality, name brand buckles to our winning athletes for some time – at both the Canadian Finals Rodeo and the Maple Leaf Circuit Finals. Troy is a Canadian Champion and knows what it takes for our athletes to earn that title and what these buckles mean to the winners. That understanding along with the artistry and craftsmanship evident in each buckle, accompanied by Pro Rodeo Canada's desire to truly recognize the outstanding achievements of our Champions, make this relationship special to us. We're excited to see the partnership continue."
Troy Fischer commented on the collaboration as well, "We're really proud that our relationship with the CPRA has turned into such a valued partnership. The most anticipated week of the year [in Canadian professional rodeo] is Canadian Finals Rodeo (CFR) week. We're excited to be part of that. And we're proud to wear a cowboy hat and boots, to be in this life."
Each Troy Fischer Silverworks piece is handcrafted, one at a time, the same way buckles were made 100 years ago… providing a feeling of authenticity and rawness that adds to the overall beauty of the work. And of all the awards presented across the western lifestyle industry, the belt buckle, particularly one from Troy and Tara Fischer, is still among those most highly valued.
Troy Fischer Silverworks Inc.was founded in 1997 by owners Troy and Tara Fischer to help preserve the western way of life. Designs are inspired by the day-to-day ranching and rodeo lifestyle the couple and their two daughters–Bryce and Branna–enjoy. Troy is an eight time CFR Team Roping qualifier and a Canadian Champion Header while Tara was raised in the Colorado foothills and brings a proud American influence to the company. Troy Fischer Silverworks has produced pieces for music stars, professional athletes, political leaders and families seeking heirlooms. Troy Fischer Silverworks is proud to help keep the western tradition alive and well. For details: www.troyfischersilverworks.com
The Canadian Professional Rodeo Association(CPRA) with headquarters in Airdrie, Alberta is the official sanctioning body for Professional Rodeo in Canada. The CPRA approves 55 events annually with a total payout exceeding $5.7 million. The organization oversees the SMS Equipment Pro Tour Finals each fall in Armstrong, BC, holds their premiere event – the Canadian Finals Rodeo (CFR) – at Westerner Park in Red Deer, AB in early November and endorses the Maple Leaf Circuit Finals as part of Canadian Western Agribition in Regina, SK. Follow the CPRA on Twitter @prorodeocanada and Instagram @prorodeocanadaofficial, 'Like' Canadian Professional Rodeo Association on Facebook or online at RodeoCanada.com.