Crawley Captures Rodeo Corpus Christi with Record Ride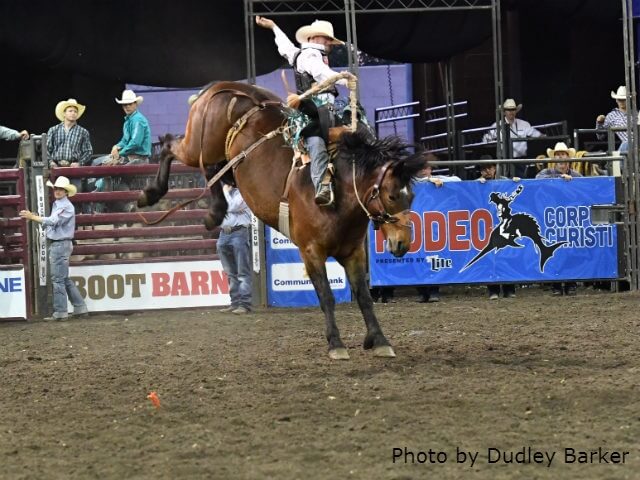 CORPUS CHRISTI, Texas – The stars aligned at Rodeo Corpus Christi (Texas) – with former saddle bronc riding world champion Jacobs Crawley matching up with Frontier Rodeo's Maple Leaf.
Neither disappointed.
Crawley had a 92-point ride on Maple Leaf to win while setting the rodeo record at Rodeo Corpus Christi.
"That horse is a really strong horse and you watch her, and you don't really respect her power until you are on her," said Crawley, who made his ride April 28, the day before the rodeo ended. "As far as the ride, it was just one of those where I was trying to beat her to the ground each jump because I didn't want her to catch me in the middle there because I was afraid if I didn't try and get to the front end the power would hit me and that would be all."
Two saddle bronc riders shared the rodeo record of 91 points. Bradley Harter set the score in 2009 and Rusty Wright matched him in 2016.
Now it is Crawley's.
"To me it is all about the moment," Crawley said about his record ride. "Any kind of record is made to be broken, but in that moment is where it is all about. That environment and adrenaline and everything going on, that high, and 30 minutes afterwards when you're still on cloud nine, that's what it is about. The record is cool, but it is the moment that makes it the best."
The performance by Maple Leaf is not surprising. Maple Leaf shared the 2013 PRCA Saddle Bronc Horse of the Year honors with Flying 5 Rodeo's Spring Planting.
Brody Cress had the top saddle bronc ride of the 2018 season before this weekend with a 90.5-point ride on Maple Leaf to win the Southeastern Livestock Exposition in Montgomery, Ala., March 17.
"I had ridden Maple Leaf one other time in Dodge City (Kan.) like three or four years ago, and I had an 89-point ride and I was second," Crawley said. "The size, the power, the drop and the timing are what makes her a good horse. She has all the factors to be a difficult horse to ride with the power, but at the same time, she has the timing down to where if you do your job it is actually pretty smooth."
Crawley earned $5,612 for his performance.
Rodeo Corpus Christi is part of the new Wrangler ProRodeo Tour. The Tour will feature 23 rodeos – it began with Logandale, Nev., (April 11-15) and concludes with the Justin Finale, Sept. 6-9 in Puyallup, Wash.
"The (Wrangler ProRodeo Tour) is an opportunity for more cowboys and an opportunity at every rodeo," Crawley said. "Those are still the two ideas that are at the forefront of this deal, and hopefully it pans out like we think, and everybody really appreciates it."
Other winners at the $263,860 rodeo were all-around cowboy Landon McClaugherty ($7,256, tie-down roping, team roping and steer roping), bareback rider J.R. Vezain (89 points on Frontier Rodeo's Full Baggage), steer wrestler Cody Devers (15.0 seconds on three head), team ropers Bubba Buckaloo/Clint Summers (17.0 seconds on three head), tie-down roper Caleb Smidt (29.3 seconds on three head), barrel racer Ericka Nelson (31.35 seconds on two runs), steer roper Chet Herren (49.1 seconds on four head) and bull rider Tyler McVay (87 points on Frontier Rodeo's After All).
Devers' 15.0-second time on three head also was a rodeo record, breaking the old mark of 15.3 second on three head set by Cole Edge in 2017. Buckaloo/Summers also put their names atop the rodeo record books as they surpassed the old record held by Trevor Brazile/Partick Smith of 19.0 seconds on three head.
For more coverage of Rodeo Corpus Christi, check out the May 4 online edition of ProRodeo Sports News.
Courtesy of PRCA